Return of the Class System – Concierge Everything
Cruise lines are the latest to create separate enclaves for customers willing to pay more to escape the riffraff.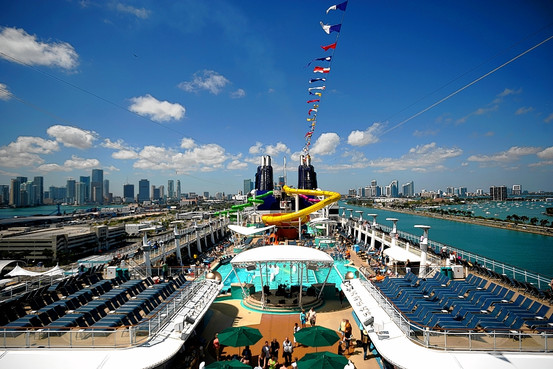 Wall Street Journal lured me in with the headline "The Return of the Class System." But it's a story about one microcosm, the offering of premium services on cruise lines for a hefty upcharge.
There is a new cruise ship class system. A growing number of cruise lines have built lavish—and separate—cocoons for their biggest spenders. It is a departure from the egalitarianism that had reigned on most ships for the last several decades when everyone from the humblest inside stateroom to the most luxurious suite would rub elbows in the same bars, dining rooms and pool decks. In a way, the trend is a throwback to the heyday of trans-Atlantic crossings in the 1920s, when first-, second- and third-class passengers were assigned separate areas of vessels.

[…]

Like first-class airline passengers, guests staying in the private complexes pay premiums for their perks. Depending upon the time of year, a three- or four-night cruise to the Bahamas on the Disney Dream, for example, costs $439 per person double occupancy in a regular stateroom with balcony. A balcony room on the concierge level is $2,159 per person.

While cruise lines must invest in the extra amenities and staff, these guests also tend to spend more when they're onboard.

Royal Caribbean began what it calls its "suite enhancement program" two years ago after it noticed that guests staying in suites were giving their staterooms high marks in guest feedback surveys, but were rating the overall cruise less favorably than other passengers. Focus groups showed that these high-end guests "weren't feeling like they were special when they left their suite," says Lisa Bauer, senior vice president of hotel operations for Royal Caribbean International. The top amenity the guests wanted was separate spaces reserved for them alone. So the brand added private pool-deck areas, reserved seating at the theaters, private cocktail parties with the ships' captains and priority boarding and disembarking. "The ratings soared," Ms. Bauer says.

A major perk of being a ship-within-a-ship guest is getting to skip the lines.

[…]

On a Saturday earlier this month, the difference between the main pool and the one in the Courtyard Villa was striking. In the main area, a reggae band played loudly—with frequent interruptions from high-decibel ship announcements—while squealing children played in the sprinklers. In the Courtyard area, a dozen or so guests reclined in near silence. Regular guests do have access to a less-frenzied adults-only pool. Courtyard Villa guests also get first dibs on restaurant reservations, shore excursion reservations, spa treatment slots and seats at the various shows. While regular passengers line up at a theater's closed doors, a butler escorts suite guests through a back entrance to their seats.
I'm shocked that it's taken cruise lines this long to adopt an obvious program. After all, airlines, hotels, and even children's theme parks have been doing this sort of thing for years.
More affluent customers are simply harder to satisfy. They're used to more expensive restaurants, first class accommodations, and personal service. So, when cruise lines were charging them a premium price for a nicer room but offering them no additional perks, they were naturally going to be less satisfied than customers paying rock bottom prices and thrilled at the prospect of free shrimp. Things that are a rare treat for working class consumers are likely hum drum, if not sub-par, for people accustomed to luxury.
I fully expect the "class system" concept to become much more widespread. The article notes that prices in the cruise industry have been essentially frozen since the late 1980s because of over-saturation in the marketplace. So, it just makes sense to convert as many spaces as the market will bear into luxury billets–especially if they go for nearly five times the price. Presumably, the next step will be to create intermediate service levels, allowing people who can't afford or don't desire all of the perks but would like, say, a semi-private pool to customize their experience.
Far more disturbing to me than the notion that the rich should be able to spend more for lavish treatment is this:
In addition to ship-within-a-ship spaces, companies have tried to coax passengers to spend more by adding a slew of specialty restaurants that require patrons to pay an extra fee above their cruise fare. On Celebrity Cruises' newest Solstice class of ships, for example, there are five specialty restaurants with extra fees from $5 to $35 per person and just four that are included with the cruise fare. Disney's Remy, onboard the Dream, has set an industry record by charging an extra $75 per person (plus an additional $99 if you want the wine pairings) for an eight- or nine-course meal.

While aerobics and body sculpting classes are free on Celebrity ships, yoga and Pilates classes cost an extra $10 per session. Extra fees have even crept into the main dining room. On some Royal Caribbean ships, a basic Black Angus steak is free. A filet mignon is $14.95 extra.

Passengers can still have a relatively all-inclusive vacation by sticking to the free dining rooms and shows (and not drinking alcohol, soda or lattes). The difference now is that the temptation to rack up a bigger tab is at nearly every turn. It's easy for a neophyte cruiser to end up with a huge bill at check-out, one that could even surpass the price tag of the cruise itself.
The practice of nickel-and-diming everything, charging fees for things that were once included and expected as part of the service–and the constant hectoring for upcharges–is annoying and, in many cases, borderline unethical.  If a coach-level cruise is $439 and the concierge-level one is $2,159 per person, with a list of included services listed alongside each, there's tremendous transparency allowing customers to make a rational decision up front.
But if the $439 rate is advertised as including everything but alcoholic beverages and then it turns out that there's an upcharge for a decent steak or to eat in five out of the nine restaurants–oh, and it's $6 if your kid wants a Coke and $3 for a towel and $6 to rent a chair for the day–then cost-conscious customers are basically trapped into either spending their vacation scrimping or being hijacked into spending far more than they'd been led to believe.
I've got no problem with a class system. But I want a system with class.