Richard Dawson, Actor And Game Show Host, Dead At 79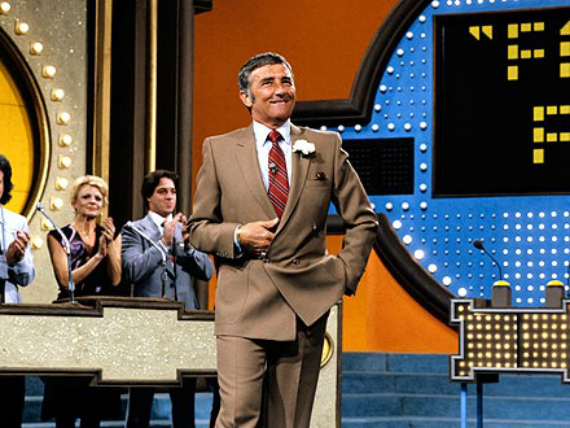 If you grew up in the 70s, it was hard to escape one of the most popular game shows of that decade and its host Richard Dawson, who died yesterday at the age of 79:
Richard Dawson, the British-born actor and comedian who played a larcenous prisoner of war on the comedy "Hogan's Heroes" and became a star as the dapper and gregarious host of the game show "Family Feud," died on Saturday in Los Angeles. He was 79.

The cause was complications of esophageal cancer, his son Gary wrote on his Facebook page on Sunday.

From an impoverished upbringing in post-World War II England, Mr. Dawson, whose earliest aspiration was to be a dockworker, became one of the most well-known television personalities in the 1970s and '80s. He won a daytime Emmy in 1978 for his work on "Family Feud."

Mr. Dawson, who rankled television executives and made housewives blush with his tendency to kiss nervous female contestants, was the host on the show's initial run, from 1976 to 1985. Two families would compete against each other trying to guess the most popular answer to survey questions like, "Name the room in your house that is most in need of redecorating," or, "Name something people do to entertain a baby."

It was among the most popular game shows in the country, leading to a nighttime syndicated version that eventually was broadcast five days a week. Television executives at times tried to get Mr. Dawson to stop the kissing, he said. Some viewers complained when he pecked the cheeks of women of different races.

Mr. Dawson said he actively fought any discrimination in this regard.

"It's very important to me that on "Family Feud" I could kiss all people," he said in a 2010 interview for the Archive of American Television. "It sounds crazy, but when I first came here, Petula Clark was on a show with Nat King Cole, and he kissed her on the cheek, and 81 stations in the South canceled him. I kissed black women daily and nightly on "Family Feud" for 11 years, and the world didn't come to an end, did it?"

After the show was canceled in 1985, it was revived in 1988 with Ray Combs as the host. Mr. Dawson returned to the show for one year in 1994. Steve Harvey is the current host.

Richard Dawson was born Colin Lionel Emm on Nov. 20, 1932, in Gosport, Hampshire, England. His father was a furniture mover, and his mother occasionally played cards to win extra money for food. In the 2010 interview, he said that he had no early ambition to be an entertainer but that he did have a knack for making people laugh. He was lured to his first theater audition, he said, by the prospect of meeting girls.

After an early career as a comedian in England, he moved to the United States with his first wife, Diana Dors, a voluptuous actress known as the "British Marilyn Monroe." They divorced in 1966, and Ms. Dors died in 1984. Mr. Dawson gained initial fame in the 1960s playing Cpl. Peter Newkirk, a con man, forger and pickpocket, in the CBS series "Hogan's Heroes," a popular comedy about a Nazi prison camp where the inmates routinely outwit their bumbling captors. He also had stints on "The Dick Van Dyke Show" and "Rowan & Martin's Laugh-In."

In 1987 Mr. Dawson played alongside Arnold Schwarzenegger in the dystopian thriller "The Running Man." In the film he plays a dark caricature of himself, the host of a game show in which convicted felons must outrun bands of deadly hunters for a chance to win their freedom.
Dawson's appearance in The Running Man was classic. But, I also remember him as one of the often not-so-subtlety lecherous celebrity panelists on Match Game. Those were good times.