Riot (or Worse) Thwarted in Idaho
A group of extremists are stopped from instigating a riot.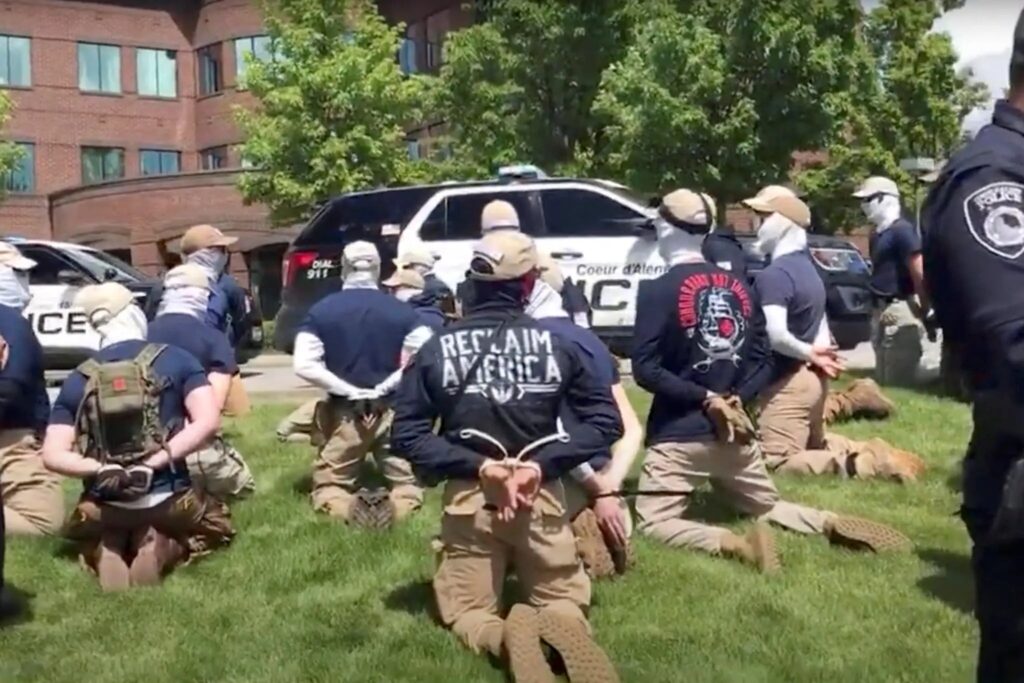 There have been ongoing warnings of growing right-wing extremism in the United States. Certainly, just this week we were reminded of the presence of organized groups, like the Proud Boys, at the 1/6 attack on the capitol. This weekend we have another example via the AP: 31 Patriot Front members arrested near Idaho pride event.
Authorities arrested 31 members of the white supremacist group Patriot Front near an Idaho pride event Saturday after they were found packed into the back of a U-Haul truck with riot gear.

The men were standing inside the truck wearing khakis, navy blue shirts and beige hats with white balaclavas covering their faces when Coeur d'Alene police stopped the U-Haul and began arresting them on the side of the road.

[…]

Police found riot gear, one smoke grenade, shin guards and shields inside the van, White said. They wore arm patches and logos on their hats that identified them as members of Patriot Front, he said.
I keep finding myself drawing on my background in Latin American politics and sadly applying it to the US. Not only am I seeing some members of the elite classes (and within politics specifically) embracing authoritarian thinking because they fear their way of life is threatened (in highly exaggerated and incorrect ways, I would note) but we are increasingly seeing groups form that are willing to engage in political violence. I can't help but be reminded of the proliferation of guerrilla groups in the region in the 1960s (not to mention the paramilitary groups in Colombia both in the 1960s, but most prominently in the 1990s and 2000s).
When a group calls itself the "Patriot Front," dresses in paramilitary outfits, and loads into the back of a U-Haul filled with smoke grenades and riot shields to be transported to a scheduled event, no good can come of it. I know some will want to call this LARPing as a way of ridiculing it, and that thought did occur to me, but the reality is that this is deadly serious stuff. Showing up to counter-protest is one thing. Putting on a uniform and bringing tools of disruption is yet another.
Their t-shirt had the phrase "retake America" on the back and they appear to be willing to use violence to do so. Indeed, I don't normally use wire service photos in these posts, but I have included a Reuters photo above because I think that the visual is jarringly significant. The uniforms, the slogans, and the covered faces tell an important tale.
Patriot Front is described by the Southern Poverty Law Center as "a white nationalist hate group" that formed after the deadly "Unite the Right" rally in Charlottesville, Virginia in 2017.

"Patriot Front focuses on theatrical rhetoric and activism that can be easily distributed as propaganda for its chapters across the country," the Southern Poverty Law Center said of the group.

The group's manifesto calls for the formation of a white ethnostate in the United States, the Southern Poverty Law Center said.
It is important to understand that you get a group like this via the same kind of radicalization we ostensibly fought two wars to stop in the past couple of decades. This is about groups of people being convinced that they have to take up violence to stop "decadence" or "communism" and the like. They listen to people like MTG talk about how we are all going to cease being straight in a couple of generations and don't laugh at her, they believe her.
And like some of the trollish denizens of this site, they just listen to and spout nonsense because it reinforces their beliefs and identities.
There is not a lot of actual difference between a group like this and al Qaeda or ISIS in terms of the social process that creates them (obviously, there are thankfully worlds of difference in capability–at least at the moment). It is a disturbing short trip from riot gear in a U-Haul to some more violent action.
(I suspect some will find that assessment over the top, but long-term readers know I am not prone to hyperbole–we have a real problem and it is growing).