Rishi Sunak Becomes UK Prime Minister
The 42-year-old billionaire makes history in many ways.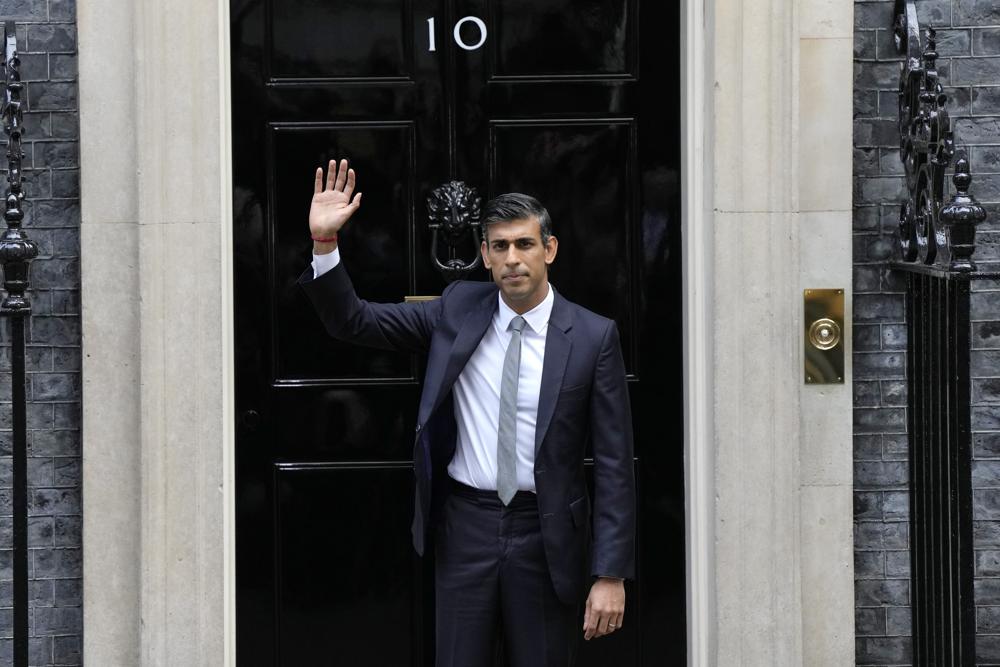 WaPo ("Rishi Sunak to become U.K. prime minister, first person of color in role"):
After months of political fever, Britain on Tuesday will get a new prime minister, the third in two months, with the country now looking to Rishi Sunak — a former finance minister and hedge-fund manager, a 42-year-old whiz kid, richer than the royals — to beat back the harshest economic head winds here in a generation, including some of his own creation.

Sunak, a practicing Hindu of Indian descent, will be the first person of color to serve in Britain's highest office, and his Conservative Party leadership win Monday, coinciding with the festival of Diwali, marked a moment of jubilation among many in Britain with South Asian heritage.

Sunak's rise to the top office is especially significant in a country that has sometimes struggled to grapple with the legacy of its colonialist past. Britain ruled India for almost a century, from 1858 to 1947, and the modern-day United Kingdom is filled with the children and grandchildren of immigrants from the former realm.

[…]

Others in Britain were not so celebratory — for the fact was that members of the public in this race were mere spectators, with no role to play, as Conservative Party lawmakers in the House of Commons concluded, based on votes by 357 members, that Sunak was their savior.

In a brief televised address, his first as Tory leader, Sunak paid tribute to the "dignity and grace" of outgoing prime minister Liz Truss — whose six-week tenure was an unprecedented disaster — and warned that Britain faced a "profound economic challenge." In those few words, the sunny forecasts of a post-Brexit "Global Britain," previously sold by Sunak and his predecessors, began to be grounded in new realities.

Sunak vowed to serve with "integrity and humility" — qualities he suggested were lacking when he resigned from Boris Johnson's government and led a revolt against his former boss. He called for "stability and unity" — in other words, the opposite of the tumult and divisions that characterized Truss's tenure.

Opposition politicians don't appear to be leaving much leeway for a honeymoon period. On Monday, they continued their calls for a general election. Labour lawmaker Angela Rayner complained that Sunak's accession was a coronation and that the Tories could not "keep doling out prime ministers every month." Labour leader Keir Starmer charged that Sunak was "covered in the mess" that 12 years of Conservative rule had created.

Sunak is a center-right moderate who promises to craft a prudent path to balance Britain's books and address its sky-high debt, which is partly a result of his own borrowing. Sunak wrote big checks as chancellor under Johnson during the pandemic. He had the government cover up to 80 percent of wages for millions of furloughed British workers — one of the most generous pandemic subsidies in the world. He also promoted a month of subsidized meals in August 2020, dubbed "Eat Out to Help Out "or "Rishi's dishes," designed to get Britons back into eateries.
AP ("Sunak takes over as UK prime minister amid economic crisis") adds:
Rishi Sunak became Britain's third prime minister of the year on Tuesday, tasked with taming an economic crisis that has left the country's finances in a precarious state and millions struggling to pay their food and energy bills.

Sunak, who is the U.K.'s first leader of color, met King Charles III at Buckingham Palace, where the monarch officially asked the new leader of the governing Conservative Party to form a government, as is tradition.

Sunak clinched the leadership position Monday, seen by his party as a safe pair of hands it hopes will stabilize an economy sliding toward recession, and stem its own plunging popularity, after the brief, disastrous term of Liz Truss.

Her package of unfunded tax cuts spooked financial markets with the prospect of ballooning debt, drove the pound to record lows and forced the Bank of England to intervene — weakening Britain's fragile economy and obliterating her authority within her party.

Sunak — at 42 the youngest British leader in more than 200 years — acknowledged the scale of his challenge as well as the skepticism of a British public alarmed at the state of the economy and weary of a Conservative Party soap opera that has chewed through two prime ministers in as many months.

[…]

Opponents already depict Sunak as out of touch with the concerns of ordinary people because of his privileged private school background, previous career as a hedge fund manager and vast wealth.

Sunak "comes into office as not a particularly popular prime minister, but with a reputation for some semblance of economic competence," said Alan Wager, research associate at the think tank U.K. in a Changing Europe. "The problem will be he is seen as someone that's not broadly on the side of people. He's seen as someone that's broadly out of touch."

Much of Sunak's fortune comes through his wife Akshata Murty, whose father is the billionaire founder of Indian IT firm Infosys. The couple is worth 730 million pounds ($826 million), according to the Sunday Times Rich List.

In April 2022, it emerged that Murty did not pay U.K. tax on her overseas income. The practice was legal — and Murty soon agreed to relinquish it — but it looked bad at a time when millions of Britons were struggling to make ends meet.
That the UK's first PM of Indian descent took office on Diwali is a poetic happenstance. Politically, he's a fresh start for a beleaguered government but one facing an uphill fight to regain public confidence.
Labour's calls for new elections are not unfounded. Indeed, I think it fitting given the traditions of the UK, whose 2011-2019 experiment with fixed terms was widely seen as a failure. That "nobody elected you PM" is going to dog him the rest of his term. Still, the Conservatives have the right to continue governing through the end of 2024 and they aren't about to hold elections sooner with Labour holding big margins in the polls.