Robert Guillaume, Star Of "Benson," Dies At 89
Robert Guillaume, who starred in situation comedies in the 70s, 80s, and 90s such as "Soap," "Benson," and "Sports Night," has died at the age of 89.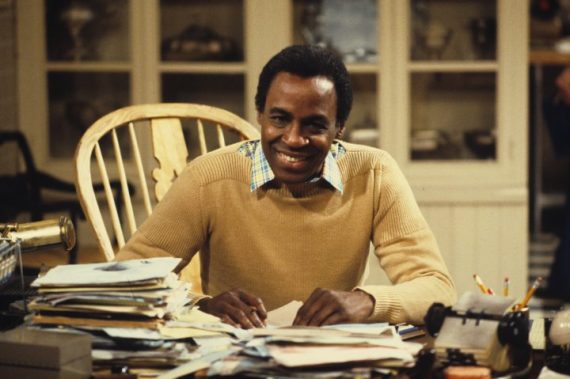 Robert Guillaume, who starred in situation comedies in the 70s, 80s, and 90s such as "Soap," "Benson," and "Sports Night," has died at the age of 89:
Robert Guillaume, who dreamed of being the first black tenor to sing at the Metropolitan Opera but settled for acting onstage and on television — and won Emmy Awards for playing the same character on two different ABC series — died on Tuesday at his home in Los Angeles. He was 89.

His wife, Donna Brown Guillaume, said the cause was complications of prostate cancer, which he had had for 25 years.

Mr. Guillaume's most well-known character was Benson DuBois, who began as a caustic butler on the sitcom "Soap," which ran from 1977 to 1981, and later worked for, and eventually campaigned against, the governor of an unspecified state on the spinoff "Benson" (1979-86).

Mr. Guillaume grew up in poverty and spent years working odd jobs, from streetcar driver to postal worker, with little hope that acting could become a career. The difficulties he overcame helped inspire the character that made him famous, he said.

When criticized for playing a black domestic worker in a white household, he responded that he saw Benson as a paean to the black working man's struggle. When he took the part, he said, he decided that while Benson might be a servant, he would never be servile.

"I wanted black people to be proud of Benson," he wrote in his autobiography, "Guillaume: A Life" (with David Ritz, 2002).

Mr. Guillaume said Benson's sharp tongue and dignified mien had allowed him to transcend his station while getting laughs. "What made the humor was that he didn't care what people thought about him," he said of the character in an interview for this obituary in 2011. "He wasn't trying to be mean; he was just trying to be his own man."

On "Soap," Susan Harris's soap-opera satire, Benson would admonish the members of the wealthy Tate family for their antics amid the show's absurd plot twists, which included demonic possession and alien abduction. He won the Emmy for best supporting actor in a comedy series in 1979.

That same year, Benson left the Tates for the governor's mansion and his own series. In its first seasons he was the head of household affairs for Gov. Eugene Gatling (James Noble); he eventually rose to budget director, lieutenant governor and finally a rival for the governor's seat itself.

"Benson" ended in 1986 with Benson and Gatling, now consummate equals, seated side by side awaiting the results of the election in which they had run against each other.

Mr. Guillaume won the Emmy for best lead actor in a comedy series in 1985.

"Benson" was followed in 1989 by "The Robert Guillaume Show," a comedy in which he played a psychologist who becomes romantically involved with a white woman. The show was canceled after 12 episodes.

Mr. Guillaume, who had had interracial relationships long before they were more widely accepted in the United States, blamed his own naïveté for the show's demise.

"I was ultimately responsible for that failure by not understanding what a wrenching change it would represent" to an audience still uncomfortable with the subject, he said in 2011.

Mr. Guillaume went on to play an executive producer, Isaac Jaffe, on Aaron Sorkin's "Sports Night" (1998-2000), a sitcom about the inner workings of a show much like ESPN's "SportsCenter." When Mr. Guillaume had a stroke in 1999, Mr. Sorkin wrote a stroke into the script for the character so that he could continue playing the part.

Mr. Guillaume was born Robert Peter Williams on Nov. 30, 1927, in St. Louis. His mother, Zoe Bertha Edwards, was an alcoholic and a prostitute. He never knew his father. His grandmother Jeanette Williams reared him after a stepfather struck him in the head with a red-hot poker.

Robert attended a Roman Catholic high school, where he sang in the choir. He joined the Army in 1945, but the war was over by the time he reached Okinawa in the Pacific. He was honorably discharged in 1947.

After the war he enrolled at St. Louis University to study business on the G.I. Bill. He later studied singing and theater at Washington University in St. Louis but never earned a degree.

He married Marlene Scott in 1955. They separated but remained married for nearly three decades before divorcing in the mid-1980s.

In the late 1950s Mr. Guillaume moved to Cleveland to play Billy Bigelow in the Rodgers and Hammerstein musical "Carousel" at Karamu House, a historically black theater. It was there that he adopted the surname Guillaume (the French form of William), inspired by his grandfather's tales of his family's French heritage. (He also had Native American ancestors.)

"You know how many Robert Williamses there are in this country?" Mr. Guillaume said in a 1977 interview with The Times. "I wanted something different." He later wrote that frequent mispronunciations of Guillaume (gee-YOME, with a hard g) were "the price I've paid for my pretentiousness."

Mr. Guillaume left Cleveland in 1959 to tour with the short-lived Harold Arlen musical "Free and Easy," which played in Amsterdam but did not make it to the United States. Soon afterward he moved to New York, where his stage career would flourish.

Mr. Guillaume played the drug dealer Sportin' Life in a 1964 revival of "Porgy and Bess" at City Center and the lead role, the preacher Purlie Victorious Judson, in the 1972 Broadway revival of "Purlie," a musical set in the Jim Crow South. He also toured for four years with the musical revue "Jacques Brel Is Alive and Well and Living in Paris."

Mr. Guillaume never made it to the Metropolitan Opera, although he did star in the Los Angeles production of "The Phantom of the Opera" in 1990.

He landed his part in "Soap" in 1977 after a Tony-nominated run as Nathan Detroit in an all-black Broadway revival of "Guys and Dolls."

Mr. Guillaume appeared in a few feature films, notably "Lean on Me" (1989) and "Big Fish" (2003); guest-starred on shows like "All in the Family" and "The Fresh Prince of Bel-Air"; voiced the baboon Rafiki in "The Lion King" and its straight-to-video sequels; released several albums of his singing; and received four N.A.A.C.P. Image Awards. He also won a Grammy in 1995 for best spoken word album for children for his narration on "The Lion King Read Along."
For those who grew up in the 70s and 80s, it's Guillaume's years playing Benson DuBois on "Soap" and "Benson" are the most memorable, of course, and that character remained popular throughout the years that both shows ran and subsequently as both shows entered syndication, where they can still be seen today. His performance on Aaron Sorkin's "Sports Night" was also memorable, particularly for the ground-breaking decision to write the stroke that he suffered during production, and his struggles with recovery, into that show in a way that was both funny and emotional at the same time. Others will remember him as the voice of Rafiki in "The Lion King." After "Sports Night," Guillaume's appearances were limited to no small degree to his health.
As the obituary above notes, Guillaume's first foray into show business was through singing, and he had an opera-worthy voice that, on at least one occasion was featured on television in a Christmas episode of "Benson". And in this clip, Guillaume talks about the legacy of the show: