Rocky Needs A Home, Or He'll Die [UPDATE: Rocky Saved!]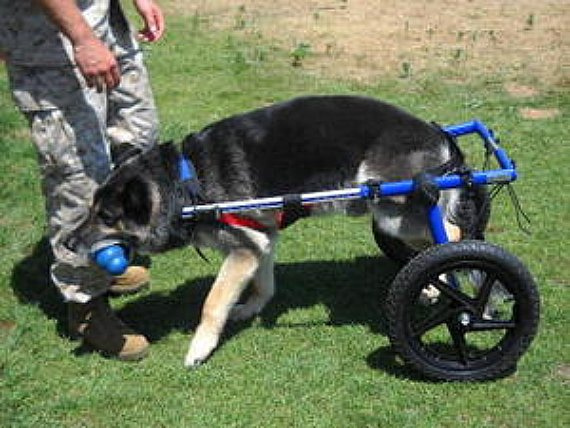 I don't usually post stuff like this, but I'm sucker for dog stories:
Rocky is a retired military dog who will be put down on August 24 if he's not adopted. He served three tours in Iraq and desperately needs a loving home to enjoy his final years. Pets for Patriots is responding to a request to help create awareness of this veteran's plight. We have spoken to authorities at Camp Pendleton in San Diego and confirmed this story.

Rocky currently lives at Camp Pendleton, his home base since entering the Marine Corps in 2004. He served three tours in Iraq between 2004 and 2007 as a patrol and explosives dog, and returned to the states after his last handler was killed in theater. Since then, he has not had a steady handler, but has continued to serve on base until March of this year. By that time, a degenerative condition rendered him unable to work and he was retired. Typically an ex-military K9 will be adopted by his handler, but Rocky has no handler to call his own.

The base kennels are not suitable to provide the type of ongoing care and attention that Rocky needs and deserves. And without an individual or family to adopt him, he will be put down. He was recently featured in an article about military dogs enjoying a bright future after service, but that's not the case for him.
There's contact and additional information at the link for anyone out there who has a home for this guy. Let's hope he finds one.
Update: Pets for Patriots reports this morning that Rocky has been saved:
UPDATE 8/18/11 9:25 AM ET: ROCKY IS SAVED!! We have been informed that Rocky will be adopted. Please DO NOT CALL Camp Pendleton, Lackland AFB or Pets for Patriots regarding his case; we are all overloaded with a deluge of inquiries about his plight. THANK YOU to all who have answered Rocky's call and helped to assure his final years will be spent with a loving family.
Good news! Hopefully any other Rocky's out there are just as lucky.