Rod Blagojevich Sentenced To 14 Years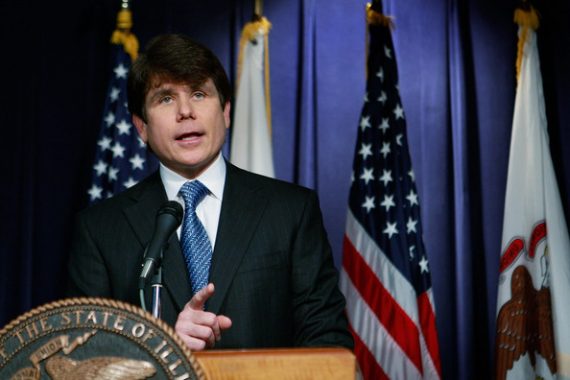 Former Illinois Governor Rod Blagojevich received close to the maximum sentence for the corruption charges he was convicted on by a Federal Jury early this year:
Disgraced former Gov. Rod Blagojevich was sentenced Wednesday to 14 years in prison after he made a final plea for leniency, acknowledging his guilt and saying, "I am unbelievably sorry."

"I believe he did, in fact, accept [responsibility]," U.S. District Judge James Zagel said in announcing how long Blagojevich should spend in prison after being convicted of 18 corruption charges that included attempting to sell or trade an appointment to fill the U.S. Senate seat left vacant by the election of President Barack Obama.

But the judge said the entire state suffered from his actions.

"When it is the governor who goes bad, the fabric of Illinois is torn and disfigured and not easily or quickly repaired," Zagel said. "You did that damage."

Blagojevich slightly sunk his head after the sentence was read. Wife Patti put her hand up to her mouth, but did not cry, as she has done in previous hearings. Blagojevich walked up to her and asked, "You OK? Stay strong."

Blagojevich will have to surrender Feb. 15. Under federal sentencing rules, Blagojevich will have to serve 85 percent of his sentence, or just under 12 years in prison, at a minimum. The ex-governor turns 55 on Saturday.

In deciding the sentence, the judge said he had given credit to Blagojevich for accepting responsibility for his crimes in remarks made Wednesday morning.

"It's clear he is not blaming" the people around him, said Zagel, adding that he also gave Blagojevich credit for his work on behalf of children while governor in creating the state's All Kids health-care program.

Referring to comments from Blagojevich's lawyers in asking for a sentence of no more than 3½ years, Zagel said: "I don't doubt his devotion to children, but this is not … exceptional, in my own experience. I see case after case where good fathers are bad citizens. There is no question that the innocent children of felons suffer. This is tragic, but, as he admits, the fault of this lies with the defendant alone. Now, it is too late.

"If it is any consolation to his children, he does not stand convicted of being a bad father."

But Zagel noted the damage caused by Blagojevich "is not measured in the value of money and property. The harm is the erosion of the public trust in government; [people's] confidence in and trust in government."
A Chicago television station reports that Blagojevich will be required to report to the Bureau of Prisons on February 16, 2012, meaning that he'll be required to stay into prison until at least 2024. The fate of the famed Blagojevich pompadour remains unknown.