Roger Clemens Mistrial
A mistrial has been ruled in the Roger Clemens perjury trial and the judge may rule that a retrial would constitute double jeopardy.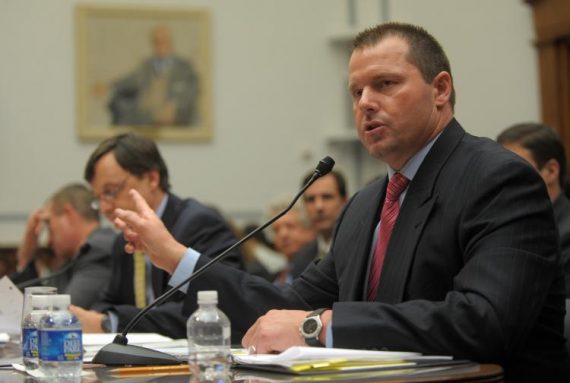 A mistrial has been ruled in the Roger Clemens perjury trial and the judge may rule that a retrial would constitute double jeopardy.
ESPN ("Mistrial ruled in Roger Clemens case"):
The judge presiding over Roger Clemens' perjury trial declared a mistrial over evidence revealed to the jury that he believed would prejudice the jury against the former baseball star.

U.S. District Judge Reggie Walton ruled that prosecutors violated his orders not to reveal certain evidence to the jury. He will hear a motion on whether a new trial would be considered double jeopardy.

[…]

Before Walton's ruling, prosecutors suggested the problem could be fixed with an instruction to the jury to disregard the evidence, but Walton seemed skeptical. He said he could never know what impact the evidence would have during the jury's deliberations "when we've got a man's liberty at interest."

"I don't see how I un-ring the bell," he said

Walton interrupted the prosecution's playing of a video from Clemens' 2008 testimony before Congress and had the jury removed from the courtroom. Clemens is accused of lying during that testimony when he said he never used performance-enhancing drugs during his 24-season career in the major leagues.

One of the chief pieces of evidence against Clemens is testimony from his former teammate and close friend, Andy Pettitte, who says Clemens told him in 1999 or 2000 that he used human growth hormone. Clemens has said that Pettitte misheard him. Pettitte also also says he told his wife, Laura, about the conversation the same day it happened.

Prosecutors had wanted to call Laura Pettitte as a witness to back up her husband's account, but Walton had said he wasn't inclined to have her testify since she didn't speak directly to Clemens.

Walton was angered that in the video prosecutors showed the jury, Rep. Elijah Cummings, D-Md., referred to Pettitte's conversation with his wife.

"I think that a first-year law student would know that you can't bolster the credibility of one witness with clearly inadmissible evidence," Walton said.

He said it was the second time that prosecutors had gone against his orders — the other being an incident that happened during opening arguments Wednesday when assistant U.S. attorney Steven Durham said that Pettite and two other of Clemens' New York teammates, Chuck Knoblauch and Mike Stanton, had used human growth hormone.

Walton said in pre-trial hearings that such testimony could lead jurors to consider Clemens guilty by association. Clemens' defense attorney objected when Durham made the statement and Walton told jurors to disregard Durham's comments about other players.
One would think severe sanctions would be in order for the prosecutors for so blatantly violating the judge's orders–twice.
I am not a lawyer but do not see offhand why a retrial under these circumstances would constitute double jeopardy. Not only has Clemens not been found not guilty but a second trial at this juncture–just a couple days into the proceedings–would hardly seem a major additional burden on him.
The perjury case against Clemons would seem a slam dunk. There's simply too much evidence, including DNA evidence and sworn testimony by two witnesses very close to Clemens with no incentive to lie about his taking steroids, for there to be reasonable doubt. And it's Clemens' own fault that he's in this predicament. The committee practically begged him not to take the stand and risk incriminating himself.
On the other hand, I'm still not sold that steroids in baseball was any of Congress' business.