Roger Clemens Indicted For Perjury
Roger Clemens is probably regretting today the decision to testify before a Congressional committee about steroids back in 2008.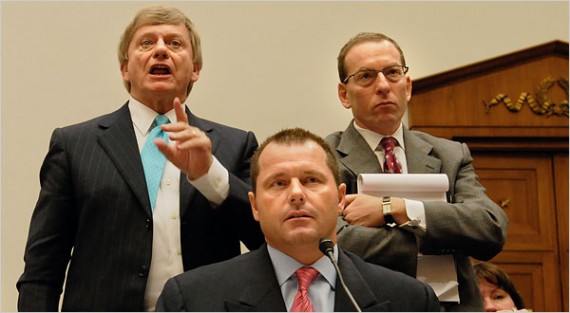 Roger Clemens, an 11-time Major League All-Star and 6-time Cy Young Award Winner, was indicted today for lying to Congress during a February 2008 hearing investigating steroid use in Major League Baseball:
Federal authorities have indicted Roger Clemens on charges of making false statements to Congress about his use of performance-enhancing drugs.

The 19-page indictment charges Clemens with three counts of making false statements and two counts of perjury in connection with his February 2008 testimony before the House Committee on Oversight and Government Reform. According to the United States Attorney's office, Clemens faces a maximum sentence of 30 years in prison and a $1.5 million fine, but under the current sentencing guidelines, a conviction would likely bring 15-21 months.

Clemens's allegedly false testimony came in a public hearing in which Clemens and his former trainer Brian McNamee, testifying under oath, directly contradicted each other about whether Clemens had used the banned substances.

"Americans have a right to expect that witnesses who testify under oath before Congress will tell the truth," United States Attorney Ronald C. Machen Jr. said in a statement. "Our government cannot function if witnesses are not held accountable for false statements made before Congress. Today the message is clear: if a witness makes a choice to ignore his or her obligation to testify honestly, there will be consequences."

The committee held the hearing just two months after McNamee first tied Clemens to the use of the substances in George J. Mitchell's report on the use of performance-enhancing drugs in baseball. After Mitchell released the report, Clemens claimed McNamee made up the allegations.

Federal authorities convinced McNamee to cooperate with them in 2008 in exchange for not charging him with steroid distribution. Clemens becomes the second baseball star from the past decade to be indicted for making false statements about his use of performance-enhancing drugs.

(…)

Clemens last pitched in the major leagues in 2007. He sat out the first part of that season, returned to the Yankees with a dramatic announcement from George Steinbrenner's box at Yankee Stadium and then, because of nagging leg injuries, pitched inconsistently once he was back in uniform.

His final appearance, in a first-round playoff series that October which the Yankees lost to Cleveland, ended abruptly in the third inning of Game 3, when he exited with a sore hamstring. He was 45 years old and he never pitched in the major leagues again.
Frankly, this is all largely Clemens own fault.
When the Mitchell Report came out in December 2007 and the House Committee investigation was reviewing it, Clemens and his attorney demanded a public hearing where he could answer what he contended were lies being spread by his former trainer. When Andy Pettitte, a teammate and personal friend, came forward and admitted both that he had used steroids on one occasion and that Clemens had admitted to him that he had used them as well, Clemens essentially called his friend a lair. The evidence that Clemens was lying that day in February 2008 was readily apparent and his testimony under cross-examination by Committee members was, quite frankly, an embarressment. But, he knew the consequences of lying under oath and he choose to do it anyway.
I don't think this should even have been a Congressional issue. It's an internal baseball matter. But, that's not what's at stake here. Clemens put himself out front when the allegations came out by denying them publicly and then doing it again under oath. Now, it looks like he lied.
That's called perjury. And that's a problem.
It's sad really. On some level I don't care that Clemens, or any other ballplayer, used steroids, but he's not going to destroy his career and his life because he used steroids. He's going to destroy them both because, apparently, he lied.
I don't feel sorry for him either, he's cooked his own goose at this point. But this whole mess does make me feel sorry for this kid, and all the other former Clemens fans out there.
Update: The indictment itself has been released, and, for me, the paragraph that really just tells the tale is this one:
On or about January 18, 2008, the Committee invited CLEMENS to testify concerning the Mitchell Report as it related to allegations of CLEMENS' PED use. The Committee did not issue CLEMENS a subpoena, and CLEMENS was under no legal obligation to testify. CLEMENS retained his right under the Fifth Amendment to the United States Constitution to refuse to answer any question that might tend to incriminate him.
Everything else that follows from this is almost immaterial. Roger Clemens is either the dumbest man in sports, or the most arrogant.