Romney, Bachmann Lead GOP Field, Obama Leads All GOP Candidates
For the moment, the GOP race looks like a race between Mitt Romney and Michele Bachmann, which should make Romney happy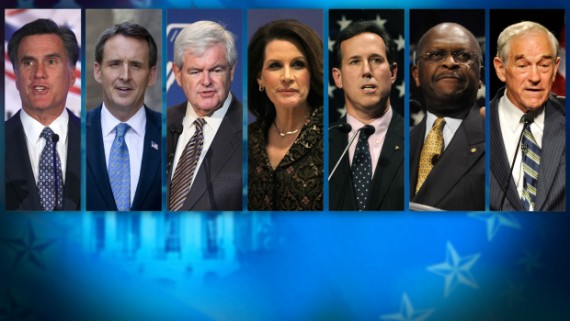 A new Quinnipiac poll of national Republicans shows Mitt Romney and Michele Bachmann essentially pulling away from the rest of the pack, even when heavy hitters like Rick Perry and Sarah Palin are included in the mix:
Minnesota U.S. Rep. Michele Bachmann, a relative newcomer in the race for the 2012 Republican presidential nomination, is surging and now trails former Massachusetts Gov. Mitt Romney 25 – 14 percent, according to a Quinnipiac University poll released today. Former Alaska Gov. Sarah Palin has 12 percent, followed by Texas Gov. Rick Perry with 10 percent. No other contender is over 6 percent. Ro

This compares to a June 8 survey by the independent Quinnipiac (KWIN-uh-pe-ack) University, showing Romney with 25 percent, Palin with 15 percent and Bachmann with 6 percent, sixth in a field of 10 candidates in the survey.

(…)

Rounding out the possible Republican presidential field are entrepreneur Herman Cain at 6 percent, Texas U.S. Rep. Ron Paul at 5 percent, former House Speaker Newt Gingrich at 5 percent, former Minnesota Gov. Tim Pawlenty at 3 percent, and former Pennsylvania Sen. Rick Santorum, former Utah Gov. Jon Huntsman and U.S. Rep. Thaddeus McCotter of Michigan each at 1 percent or less.

If Perry does not run, Romney would lead with 28 percent, followed by Bachmann with 16 percent and Palin with 13 percent.

If Perry were to run, but not Palin, Romney would lead Bachmann 28 – 17 percent with Perry remaining at 10 percent.

"This would indicate that Romney and Bachmann would benefit most if Perry or Palin do not run," said Brown.
At the moment, then, what we seem to have in the GOP race is a two-person race between Mitt Romney and Michele Bachmann. You probably couldn't pick two other candidates who more perfectly represent the Establishment and the Tea Party. If this really does come down to a race between the two of them then what we're looking at in 2012 is a battle between these two factions of the GOP, and the question facing primary voters will be whether they want to be ideologically pure, or whether they want to nominate a stil fairly conservative, though imperfect, candidate who actually has a chance of beating President Obama.
It's on that point, electability, that Romney clearly leaves Bachmann in the dust:
President Barack Obama tops all leading GOP White House hopefuls, hitting the all- important 50-percent mark against every candidate but Romney:

47 – 41 percent over Romney, unchanged from June 8;
50 – 38 percent over Bachmann, who was not matched against Obama June 8;
53 – 34 percent over Sarah Palin, compared to 53 – 36 percent June 8;
50 – 37 percent over Perry, who was not matched against Obama June 8.

Obama's margin over the Republican hopefuls stems from his huge margins among women voters that swamp the GOP candidates' small edge with men. For instance, matched against Romney, the president carries women 50 – 39 percent, but loses men by only 45 – 44 percent.

Against Bachmann, Obama leads 52 – 35 percent among women and 48 – 40 percent among men
Romney is also the only Republican candidate to lead Obama among independent voters, albeit by a small margin of two points. Nonetheless, Obama leads all the other GOP candidates among independents, although, interestingly, Bachmann is only 3 points behind among that voting cohort.
This is all very good news for Romney, it seems to me. Despite the problems that the base has with him, he remains the only candidate who comes close to being able to beat Barack Obama in November 2012. The only other prospective candidate who came close in that regard was Mike Huckabee, but he's not running. In the end, Romney is likely to benefit from the fact that most Republicans are going to want to defeat Barack Obama more than they want to score some obscure ideological point.