Romney's Federalism Dodge
Romney wants to make a federalism based argument for why his MA health care bill is good, while the PPACA is tyrannical. However, just saying that is not an argument.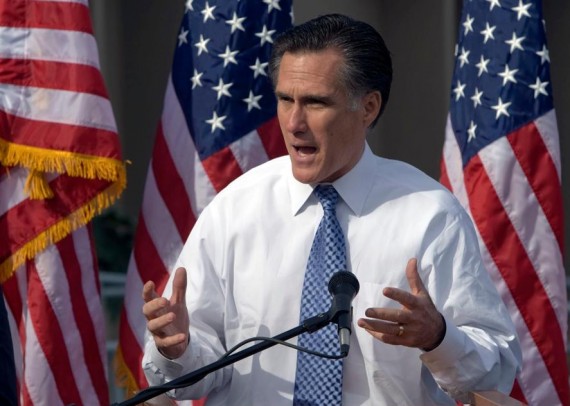 As best as I can tell, Mitt Romney's speech yesterday did not offer any particularly new arguments as to why the health care bill he signed as governor of Massachusetts is really any different from the PPACA signed by President Obama.
His fundamental argument, which he has made before, goes like this:
"Our plan was a state solution to a state problem," he said while walking his audience through a corporate-style slide presentation, "and his was a power grab by the federal government to put in place a one-size-fits-all plan across the nation" (Source:  NYT).
Clearly he wants to make an argument, which he hopes will appeal to the Tea Party faction in particular, that federalism is the core issue here.
However, I think that there are at least two key problems with his approach:
1)  If you are going to argue against a "one-size-fits-all" plan, you have to make a case as to why it would be the case that, say, health care in Massachusetts is fundamentally different than health care in New York, Wyoming, or Tennessee.
Indeed, it is problematic to assert that providing health care/the issue of health insurance is a "state problem" as it manifestly is a problem across the country.
Understand:  he is not arguing, as some want him to do, that the Massachusetts program is bad.  No, he is saying it is good, but just somehow uniquely good for MA and not good for other people.  And yet, this is a claim that he does not actually back up with evidence (or even an attempt at a serious argument).  On the one hand, it might sound good that different states have unique health care needs, but it is yet another to make the case.
Last time I checked, flu was flu, broken legs were broken legs, and cancer was cancer whether one lives in California, Texas, or Alabama.  Likewise the effects of aging tend to be basically constant, with most variations linked to genetics and lifestyle.   And while lifestyles do vary, to some degree, state to state, it is unclear to me that they vary in such a way that it would actually dictate health care policy in a major way.
2)  If you are going to make the federalism argument, then make it, don't just pay lip service to it.  The following is just so much hand-waving and rhetoric:
If he were president, Romney said, he would on his first day in office issue an executive order paving the way for states to opt out of the new federal law. In its place, he said, he would put forward a variety of measures that would give individual states more resources and flexibility to decide how to cover the uninsured, and to make the health-care market function more efficiently (source:  WaPo).
If you really think that there is a variety of options that might be better suited to different states, then give us some examples.  Explain your philosophy, don't dish platitudes like giving states more resources so that they can be flexible.  For one thing, scarcity of resources is part of the problem, and second, flexible to do what?
On a side note, I am not sure how a President could issue executive orders to pave "the way for states to opt out of the" PPACA.
The federalism argument here is a dodge, a fig leaf because he doesn't actually articulate a theory, framework, or policy to go along with it.  Rather, he simply hopes that it will be enough to convince the base that he is a True Believer in the Tenth Amendment so that he can move on to other things.
Ultimately, it is a bizarre argument to assert that what you did for Massachusetts was great, but what the PPACA did for the country was a mad power grab.  Especially if you can't make a cogent argument as to what would make MA uniquely suited to that system, but that somehow it doesn't work for the other 49 states.
I think it is also incumbent upon Romney to explain how it would be an acceptable outcome for some US citizens to have health care coverage as provided by their states while others do not.  This is especially tricky if one is running to be president of the whole country.  It is easy for a governor to say that I only care about my state, yet another for the president to take that position.
To conclude on the tyranny front:  Romney's position does not address the individual mandate issue (a central part of the MA legislation) in a way that I think most Tea Party folks would like.  If it is tyrannical for the federal government to force an uninsured person to buy health insurance, why isn't it tyrannical for the state government to do the same thing?  Indeed, if you listen to his arguments about the individual mandate in MA, they are largely identical to the arguments made by the proponents of the PPACA.