Ron Popeil, 1935-2021
The longtime TV pitchman is gone.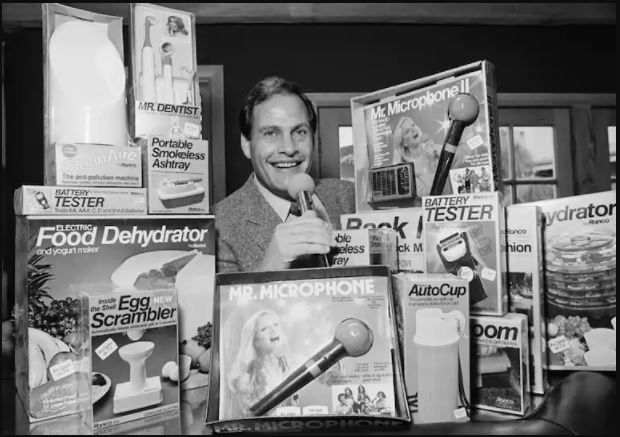 WaPo ("Ron Popeil, inventor, pitchman and TV infomercial star, dies at 86"):
Inventor, TV pitchman and salesman extraordinaire Ron Popeil became a familiar presence in America's homes and imaginations by demonstrating products he persuaded viewers they couldn't live without: the Veg-O-Matic, the Pocket Fisherman, spray-on hair, and especially the Showtime Rotisserie and BBQ countertop oven.

"Isn't that amazing?" he would say, first as a street hawker and store demonstrator and later in late-night TV commercials and half-hour infomercials, which he helped develop into a hybrid form of entertainment and commerce.

"You can slice a tomato so thin it only has one side!" he exclaimed about his Six Star Plus knives, which stayed sharp after cutting through shoe leather and pieces of wood. "Now how much would you pay?" he would say.

Mr. Popeil (pronounced poh-PEEL), whose Ronco brand of products became staples of postwar households and who infused pop culture with phrases such as "No muss, no fuss," "But wait, there's more" and "Set it and forget it," died July 28 at a Los Angeles hospital. He was 86.

The death was confirmed by a spokesman, Eric Ortner, who said he had a "sudden medical emergency" but did not cite a specific cause.

His products were mocked for being cheap and poorly made, and Mr. Popeil was the subject of mockery himself — most memorably by Dan Aykroyd on a 1976 episode of "Saturday Night Live," when he dropped a whole fish into a "Bass-O-Matic" and blended it into a piscine smoothie.

Mr. Popeil took the humor in stride, played along with talk-show hosts and saw any kind of publicity as free advertising for his products. He began as a teenage salesman, setting up a stand on a sidewalk flea market in Chicago, where he sold kitchen gadgets — the Chop-O-Matic and Veg-O-Matic, among them — invented by his father.

"I saw all these people selling products, pocketing money, making sales, and my mind went racing," Mr. Popeil said in a 1995 autobiography, "The Salesman of the Century," written with Jefferson Graham. "I can do what they're doing, I thought. But I can do it better than they can."

Each morning, he bought 50 pounds of onions, carrots and cabbages as well as 100 pounds of potatoes and, by the end of a 12-hour day, had sliced and diced through all of them, keeping up a steady patter all the while.

"Ladies and gentlemen, I am going to show you the greatest kitchen appliance ever made," he would say. Then: "All your onions chopped to perfection without shedding a single tear."

Mr. Popeil was 16 when a Chicago newspaper called him "a silver-tongued orator." Two years later, he was demonstrating products at a Woolworth's store, sometimes clearing as much as $1,000 a week.

"He was mesmerizing," Mel Korey, who later became a business partner, told the New Yorker in 2000. "There were secretaries who would take their lunch break at Woolworth's to watch him because he was so good-looking."

He knew just when to start asking onlookers to reach for their wallets — what street sellers call "the turn." But before he sold to everyone, thus dispersing the crowd, Mr. Popeil would say, "But wait, there's more," drawing even more people to his spiel.

He was soon traveling to state fairs around the country, and in 1956 he made his first television commercial, a 3½-minute spot for the Chop-O-Matic, which some observers have called one of the first infomercials.

In 1964, Mr. Popeil and Korey started Ronco, taking advantage of television advertising. Mr. Popeil refined some of the items developed by his father and uncles, who were in the same business, and began to invent his own.

Over the next few years, he began to market the Smokeless Ashtray, Popeil's Pocket Fisherman (a miniature fishing rod and reel), Inside-the-Shell Egg Scrambler, Popeil's Pasta & Sausage Maker, and the Buttoneer ("The problem with buttons is they always fall off.").

He invented Popeil's Electric Food Dehydrator for making banana chips, dried apples and beef jerky — "I love beef jerky, but you can't find good homemade beef jerky," he said by way of explanation. He sold more than $100 million worth of the machine in two years.

His GLH Formula Number 9 Hair System — often called hair in a can — covered bald spots with a powder that could be combed into the surrounding hair. (Mr. Popeil gladly turned around to show his own bald spot to demonstrate how it worked.)

"People always ask me, 'Ron, where did you get that name GLH?' " he told the New Yorker. "I made it up. Great-Looking-Hair."
For those of a certain age, Popeil's ads were a fixture. I don't know that my folks bought any of the aforementioned products but am pretty sure they bought some Ronco crap.
Update from Steven:
When I heard of Popeil's passing, I meant to post the following, which seemed a fitting tribute (and Popeil's daughter sang backup on the track):