Rupert Murdoch Assaulted in Parliamentary Hearing
Rupert Murdoch was attacked by a man with shaving cream 2 hours into Parliamentary testimony.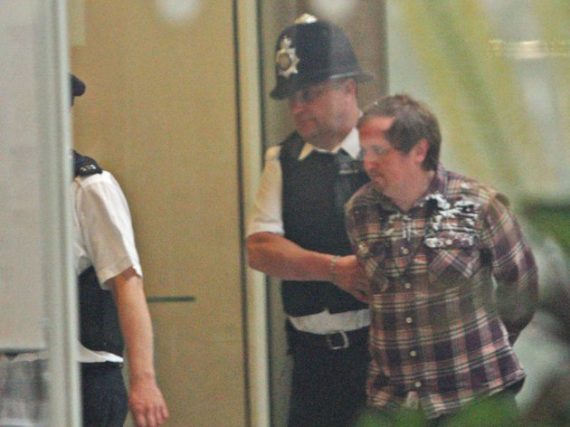 CNN Breaking:
Media magnate Rupert Murdoch was attacked by a man apparently carrying a plate full of shaving foam during a parliamentary hearing Tuesday, but returned unhurt. The man could be heard telling Murdoch he's "a greedy billionaire."

Murdoch's wife, Wendi Deng, who was seated behind him, leaped to her feet and smashed the attacker's hand with her own, pictures from the scene showed.

Murdoch was hit full in the face, and stunned but not injured, CNN saw.

The hearing into phone hacking was suspended for a few minutes only.

The attacker appears to be in his late 20s or early 30s. A policeman wrestled him away but the attack was already complete by then. Police arrested him and were later seen wiping foam off his face.
AP ("Man rushes at Rupert Murdoch in hearing"):
A protester splattered Rupert Murdoch with white foam on Tuesday, interrupting a dramatic hearing in which the media baron told British lawmakers he was not responsible for a phone hacking scandal that has rocked his global empire.

[…]

After more than two hours of testimony, a man in a plaid shirt appeared to run toward Murdoch before being struck by his wife Wendi Deng.

Police in the back of the committee room were holding an apparently handcuffed man with white foam covering his face and shirt. The foam also appeared to have hit Murdoch's suit.

[…]

Media reports identified the protester as Jonnie Marbles, a British comedian. Just before the attack, he wrote on his Twitter feed: "It is a far better thing that I do now than I have ever done before (at)splat," a slightly altered quotation from the last sentence of Charles Dickens' "A Tale of Two Cities."
Now, readers will differ as to whether Murdoch deserves to have shaving cream smeared on his face. But how in the hell does a man not only get into a House of Commons hearing with a plate of shaving cream but manage to get up to the front and assault a key witness? That's an appalling lack of security.