Rutgers University Pays Snooki $32,000 For Campus Appearance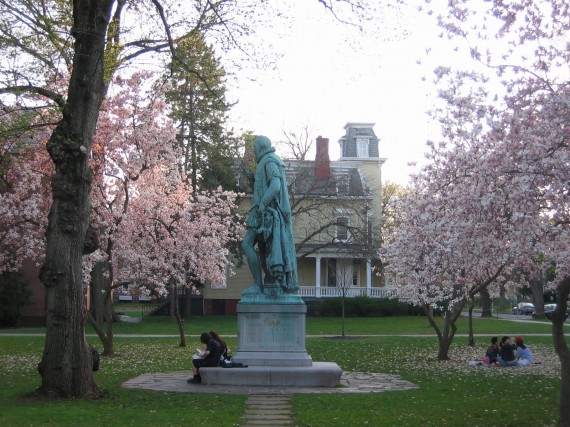 Count this as a sign of the apocalypse:
Snooki ruined Bryan Orellana's day. Not just Snooki, but the $32,000 a Rutgers' student activities group paid her to appear at the university.

"Appear" in this context should mean showcase a talent. Snooki's talent, is well, you know. She's a reality star, an oxymoron if there ever was one, no pun intended.

"This is embarrassing for the university. It really is," said Orellana, 18, a freshman at Rutgers-Newark. "What did she talk about? How many guys she slept with? How many times she got drunk? The time she got arrested? I don't know what to say. I'm embarrassed for Rutgers."

Orellana, a criminal justice/theater major from Union City, is just one of the thousands of serious students working their way through Rutgers. He was accepted by NYU, but Rutgers was more affordable, especially with the work-study program.

Last semester, he worked 18 hours a week, for $7.25 an hour, in the Newark campus photo lab, handling dark room chemicals, and printing and mounting pictures. This semester, he makes $9 an hour in the computer lab, where he does maintenance of machines and tutors students on programs. He puts in 14 hours a week there.

"Do you know what $32,000 means to me? A free ride through college," he said. "They paid her that? For what? This is really, really depressing."
Tell me about it. For a university that has produced four Nobel Prize winners, along with people like actor Paul Robeson, this is just pathetic. Even more pathetic is the fact that this money came out of mandatory student fees, and that this woman was paid more than RU alumnus, and 1993 winner of the Nobel Prize in Literature Toni Morrison, who will be the 2011 Commencement Speaker.
And just what did R.U. get for this $32,000? Well, this:
Rutgers University students got two hour-long question-and-answer sessions tonight with "Jersey Shore" icon Nicole "Snooki" Polizzi. In the first hour, Snooki offered anecdotes about her reality show, dance lessons, a demonstration on styling her iconic "pouf" hairdo and her lessons for life.

Her parting advice to Rutgers students: "Study hard, but party harder."
Sigh.