Former Secretary Of Nobel Committee Says Obama's Peace Prize Was A Mistake
Nine years later, at least one member of the Norwegian Nobel Committee is admitting what seemed at the time a rather obvious fact.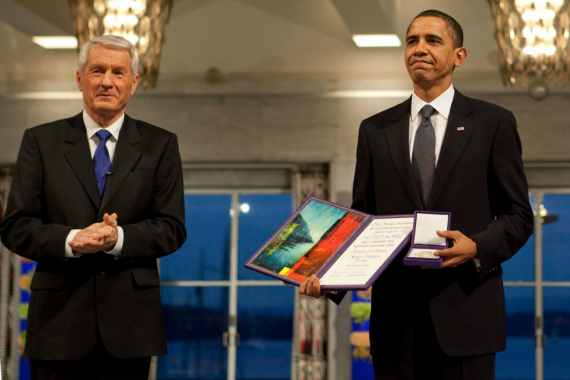 Geir Ludenstad, who served as Secretary of the Norwegian Nobel Committee from 1990 to 2015, which is charged with selecting the winner of the Nobel Peace Prize, says in a new book that awarding the prize to former President Barack Obama at the start of his Presidency in 2009 was a mistake:
Awarding the Nobel Peace Prize to US President Barack Obama in 2009 failed to achieve what the committee hoped it would, its ex-secretary has said.

Geir Lundestad told the AP news agency that the committee hoped the award would strengthen Mr Obama.

Instead, the decision was met with criticism in the US. Many argued he had not had any impact worthy of the award.

Mr Lundestad, writing in his memoir, Secretary of Peace, said even Mr Obama himself had been surprised.

"No Nobel Peace Prize ever elicited more attention than the 2009 prize to Barack Obama," Mr Lundestad writes.

"Even many of Obama's supporters believed that the prize was a mistake," he says. "In that sense the committee didn't achieve what it had hoped for".

He also reveals that Mr Obama considered not going to pick up the award in Norway's capital, Oslo.

His staff enquired whether other winners had skipped the ceremony but found this has happened only on rare occasions, such as when dissidents were held back by their governments.

"In the White House they quickly realised that they needed to travel to Oslo," Mr Lundestad wrote.
Law Professor Jonathan Turley comments:
As I discussed at the time, Obama beat out various more worthy candidates including Dr. Sima Samar who is an amazingly brave Afghan woman who has risked her life to fight for the rights of women and girls in both Afghanistan and Pakistan.  The chairwomen of the Afghan Independent Human Rights Commission, Samar was the first Hazara woman to obtain a medical degree from Kabul University. She has had to repeatedly flee for her life but has insisted on returning time and time again to treat the poor and fight for women's rights — in an area where feminists are routinely killed or sprayed with acid by extremists.

Samar also opposed the rise of Sharia law and religious radicals. Extremists forced her out as Deputy President and later Minister of Women's Affairs.

For civil libertarians, the comparison of Samar and Obama could not be more striking. Where Obama has repeatedly refused to fight for principle and yielded to politics (in areas like torture, privacy, and detainee rights), Samar has refused to yield on principle — even at the risk of her own life. While Obama was in office less than two weeks before his nomination, Samar has spent a lifetime fighting for oppressed women in Afghanistan.

Geir Lundestad and his colleagues rejected Samar and others because they wanted to boost Obama.  In his memoir entitled Secretary of Peace, Lundestad admits "No Nobel Peace Prize ever elicited more attention than the 2009 prize to Barack Obama . . . Even many of Obama's supporters believed that the prize was a mistake. In that sense the committee didn't achieve what it had hoped for."

That is Lundestad's way of explaining a decision that openly ignored the premise of the prize, ignored humanitarians with inspiring records, and gave the leading humanitarian award to someone without single credible claim to that prize.
My reaction to the award of the Peace Prize to President Obama after he had served for less than a year in office and despite the fact that he had really accomplished anything that can remotely be said to be on a par with the records of previous or subsequent Nobel Peace Prize Laureates was much the same as Turley's. A, my reaction to the award was mostly befuddlement at exactly what it was that this relatively new President had done that deserved an award that had a long-standing reputation of being given to people who had done something of distinction in the area of world peace, or who had a long career of doing so. Indeed, my reaction was largely identical to the befuddlement that both James Joyner and Dave Schuler noted at the time at a post here at Outside The Beltway. At the very least it seemed as though it was something that was absurdly premature given the fact that there really wasn't anything that the Nobel Committee could point to that evidence the former President had contributed to world peace in any significant respect. At worst it seemed as though it was a rather obvious effort on the part of the Nobel Committee to raise the stature of an American President that they favored politically in order to assist him in furthering his agenda domestically and raise his stature internationally.
For example, as I noted at the time, Obama's record as of 2009 was in no way comparable to other U.S. Presidents who had won the Prize either during their Presidency or years afterward.
1906 — Theodore Roosevelt "for his successful mediation to end the Russo-Japanese war and for his interest in arbitration, having provided the Hague arbitration court with its very first case"
1919 —  Woodrow Wilson "President of United States of America; Founder of the League of Nations"
2002 —Jimmy Carter "for his decades of untiring effort to find peaceful solutions to international conflicts, to advance democracy and human rights, and to promote economic and social development"[
Or, some of these other recipients:
Or, how about someone who was continuously nominated for the Peace Prize during his lifetime but never won?
With the notable exception of Obama, each of the persons noted above, and indeed the vast majority of the Peace Prize laureates who have received the award over its 117-year history can be said to have accomplished something of note prior to being awarded the prize. In some cases, such as that of former President Carter, the award came after a long post-Presidential period during which he traveled the world helping to ensure free and fair elections in nations that had never experienced such a thing and advancing other charitable causes aimed at improving world peace. Even the award of the prize in 2014 to Malala Yousafzai, who was just 17 at the time she received the award, can be said to have accomplished more than President Obama at the time the award was given to him.
To be fair to the former President, he had never actually openly campaigned for the award and his public reaction at the time was one of surprise at receiving something he clearly wasn't expecting and quite arguably had not earned, something that he has shared in subsequent interviews over the years. If this latest report is to be believed, it also appears that he at least briefly considered the idea of declining the prize or at least declining to speak at the award ceremony in Oslo that Peace Prize Laureates traditionally attend. In the end, the Administration decided, probably correctly, against this approach. Also to Obama's credit, when he has spoken about the award in the past he has been relatively modest about it, perhaps in recognition of the extraordinary and unusual circumstances under which it was awarded at the time.
In the end, there's nothing more that can be done about this. There's no tradition, and apparently no procedure, for revoking a Peace Prize once it has been awarded and I'm not sure that would be appropriate at this time. At the very least though, one hopes that the Nobel Committee learned a lesson from this and will be more circumspect in giving out what is arguably the most prestigious award in the world for "aspirational" reasons in the future.