Nobel Peace Prize Awarded for Ending Chemical Weapons Use
An agency has won the Nobel Peace Prize for something that hasn't happened yet.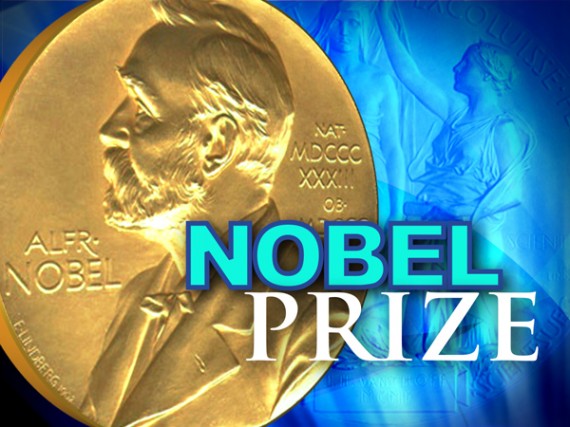 An agency has won the Nobel Peace Prize for something that hasn't happened yet.
Reuters ("Chemicals weapons watchdog OPCW wins Nobel Peace Prize"):
The global chemical weapons watchdog charged with overseeing destruction of Syria's chemical weapons stockpile during a civil war won the 2013 Nobel Peace Prize on Friday.

The Organization for the Prohibition of Chemical Weapons (OPCW), a relatively small organization with a modest budget, dispatched its experts after a sarin gas attack killed more than 1,400 people in August.

Their deployment, supported by the United Nations, helped avert a U.S. strike against President Bashar al-Assad.

Thorbjoern Jagland, the head of the Nobel Peace Prize committee, said that the award was a reminder to nations with big stocks, such as the United States and Russia, to get rid of their own reserves "especially because they are demanding that others do the same, like Syria".

"We now have the opportunity to get rid of an entire category of weapons of mass destruction….That would be a great event in history if we could achieve that," he said.
It's truly bizarre to celebrate work against chemical weapons in a year when they've been used more frequently and lethally than at any time in recent memory. Further, to the extent we're celebrating the institutionalization of norms against chemical weapons use, it seems odd to recognize an organization that was created by the treaty that signified said institutionalization rather than the leaders who got us there.
The Nobel Peace Prize has in recent years become the international relations equivalent of the Department of Pre-Crime in "Minority Report," reacting to things that might happen rather than recognizing achievements that have been, well, achieved. The most notable case of this, of course, was the award to Barack Obama weeks into his presidency "for his extraordinary efforts to strengthen international diplomacy and cooperation between peoples." After decades of lauding those who have ended or prevented wars, made major contributions to the cause of human rights, or helping feed starving people, the Prize now seems mostly to be awarded to causes and organizations that hope one day to do something about an issue that the Committee thinks would be swell.
As someone on my Twitter feed noted, none of the other Nobel Prizes are awarded in that manner. You don't get the Nobel Prize in Literature for a great first draft.