Sarah Palin For Senate?
Sarah Palin hinted about running for Senate in Alaska. Most likely, she's once again just teasing her supporters.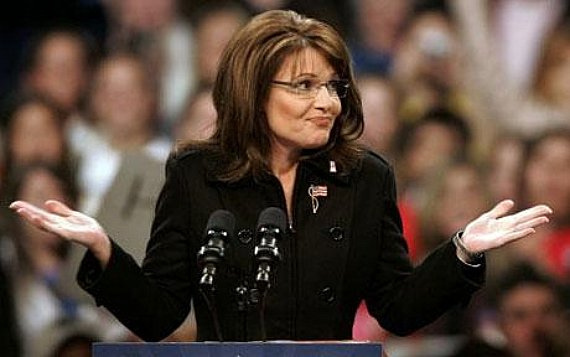 Continuing her game of teasing the media and her supporters with possibilities that she will most likely never follow through on, Sarah Palin is now hinting that she might step into the 2014 Alaska Senate race against Mark Begich:
Sarah Palin opened the door Tuesday to running for Senate next year in Alaska.

"I've considered it because people have requested me considering it, but I'm still waiting to see what the lineup will be and hoping that … there will be some new blood, some new energy," the former governor told Sean Hannity during an appearance on his radio show.

Two Republicans have already announced challenges to Democratic freshman Sen. Mark Begich: Lt. Gov. Mead Treadwell and 2010 GOP nominee Joe Miller.

"We'd meet with any Alaskan interested in challenging Mark Begich," National Republican Senatorial Committee spokesman Brad Dayspring told POLITICO, "and Governor Palin is right in that Begich abandoned his campaign promises — most notably by being the deciding vote on ObamaCare — and must be repealed and replaced."

It is very hard to envision Palin, who resigned in July 2009 before completing her first term as governor, ultimately getting in the race. She likes keeping herself in the news, and flirting with a high-profile Senate bid is sure to generate buzz. But she would need to give up a big stream of income for a race she would not be certain to win.
The fact that Palin recently signed a brand new contract with Fox News for an undisclosed sum, and that she spent the last two election cycles inserting herself into various Senate races around the country, suggests strongly that she isn't really serious about this suggestion. Add into this the fact that in the four years since she quit her job, Palin has shown no inclination to actually take on once again the responsibility of governing as an officeholder. She passed up a run against political rival Lisa Murkowski in 2010, she passed up running for President. Why does anyone think that she'd dive back into the political arena now?
As for what chances Palin might have if she did run, the closest indication we have is a Public Policy Polling poll from February:
In hypothetical head to heads Begich leads Anchorage Mayor Dan Sullivan 47/41, Lieutenant Governor Mead Treadwell 47/39, former Lieutenant Governor Loren Leman 50/40, former Governor Sarah Palin 54/38, and 2010 nominee Joe Miller 58/30. Palin's numbers are a reflection of her continuing to be very unpopular on the home front- 34% of voters see her positively to 59% with a negative opinion. She looks popular by comparison to Miller though- he has only a 20% favorability rating with 63% of voters giving him poor marks.
Palin's negative numbers in Alaska have been consistently high ever since she left her job before her term was even over just over four years ago. Would these numbers move if Palin actually move in the unlikely event that she entered the race? Probably to some extent, but, knowing Palin, it's probably that they'll become more negative. The Alaska GOP has a candidate in the race that is potentially capable of beating Begich in 2014 in the person of Lt. Governor Mead Treadwell.  Palin getting into the race would be precisely the last thing that they need.