Sarah Palin's Alaska as Popular as Mad Men
Sarah Palin's reality show as as popular as the critically acclaimed drama everyone's talking about. And that's just half the story.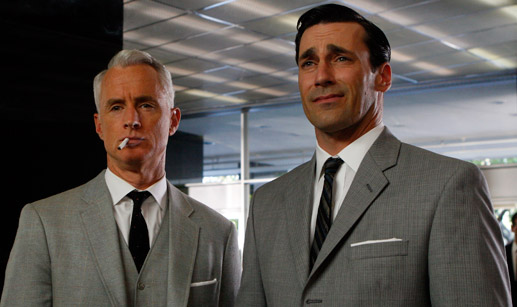 Dave Weigel's widely linked post arguing that Sarah Palin's popularity may have peaked and that she's risking overexposure contains a factoid that jumped out at me:
Ratings for "Sarah Palin's Alaska," which tumbled after 5 million people watched the premiere, have remained stable at around 3 million. That's about as good as "Mad Men." No one's proposing a John Hamm candidacy, though.
The closing bit of snark is amusing but silly.  Palin's fame is entirely driven by her status as a national political figure and presumptive presidential aspirant; Hamm's is almost entirely driven by "Mad Men" and spin-off appearances on "Saturday Night Live" and "30 Rock."
But the underlying statistic is shocking, if perhaps it shouldn't be.  Palin's show is a bizarre infomercial being packaged as a "reality show" on TLC.   "Mad Men" is one of the most critically acclaimed shows of its era.
Elites consider the former to be a curiosity, watched either by brain dead rednecks or people like themselves waiting for a train wreck.  They view "Mad Men" as must see TV that everyone they know is watching and talking about.  That they have essentially the same audience is a testament to the reality of the elite world-view.
Here are the ratings for last night's television shows, which one presumes are depressed by holiday travel and re-runs:
8 p.m.

NBC: "The Sing-Off" finale (8.8 million viewers, 5.2/8 households)
CBS: "How I Met Your Mother" rerun (6.6 million, 4.1/7)/"Rules of Engagement" rerun (6.3 million, 3.9/6)
FOX: "Million Dollar Money Drop" premiere (5.4 million, 3.2/5)
ABC: "Skating With the Stars" (4.8 million, 3.1/5)
The CW: "90210" rerun (1.1 million, 0.7/1)

9 p.m.

CBS: "Two and a Half Men" rerun (9.2 million, 5.8/9)/"Mike & Molly" rerun (7.4 million, 4.7/7)
NBC: "The Sing-Off" finale (8.2 million, 4.8/7)
ABC: "Castle" rerun (5.6 million, 3.6/5)
FOX: "Million Dollar Money Drop" premiere (5.3 million, 3.3/5)
The CW: "Gossip Girl" rerun (768,000, 0.5/1)

10 p.m.

CBS: "Hawaii Five-0" rerun (7.5 million, 4.8/8)
ABC: "Castle" rerun (7.15 million, 4.5/8)
NBC: "Perfect Couples" preview (3.8 million, 2.4/4)/"The Office" rerun (2.2 million, 1.8/3)
Far, far more people watch shows that I quite literally did not know were on television than watch "Mad Men."  Something called "The Sing-Off," which I presume is some sort of singing competition, has nearly three times the viewers.   Reruns of "Two and a Half Men" has more than three times the viewership.   Literally every show on CBS, NBC, ABC, and FOX has more viewers than "Mad Men."
UPDATE:  Judging from some of the commenters and the initial reaction of DougJ, I obviously didn't make it clear that I consider myself among the "elites" who think "Mad Men" more popular and Palin's show more fringe than is in fact that case.  They're both very niche shows, whose audiences likely overlap only among certain segments of the pundit class.