Saudi Arabia Hoping To Bribe Its Citizens Not To Revolt
Is Saudi Arabia the next domino to fall in the Middle East? The Royal family is hoping that money will be enough to make sure that doesn't happen.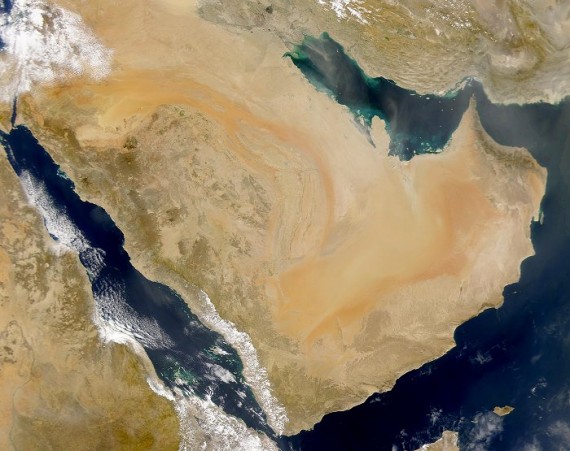 As we watch the wave of protests on the verge of taking down a third Arab leader, the Saudi Royal Family apparently thinks it can bribe the populace into remaining docile:
The king of Saudi Arabia last night announced $36bn (£22bn) of extra benefits for his people in an attempt to stop the wave of Arab uprisings spreading to the world's biggest oil exporter, as experts warned Brent crude could hit $220 a barrel.

King Abdullah's support package offers to give 18m lower and middle-income Saudi's inflation-busting pay rises, unemployment benefits and affordable housing.
The cash-rich Saudi government pledged to spend a total of $400bn by the end of 2014 to improve education, health care and the kingdom's infrastructure.

Charles Robertson, an analyst at Renaissance Capital, said investors are very concerned about what might happen in Saudi Arabia's oil rich Eastern Province, the home of the kingdom's restless Shi'ite minority. The Saudis produce 11.6pc of world output, but a much higher share of exports.

"There is potential for serious tension, and not just among the Shia. High unemployment and the youth bulge means unrest could be country-wide. If Saudi Arabia or Iran are engulfed, we have a serious problem," Mr Robertson said.
The possibility of unrest in Saudi Arabia, and especially in its oil-rich and Shiite-dominate eastern provinces, has oil markets worried, with some analysts saying prices could skyrocket to levels never seem before:
The growing turmoil in the region led experts to warn last night that Brent crude oil prices may double from the $111 a barrel mark it peaked at yesterday if the crisis continues to spread to other Middle Eastern countries.

Nomura's commodity team said oil prices risk vaulting to uncharted highs over coming weeks if chaos hits Algeria as well, reducing global spare capacity to the wafer-thin margins seen just before the first Gulf War.

On Wednesday, Brent crude rose more than 5pc to almost $112 a barrel, threatening levels that could derail the global economy. It closed at $111.25.

"We could see $220 a barrel should both Libya and Algeria halt oil production. We could be underestimating this as speculative activiites were largely not present in 1990-1991," said Michael Lo, the bank's oil strategist.
And, while some analysts in the West seem to be arguing that Saudi Arabia is different from the rest of the Middle East, the breeding ground for popular unrest seems obvious:
Saudi Arabia is vulnerable to the changes taking place around it. On one side Egypt, on another Yemen and across a 26 kilometre causeway on the eastern gulf, Bahrain. The Saudi royal family is locked in a dangerous time warp of its own making.

The US Consular Service advises on its website that the government of "Saudi Arabia is a monarchy ruled by a king chosen from and by members of the Al Saud family. The king rules through royal decrees issued in conjunction with the Council of Ministers, and with advice from the Consultative Council. The king appoints members of both councils…Saudi authorities do not permit criticism of Islam or the royal family. The government prohibits the public practice of religions other than Islam".

Tensions have been simmering in the Middle East for decades, particularly Saudi Arabia. The majority practice a fundamentalist off-shoot of the Sunni branch of Islam, known as Wahabism. At least it does so officially. Compliance with the dictates of Wahabism is vested in the Mutawwa or religious police. They ensure that women are accompanied in public by their husbands or male relatives, that they do not drive motor vehicles and that they wear an Abaya, or equivalent in the case of Western women, and that female heads are covered with a scarf or shawl.

Women have few of the rights or freedoms that are taken for granted in Australia. Alcohol and drugs are forbidden, yet members of the wealthy elite and some members of the extended ruling family ignore this restriction.

There are some wonderfully contemplative, well-balanced and read Saudis, yet venality and mendacious is all too often encountered. It is a society run entirely for the benefit of ethnic Saudi males.
Charles Krauthammer spoke aboiut this last night, and noted that March 11th appears to be a crucial day as far as Saudi Arabia is concerned:
"The big one is March 11," Krauthammer said. "There's a Facebook call in Saudi Arabia for a day of rage all over Saudi Arabia on March 11. Now, the Saudis have really good intelligence. They are tough. They're ruthless and they're effective. There isn't a lot of anti-government activity in Saudi Arabia."

If it isn't foiled though, Krauthammer said such unrest could spell dire consequences for the world economy and would warrant intervention.

"However in the eastern provinces, which are Shiite – if you get major eruptions on March 11, all hell is breaking loose," he continued. "Saudi Arabia is the prize. It's the treasure. I mean, it's the gold at the end of the rainbow. It's everything for the world economy. And then you have to think of Western intervention – if something like that happens."

(…)

And remember, the Shiites in Bahrain, which is sort of a proxy for Saudi Arabia and Iraq, are pro-Iranian," he said. "There are pro-Iranians among them. If Iran essentially gets proxy control of Saudi oil, the whole world has changed."

"So I think the one we really — I mean there are humanitarian concerns in Libya that are significant," he continued. "There are also strategic concerns, but there's nothing compared to Saudi Arabia and it'll be interesting. I'm not sure anything will happen on March 11, but if something does we got a whole new world we're living in."
Krauthammer is right, of course. If Saudi Arabia erupts into something akin to what we've seen elsewhere in the Arab world, then all bets are off. The price of oil will likely skyrocket just on the fear that the world oil supply could be cut off for even a brief period of time. The economic impact of $200 per barrel oil is totally unpredictable, but it's doubtful that it would be good. This is why the Saudi leadership is trying to placate it's citizenry. Will it work? I have no idea and I don't think anyone else does. The one thing about the protests that have swept the Middle East that we've learned so far is that they're totally unpredictable and anything is possible.