Schwarzenegger and Shriver Separate
Arnold Schwarzenegger and Maria Shriver have announced their separation after 25 years of marriage.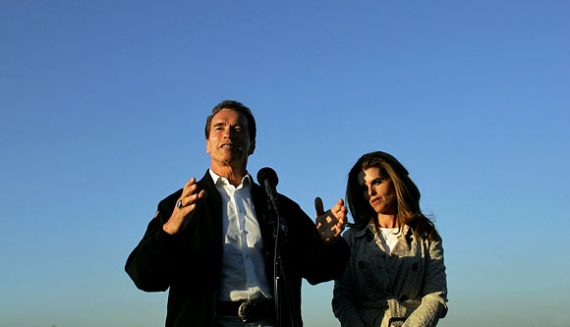 Arnold Schwarzenegger and Maria Shriver have announced their separation after 25 years of marriage.
Los Angeles Times ("Arnold Schwarzenegger, Maria Shriver announce separation"):
Former Gov. Arnold Schwarzenegger and his wife, Maria Shriver, have separated, with Shriver moving out of their Brentwood mansion while the two determine the next step in their 25-year marriage.

Shriver has been residing apart from the actor-turned-politician for the last few weeks. The former first couple confirmed the separation in a joint statement released Monday after questions from The Times.

"This has been a time of great personal and professional transition for each of us," the statement read. "After a great deal of thought, reflection, discussion and prayer, we came to this decision together. At this time, we are living apart while we work on the future of our relationship.

"We are continuing to parent our four children together. They are the light and the center of both of our lives. We consider this a private matter and neither we nor any of our friends or family will have further comment. We ask for compassion and respect from the media and the public."

Over the years, the marriage between the international celebrity and the daughter of the Kennedy dynasty has come under close scrutiny, especially during the 2003 recall of Gov. Gray Davis, when The Times reported on Schwarzenegger's lengthy history of groping women. At the time, Shriver defended her husband, helping lift him to victory in the free-for-all contest.

Since Schwarzenegger left office, it had seemed as though the two were living separate lives. Shriver, a former contributing anchor on NBC's "Dateline," has worked on her women's empowerment website, guest edited an issue of Oprah Winfrey's magazine and promoted causes near to her heart, such as Alzheimer's research. She struggled with the death of her father, Sargent Shriver, in January, and took her son Patrick and some of his friends on an East Coast college tour in April.

Shriver, 55, spoke openly about the uncertainty she felt about moving on to the next phase of her life. "It is so stressful to not know what you're doing next," Shriver said in a March 28 YouTube video to supporters. Though there was no intimation of a split, Shriver appeared without her wedding ring. "I'd like to hear from other people in transition," Shriver said. "How did you get through it? What were three things that enabled you to get through your transition?"

The former governor, 63, told a Times reporter in April that he yearned for a show business comeback. It was later announced that Schwarzenegger had signed on to star in three films, including another installment in the "Terminator" series.
UPDATE (James Joyner): Sad and surprising news–although we should perhaps stop being surprised when celebrity couples break up seemingly out of the blue. Al and Tipper Gore seemed happy, too.
That it comes at a transition point in their lives is typical. It's amazing how often retirement or the last child moving out also marks the end of a decades-long marriage.  People reflect on their lives, decide they want something else, and decide to move on.