Science Denounces Trump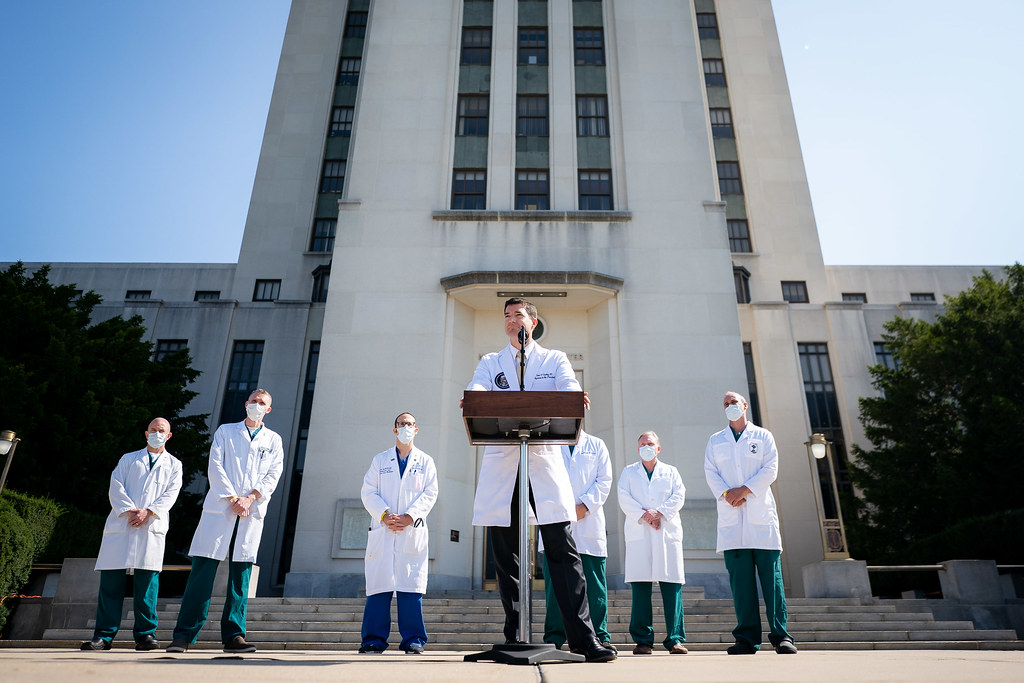 Two leading scientific journals have taken the historic step of weighing in on the Presidential race, deeming President Trump's handling of public health a crisis that demanded their voice.
NYT ("In a First, New England Journal of Medicine Joins Never-Trumpers"):
Throughout its 208-year history, The New England Journal of Medicine has remained staunchly nonpartisan. The world's most prestigious medical journal has never supported or condemned a political candidate.

Until now.

In an editorial signed by 34 editors who are United States citizens (one editor is not) and published on Wednesday, the journal said the Trump administration had responded so poorly to the coronavirus pandemic that they "have taken a crisis and turned it into a tragedy."

The journal did not explicitly endorse Joseph R. Biden Jr., the Democratic nominee, but that was the only possible inference, other scientists noted.

The editor in chief, Dr. Eric Rubin, said the scathing editorial was one of only four in the journal's history that were signed by all of the editors. The N.E.J.M.'s editors join those of another influential publication, Scientific American, who last month endorsed Mr. Biden, the former vice president.
The JAMA editorial ("Dying in a Leadership Vacuum"*) is harsh:
The magnitude of this failure is astonishing. According to the Johns Hopkins Center for Systems Science and Engineering,1 the United States leads the world in Covid-19 cases and in deaths due to the disease, far exceeding the numbers in much larger countries, such as China. The death rate in this country is more than double that of Canada, exceeds that of Japan, a country with a vulnerable and elderly population, by a factor of almost 50, and even dwarfs the rates in lower-middle-income countries, such as Vietnam, by a factor of almost 2000. Covid-19 is an overwhelming challenge, and many factors contribute to its severity. But the one we can control is how we behave. And in the United States we have consistently behaved poorly.

[…]

Why has the United States handled this pandemic so badly? We have failed at almost every step. We had ample warning, but when the disease first arrived, we were incapable of testing effectively and couldn't provide even the most basic personal protective equipment to health care workers and the general public. And we continue to be way behind the curve in testing. While the absolute numbers of tests have increased substantially, the more useful metric is the number of tests performed per infected person, a rate that puts us far down the international list, below such places as Kazakhstan, Zimbabwe, and Ethiopia, countries that cannot boast the biomedical infrastructure or the manufacturing capacity that we have.2 Moreover, a lack of emphasis on developing capacity has meant that U.S. test results are often long delayed, rendering the results useless for disease control.

The United States came into this crisis with enormous advantages. Along with tremendous manufacturing capacity, we have a biomedical research system that is the envy of the world. We have enormous expertise in public health, health policy, and basic biology and have consistently been able to turn that expertise into new therapies and preventive measures. And much of that national expertise resides in government institutions. Yet our leaders have largely chosen to ignore and even denigrate experts.

The response of our nation's leaders has been consistently inadequate. The federal government has largely abandoned disease control to the states. Governors have varied in their responses, not so much by party as by competence. But whatever their competence, governors do not have the tools that Washington controls. Instead of using those tools, the federal government has undermined them. The Centers for Disease Control and Prevention, which was the world's leading disease response organization, has been eviscerated and has suffered dramatic testing and policy failures. The National Institutes of Health have played a key role in vaccine development but have been excluded from much crucial government decision making. And the Food and Drug Administration has been shamefully politicized,3 appearing to respond to pressure from the administration rather than scientific evidence. Our current leaders have undercut trust in science and in government,4 causing damage that will certainly outlast them. Instead of relying on expertise, the administration has turned to uninformed "opinion leaders" and charlatans who obscure the truth and facilitate the promulgation of outright lies.
Scientific American went even further, explicitly endorsing Biden even in its headline ("Scientific American Endorses Joe Biden"):
Scientific American has never endorsed a presidential candidate in its 175-year history. This year we are compelled to do so. We do not do this lightly.

The evidence and the science show that Donald Trump has badly damaged the U.S. and its people—because he rejects evidence and science. The most devastating example is his dishonest and inept response to the COVID-19 pandemic, which cost more than 190,000 Americans their lives by the middle of September. He has also attacked environmental protections, medical care, and the researchers and public science agencies that help this country prepare for its greatest challenges. That is why we urge you to vote for Joe Biden, who is offering fact-based plans to protect our health, our economy and the environment. These and other proposals he has put forth can set the country back on course for a safer, more prosperous and more equitable future.

The pandemic would strain any nation and system, but Trump's rejection of evidence and public health measures have been catastrophic in the U.S. He was warned many times in January and February about the onrushing disease, yet he did not develop a national strategy to provide protective equipment, coronavirus testing or clear health guidelines. Testing people for the virus, and tracing those they may have infected, is how countries in Europe and Asia have gained control over their outbreaks, saved lives, and successfully reopened businesses and schools. But in the U.S., Trump claimed, falsely, that "anybody that wants a test can get a test." That was untrue in March and remained untrue through the summer. Trump opposed $25 billion for increased testing and tracing that was in a pandemic relief bill as late as July. These lapses accelerated the spread of disease through the country—particularly in highly vulnerable communities that include people of color, where deaths climbed disproportionately to those in the rest of the population.
While I would have assumed physicians, because of their income bracket and social status, lean Republican, that's been decreasingly true over the last two decades. Mostly, this is a function of women making up a much larger percentage of the profession and thus counter-balancing the Republican skew of the once male-dominated field. Additionally, the decreasing percentage of doctors who are in solo and small practice has declined precipitously.
Regardless, there's a reason these institutions have always stayed out of partisan politics: if they're seen as taking sides, they will inevitably lose their prestige as impartial experts. They have, rightly, decided that the situation is so dire that they have to take that risk.
___________________
*This was trending two days ago but I only saw the headline, not the origin, and didn't make much of it.