Sheldon Adelson Violated Foreign Corrupt Practices Act
The gambling mogul is self-reporting violations of the law against bribing foreign officials.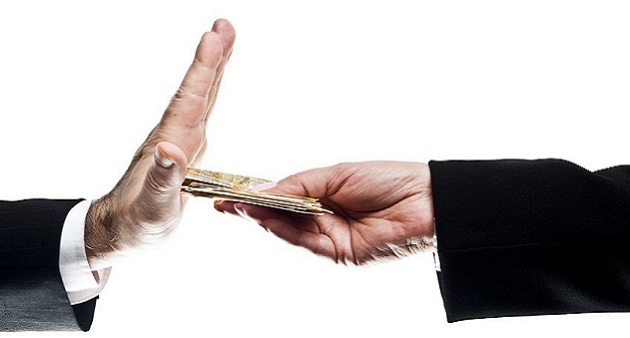 Sheldon Adelson, the gambling mogul who became famous by backing lunatics with his fortune last election cycle, is self-reporting violations of the law against bribing foreign officials.
NYT ("In Filing, Casino Operator Admits Likely Violation of an Antibribery Law"):
The Las Vegas Sands Corporation, an international gambling empire controlled by the billionaire Sheldon G. Adelson, has informed the Securities and Exchange Commission that it likely violated a federal law against bribing foreign officials.

 In its annual regulatory report published by the commission on Friday, the Sands reported that its audit committee and independent accountants had determined that "there were likely violations of the books and records and internal controls provisions" of the Foreign Corrupt Practices Act.

 The disclosure comes amid an investigation by the Securities and Exchange Commission as well as the Department of Justice and the Federal Bureau of Investigation into the company's business activities in China.

 It is the company's first public acknowledgment of possible wrongdoing. Ron Reese, a spokesman for the Sands, declined to comment further.

The company's activities in mainland China, including an attempt to set up a trade center in Beijing and create a sponsored basketball team, as well as tens of millions of dollars in payments the Sands made through a Chinese intermediary, had become a focus of the federal investigation, according to reporting by The New York Times and The Wall Street Journal in August.

 In its filing, the Sands said that it did not believe the findings would have material impact on its financial statements, or that they warranted revisions in its past statements. The company said that it was too early to determine whether the investigation would result in any losses. "The company is cooperating with all investigations," the statement said.

 The Sands' activities in China came under the scrutiny of federal investigators after 2010, when Steven C. Jacobs, the former president of the company's operations in Macau, filed a wrongful-termination lawsuit in which he charged that he had been pressured to exercise improper leverage against government officials. He also accused the company of turning a blind eye toward Chinese organized crime figures operating in its casinos.

 Mr. Adelson began his push into China over a decade ago, after the authorities began offering a limited number of gambling licenses in Macau, a semiautonomous archipelago in the Pearl River Delta that is the only place in the country where casino gambling is legal.

 But as with many lucrative business spheres in China, the gambling industry on Macau is laced with corruption. Companies must rely on the good will of Chinese officials to secure licenses and contracts. Officials control even the flow of visitors, many of whom come on government-run junkets from the mainland.

 As he maneuvered to enter Macau's gambling market, Mr. Adelson, who is well known in the United States for his financial and political clout, became enmeshed in often intertwining political and business dealings. At one point he reportedly intervened on behalf of the Chinese government to help stall a House resolution condemning the country's bid for the 2008 Summer Olympics on the basis of its human rights record.
The FCPA, which Jimmy Carter signed into law in 1977, is well-intentioned. As Transparency International explains,
Corruption destroys lives and communities, and undermines countries and institutions. It generates popular anger that threatens to further destabilise societies and exacerbate violent conflicts.

The Corruption Perceptions Index scores countries on a scale from 0 (highly corrupt) to 100 (very clean). While no country has a perfect score, two-thirds of countries score below 50, indicating a serious corruption problem.

Corruption translates into human suffering, with poor families being extorted for bribes to see doctors or to get access to clean drinking water. It leads to failure in the delivery of basic services like education or healthcare. It derails the building of essential infrastructure, as corrupt leaders skim funds.

Corruption amounts to a dirty tax, and the poor and most vulnerable are its primary victims.
Additionally, not only do American businesses bribing foreign officials potentially compromise US government interests but they create an unlevel playing field for their American competitors; much like steroids in sports, it essentially forces everybody to cheat.
Alas, what we consider "corruption" is simply the cost of doing business in so many countries. Low level officials, especially, often expect payoffs in much the same way low level service employees in the United States expect tips. So, FCPA not only swims against local tide but puts US businesses at a competitive disadvantage against non-US competitors not so constrained. Which, naturally, encourages them to find creative ways to play the local game without technical violation of FCPA.
Transparency International publishes an annual Corruption Perceptions Index. Here's the world map view: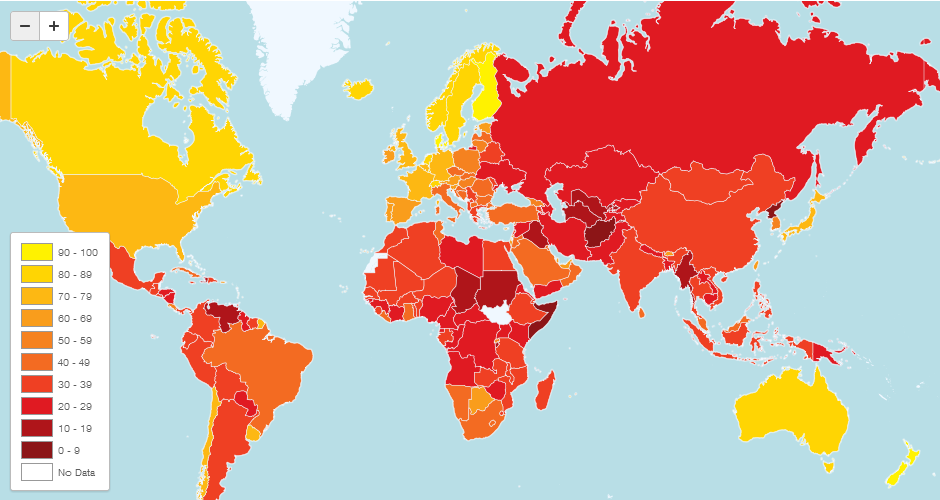 An interactive version is available at their site. The United States is the 19th least corrupt country in the survey, ranking just below the United Kingdom and just above Chile.
Additionally, while our system is by no means corrupt in an world comparative sense, it's rather amusing that Adelson is allowed to spend unlimited funds influencing US public policy through lobbying and direct contributions to political campaigns but could potentially face criminal sanctions for greasing the palms of officials in China.