Should We Boycott Moron Clothing Designers?
Elton John is leading a boycott against Dolce & Gabbana.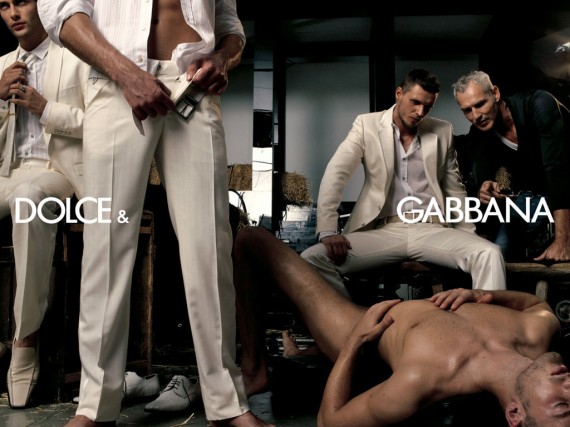 I was rather bemused by the Guardian headline "Elton John and leading LGBT groups call for Dolce & Gabbana boycott." It struck me as rather late to discover that the ubiquitous ads from the famous fashion house are replete with stereotypical homoerotic imagery. But, no, it turns out that Steffano Gabbana is simply a moron:
John and leading gay rights groups had called for the boycott as designers' comments about fertility treatment were labelled "archaic" and "deeply insulting".

People born through IVF were referred to as "synthetic children" and Gabbana referred to "wombs for rent".

John, who has had two children with his husband David Furnish through IVF, said the remarks, which were made in an interview last week, were "out of step with the times". Speaking to the Italian magazine Panorama alongside his business partner, Stefano Gabbana, the designer said children should be born to a mother and a father.

"I'm not convinced by those I call the children of chemicals, synthetic children," he added. "Wombs for rent, sperm chosen from a catalogue … psychiatrists are not ready to confront the effects of this experimentation," he said. Dolce, who spent more than 20 years in a relationship with Gabbana, went on to say he could not have a child because he was gay.

Speaking on Sunday, Gabbana said: "We firmly believe in democracy and the fundamental principle of freedom of expression that upholds it."

[…]

John became a parent, along with Furnish, in 2010 and 2013 through the use of a surrogate mother in the US.

Reacting to their interview comments, he wrote on Instagram: "How dare you refer to my beautiful children as 'synthetic'… And shame on you for wagging your judgemental little fingers at IVF – a miracle that has allowed legions of loving people, both straight and gay, to fulfil their dream of having children."

He ended his note with the campaign hashtag #BoycottDolceGabbana. Gay rights activist Peter Tatchell said he was also supporting a D&G boycott.

He told the Guardian: "It's quite outrageous that two gay fashion designers who have relied on the gay community for much of their success are opposing gay equality. They're lining up with the Pope and the far right in their support for legal discrimination."

He added: "If they don't want to be parents that's fine, but it's deeply insulting to disparage the many same sex parents who have brought up children happily and successfully."
I was 12 when Louise Brown was born and dubbed the "test tube baby," and recall discussions about whether children born in that manner had belly buttons. But that was a long time ago and presumably most reasonably intelligent people now understand that the children conceived via IVF aren't actually born in test tubes. Obviously, there are still people who have religious objections to human intervention in a process that they believe should be left in the hands of a supernatural being; I find that illogical but then I find much about religiosity illogical.
And, of course, IVF isn't just for gays wanting to have kids. Indeed, that's a really small segment of the market! My late wife and I, having gotten married and began trying to have children older than most, had our first child "naturally" but the pregnancy occurred the month after she miscarried (at a very early stage) a pregnancy resulting from a course of IVF. Our second child was conceived after a single round of a related treatment called intrauterine insemination (IUI). So, I'm hardly ambivalent about the notion that children conceived with medical help are somehow less human.
Yet, were I inclined to purchase Dolce & Gabbana's incredibly garish and overpriced clothing, I wouldn't stop because they have weird political beliefs—much less demand that others do so. Presumably, Gabbana has been an idiot for the entirety of the three decades that the line has been in business. I'm not sure why becoming suddenly aware that he's an imbecile should effect my view of his clothing. It hasn't become any more clownish just because he's a clown.
Aside from really extreme cases—I can't watch the Naked Gun moves anymore, since O.J. Simpson ruins them for me—I just don't care about the politics, religion, or lifestyle of entertainers, fashion designers, athletes, and other non-decisionmakers. I had no idea until last year's controversy that the owners of Chic-fil-A were religious nuts. That doesn't make their fried chicken sandwiches any less delicious. Were I trapped at a food court with few other options, I'd happily eat one.  Tom Cruise and John Travolta are Scientology weirdos; I still enjoy Top Gun and Pulp Fiction.
As to the people who make my clothing, I have no clue what strange things are going through their head. Like Rhett Butler, I frankly don't give a damn.