Some Thoughts on the Pending One Person, One Vote Case
I am having a hard time seeing a system of districts based on eligible voters and not simply population.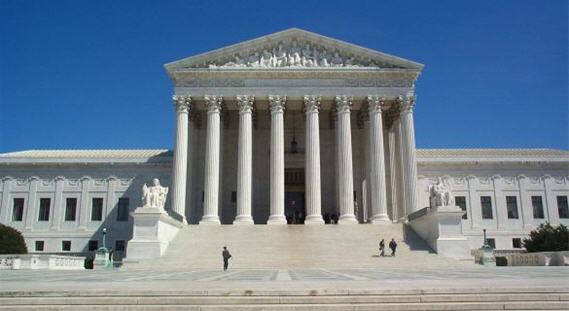 I will confess to having only paid passing attention, up to this point, to the pending SCOTUS case on apportionment (see the CSM:  Supreme Court takes up one person, one vote case), but now that it is more fully on my radar, I have a number of thoughts.
First, the basics of the case.  The point of controversy is whether districts should be equal in terms of population or in terms of eligible voting population:
Most states currently use population as the sole base measure upon which to equalize voting districts. But the Texas case is asking whether states might need to develop a more refined method of apportionment given the imbalance between total population and eligible voters in many districts.

[…]

legal precedents and interpretations since that 1964 landmark case consistently reflect a total population approach to equalizing voting districts. Many civil rights and election law experts say the issue is decided and there is no reason for further debate.

[…]

Others disagree. "I don't think it has ever been settled law," says Edward Blum, founder of the Project on Fair Representation in Austin, Texas. It is Mr. Blum who conceived and launched the Texas lawsuit.

Blum says that by his reading of the Supreme Court's decisions outlining the one person, one vote principle, references to voter equality in those decisions overwhelmingly outnumber references to population equality.
Second, some thoughts.
1.  The Constitution.  It is difficult to see how, on a constitutional basis, an eligible voter standard, rather than a population-based standard flied.   Article I, Section 2 (in speaking of House districts) plainly takes a population standard:
Representatives and direct Taxes shall be apportioned among the several States which may be included within this Union, according to their respective Numbers, which shall be determined by adding to the whole Number of free Persons, including those bound to Service for a Term of Years, and excluding Indians not taxed, three fifths of all other Persons.
Ultimately I am not sure how this is elided.  Further, as I understand it, the history of the 14th Amendment also supports a population standard (via NPR):
David Gans, of the liberal leaning Constitutional Accountability Center, co-authored a contrary brief, noting that when Congress debated and passed the 14th Amendment following the Civil War, the fight was over who should be covered by the equal protection guarantee.

On one side were those making the same argument that the challengers are in this case, he says, namely that "representation should be based on number of voters." Had that view prevailed, he notes, it "would have excluded women; it would have excluded aliens; it would have excluded children."

But, he continues, that view did not prevail; it was repeatedly voted down by the House and Senate.

The theory that the Framers of the 14th Amendment adopted was to include everyone in the population so as to ensure "that everyone's voices are accounted for in representation," he says.
2.  The Data.  Going to an eligible voter standard, rather than a population standard, would require a whole new data-gathering procedure or (more likely) a system of statistical sampling.   This adds a new layer of complexity (as well as point in the process for manipulation) to the process (and in a way that I am not sure is justifiable).
Indeed, the challenge would be large given that, among other things "people age into the voting population every day" (as was noted on NPR this morning).
3.  Representation.  There is a real philosophical question that is worth considering:  is it not the case that elected representatives represent not just eligible voters, but simply residents in general?  The easiest example is that of minor children who cannot vote.  If there is a large concentration of minors in a given geographical region, should they not be accounted for in terms of representing the interests of that area?  What about permanent resident aliens?  Are persons unimportant in terms of governing if they cannot vote?  Should governmental decisions be made only in regards to citizens 18 years or older?
A side note on the representation issue that struck me is that some are arguing that this is a matter of equity in terms of the value of a given vote, i.e., that the vote in one district should be absolutely equal to a vote in another district and, therefore, each district should have the same number of eligible voters.  To wit (again from NPR):
we turned to Ilya Shapiro, a senior fellow at the conservative and libertarian Cato Institute.

"If you have a siutation where one person's vote is effectively worth half of what another person's vote is in the neighboring district, that, I think, is a problem," says Shapiro.
It strikes me, however, that to really get total equity of voting power you would have to also adjust for turnout.  What if one district has a different turnout of eligible voters than does another?  What about registration levels?
Really, the focus on voters misses the point:  the issue is representation of people (and not all people are voters).
Update (Doug Mataconis): I've got a post up this afternoon discussing the oral argument today, as well as a transcript of the argument itself.