Speaking of "Coming Apart"
If one has views that one will not change even in the face of the best case scenario for new data against those views, then one cannot claim to be an analyst.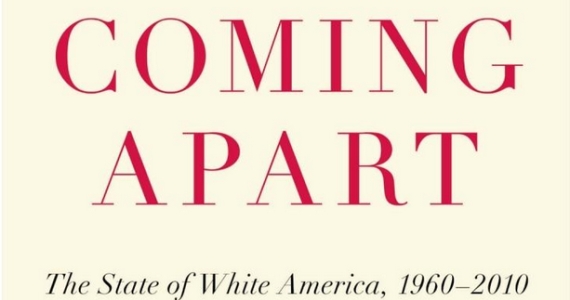 Yesterday, James Joyner noted David Frum's review of Charles Murray's new book, Coming Apart: The State of White America, 1960-2010.
Let me highlight a quote from the book that Frum noted in his review, but that I want to quote in full (from page 234):
The economic John Maynard Keynes, accused of changing his mind about monetary policy, famously replied, "When the facts change, I change my mind.  What to you do, sir?"  The honest answer to Keynes's question is "Often, nothing."  Data can bear on policy issues, but many of our opinions about policy are grounded on premises about the nature of human life and human society that are beyond the reach of data. Try to think of any new data that would change your position on abortion, the death penalty, legalization of marijuana, same-sex marriage or the inheritance tax. If you cannot, you are not necessarily being unreasonable.
This is a stunning statement because, yes, you are by definition being "unreasonable" because you are saying that some categories of policy are beyond reason.  If one has views that one will not change even in the face of the best case scenario for new data against those views, then one cannot claim to be an analyst.  One might be an extremely conservative theologian** if one holds such views, but more specifically one is an ideologue (or a zealot) if one is unwilling to change views in the face of evidence.
I would also note that this is an odd collection of policies for Murray to choose.   Abortion and the death penalty are in the same moral category as the inheritance tax?  Legalization of marijuana is the type of issue that is so linked to Deep Truths that no data could be provided to change Murray's mind on the subject?  This is just a list of policy preferences held by most conservatives and they are not all of the same category of morality nor are they similar in terms of their consequences.  To wit:  abortion and the death penalty are vested in issues of life and death, but same sex marriage, not so much.
Curiously, while the book is being touted as being by a "libertarian" (he is so described in his AEI bio) and he comes across (such as in his interview yesterday with All Things Considered and with the list of policy preferences listed above) like a standard issue social conservative.
From the aforementioned interview:
Murray calls for more interaction between the classes; specifically, he'd like upper-middle-class Americans to "drop their nonjudgmentalism and start preaching what they're practicing."

They "are getting married and staying married. They work like crazy. They do better going to church. [They should] just say that, 'These are not choices we've made for ourselves. … These are rich, rewarding ways of living.' "
Now, I have been married for going on 22 years, attend church regularly, and despite what some commenters may think, worked hard to get my Ph.D. and continue to work hard every day (and am endeavoring mightily to instill the value of hard work in my sons).  As such, I have no problem with the basic components of his formulation, I am just wholly unconvinced that they are sufficient to explain reality.  To simply say that the solution to our various difficulties is simply to stay married, go to church, and to work hard is to offer up platitudes, not real policy analysis.  Interestingly (to me, anyway) It sounds a lot like the typical social conservative admonitions that I have heard my entire life, but it does not sound especially libertarian (certainly not specifically or uniquely so save perhaps a simplistic Randian assertion about the value of individual hard work).  This focus on basic the socon line was striking to me, because it was clearly what Murray wanted to focus on in the interview.
The feeling that the books is oriented towards basic values is reinforced, by the way, when one looks at the table of contents and finds chapters entitled "Marriage," "Industriousness," Honesty," and "Religiosity" in the section on "The Formation of the New Lower Classes."
Now, I will readily grant that I have not read this book, but what I have read and heard to this point (including from the author himself) make me think that this is far less a book about serious policy analysis and more one about platitudes that will only make certain ideologues happy.
In even if we stipulate that marriage, church, and hard work are good things, how do these issues address the structural changes in the global economy since 1960? What does it have to do with any number of social, economic, and political changes within the US during that time? To ask a simple question: if people stay married, go to church, and work hard will that create the kind of life-long manufacturing jobs that were the hallmark of the post-WWII economy?  To get back to the intro of this post:  the data would suggest no, but I guess that that will not influence Murray's arguments.  The rest of, however, might think about the data.
Side Note:  I also noticed in listening to Murray yesterday that a lot of what he is arguing in terms of social cohesion sounds a lot like Robert Putnam's basic thesis in Bowling Alone.  I did a search of the book and Putnam's work is cited in numerous places in the text.  Just an observation that I found passingly interesting (to me, at least–and what is a blog for but for the bloggers to make note of the passingly interesting?).
*Or, a least, the type of theologian who continues to accept the geocentric model of the universe because of various biblical passages.  In fairness, many theologians do change their minds on things, although clearly not on all things.