State Of The Union Address Obsolete
In a 24/7 media climate, there is no single presidential thought that isn't endlessly aired and debated.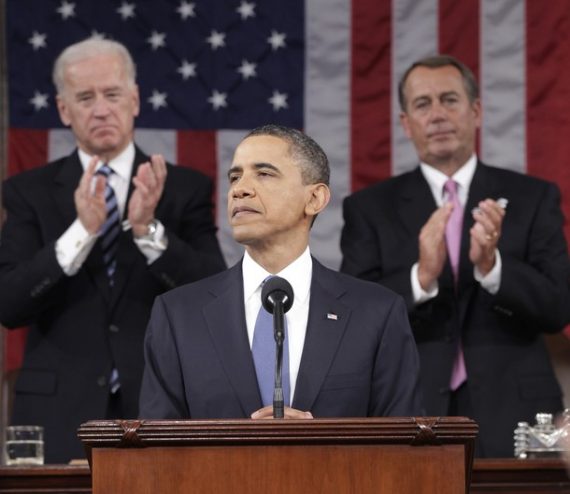 NPR's Linton Weeks asks "Is The State Of The Union Address Obsolete?"
Traditionally, the speech — an annual where-we-stand lecture delivered by the president to a joint session of Congress — has for decades been an opportunity for the professor in chief to issue a national report card and put current events in calm, codifiable context.

In the past, it was a monumental moment — surrounded on each side by a few days of national reflection — in a relatively quiet and slowly whirring world

These days, however, there is no time — nor inclination — for a pause in the process. America is a comically sped-up motion picture, not a snapshot. America is a bullet train, not a diner. America is the river rapids, not a reflecting pool.

Everybody knows all the time what President Obama thinks about everything, from the White House website and countless other political sites, TV shows and press reports. And everyone knows what everyone else thinks about the president — and the state of the union.

[…]

The State of the Union address, says Larry Sabato, director of the University of Virginia Center for Politics, "is a big production that matters for a whole 24 hours, or less. But we all play along." He says, "I'm serious in that I don't believe State of the Union speeches have any long-term or even medium-term effect, and increasingly so."

Sabato is not alone in questioning the worth of the address.

"It is time to end the meaningless annual ritual of the State of the Union address," historian Lewis Gould wrote in The Washington Post in 2006. "What began as a yearly survey of the nation's condition has deteriorated into a frivolous moment of political theater and continuous campaigning."
This is quite right. In a 24/7 media climate, there is no single presidential thought that isn't endlessly aired and debated.
Beyond that, I find the pseudo-monarchial trappings of the speech increasingly repellent. We're in the midst of an election campaign to decide whether Barack Obama gets to keep his office another four years and yet, for 90 minutes or so, we're supposed to pretend that he's our king. The entirety of both Houses of Congress, the Supreme Court, the Joint Chiefs, and the Cabinet–minus, of course, some token unelected apparatchik kept in a safe location somewhere to reconstitute the government in the event a Japanese airliner rams the Capitol– is supposed to clap like trained monkeys while the Campaigner in Chief delivers a partisan stump speech thinly disguised as a plea for national unity. Or, essentially, an insinuation that criticizing the president is somehow unpatriotic.*
In recent years, those who haven't been played along–a Joe Wilson correctly but inappropriately yelling "You lie!" and Associate Justice Samuel Alito shaking his head at the demagoging of a Supreme Court decision and mouthing "Not true"–have created short term firestorms that overshadowed whatever it is that the president said.
Given that a president can get live coverage of pretty much any speech he gives anywhere, any time, it's time to end this charade altogether. Give an Oval Office speech if there's monumental news, like the starting of a war or the killing of Osama bin Laden, to share with the country. Hell, address Congress in Joint Session if there's really a reason to do it. But enough with the ritual, set piece speeches.
_________________
*Note that this is not a specific criticism of the current president. This is simply how the game is played, regardless of the person or party in power.