Stealing Isn't a Crime When Police Do It
Civil asset forfeiture gives "highway robbery" a whole new meaning.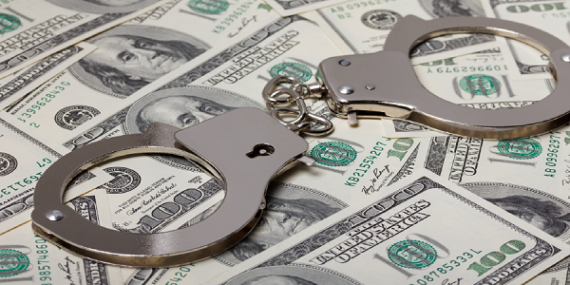 Civil asset forfeiture gives "highway robbery" a whole new meaning.
NYT ("Police Use Department Wish List When Deciding Which Assets to Seize"):
The seminars offered police officers some useful tips on seizing property from suspected criminals. Don't bother with jewelry (too hard to dispose of) and computers ("everybody's got one already"), the experts counseled. Do go after flat screen TVs, cash and cars. Especially nice cars.

In one seminar, captured on video in September, Harry S. Connelly Jr., the city attorney of Las Cruces, N.M., called them "little goodies." And then Mr. Connelly described how officers in his jurisdiction could not wait to seize one man's "exotic vehicle" outside a local bar.

"A guy drives up in a 2008 Mercedes, brand new," he explained. "Just so beautiful, I mean, the cops were undercover and they were just like 'Ahhhh.' And he gets out and he's just reeking of alcohol. And it's like, 'Oh, my goodness, we can hardly wait.' "

Mr. Connelly was talking about a practice known as civil asset forfeiture, which allows the government, without ever securing a conviction or even filing a criminal charge, to seize property suspected of having ties to crime. The practice, expanded during the war on drugs in the 1980s, has become a staple of law enforcement agencies because it helps finance their work. It is difficult to tell how much has been seized by state and local law enforcement, but under a Justice Department program, the value of assets seized has ballooned to $4.3 billion in the 2012 fiscal year from $407 million in 2001. Much of that money is shared with local police forces.

The practice of civil forfeiture has come under fire in recent months, amid a spate of negative press reports and growing outrage among civil rights advocates, libertarians and members of Congress who have raised serious questions about the fairness of the practice, which critics say runs roughshod over due process rights. In one oft-cited case, a Philadelphia couple's home was seized after their son made $40 worth of drug sales on the porch. Despite that opposition, many cities and states are moving to expand civil seizures of cars and other assets. The seminars, some of which were captured on video, raise a curtain on how law enforcement officials view the practice.

From Orange County, N.Y., to Rio Rancho, N.M., forfeiture operations are being established or expanded. In September, Albuquerque, which has long seized the cars of suspected drunken drivers, began taking them from men suspected of trying to pick up prostitutes, landing seven cars during a one-night sting. Arkansas has expanded its seizure law to allow the police to take cash and assets with suspected connections to terrorism, and Illinois moved to make boats fair game under its D.W.I. laws, in addition to cars. In Mercer County, N.J., a prosecutor preaches the "gospel" that forfeiture is not just for drug arrests — cars can be seized in shoplifting and statutory rape cases as well.
Quite obviously, police ought to be able to seize illegal goods, such as illicit narcotics, for use as evidence. And, after conviction for felonies, it's perfectly reasonable to seize other assets, including houses and automobiles, purchased through criminal activity as a means of helping make victims whole. Beyond that, however, it's difficult to construct a case as to why police ought to seize assets and keep the loot for themselves.
Like many extraconstitutional tools, including the infamous Racketeer Influenced and Corrupt Organizations (RICO) Act, civil asset forfeiture was initially conceived as a way to go after organized crime. Lawmakers, courts, and the public are all too happy to skirt the Bill of Rights for the worst criminals, especially when they've banded together in a way to makes proving their criminality using ordinary law enforcement techniques difficult. But, as night follows day, corrupting our laws to go after the special cases inevitably weakens the protection of ordinary citizens.
In the case of civil asset forfeiture, this path was even more predictable, since police directly profit from the corruption of the law. Initially, it at least had the laudable benefit of increasing their ability to fight ordinary crime through increased funding. By stealing the assets of presumed crime bosses and drug lords, they could increase staffing and buy better tools to further the public safety. Clearly, though, we've reached the point where the loot itself, not fighting crime, is the end game.
But, of course, we now have decades of precedent allowing the police to steal from people accused of criminal activity and putting the burden on the property holder to prove that they're not criminals and that the asset was acquired using legally obtained funds. Most victims of police theft don't have the resources to fight back.
Even in the cases where the victim in fact committed a crime, it's not obvious why the police ought to be able to confiscate property that did not result from their criminal activity. The punishment for, say, driving under  the influence of alcohol should be that provided in the applicable statute. The notion that the police ought to also be able to steal their car is just bizarre.