Student Defies Judge at Graduation
Because screw the other students.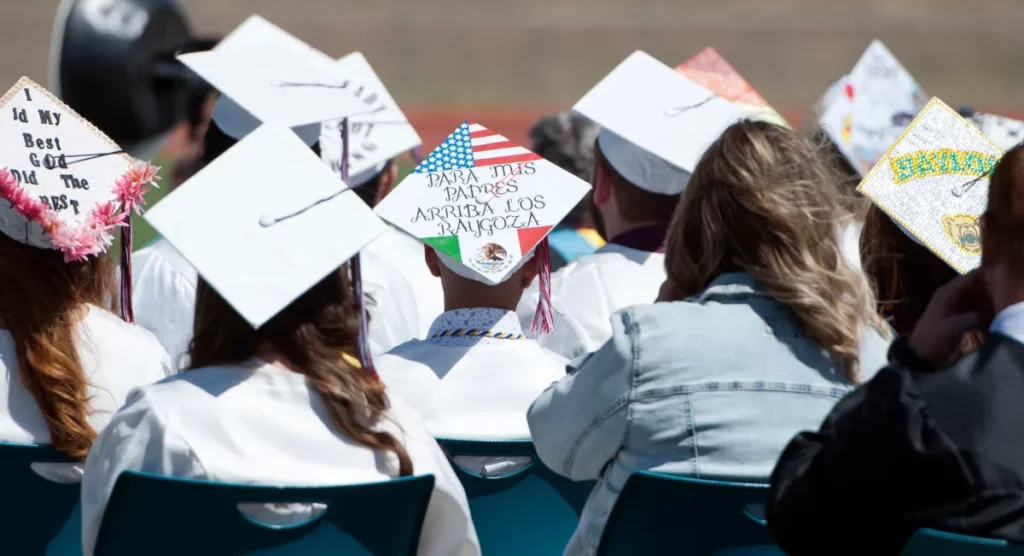 In yesterday morning's post, "High School Graduation and Individual Expression," I highlighted two stories about teens denied permission to wear tasteful stoles representing affiliations. The more nationally prominent case involved Naomi Peña Villasano, a Colorado student who wanted to celebrate her Mexican-American heritage and took the district to federal court and lost.
I was sympathetic to her cause:
In the Colorado case, it's acceptable to wear "regalia that is part of a Native American or Pacific Islander tribe." My strong guess, considering how prevalent it has become everywhere, is that Black students are permitted to wear a kente cloth stole. In that case, it should be a free-for-all for other students to wear comparable devices symbolizing their heritage.* The Mexican-American stole the young lady wanted to wear is professionally designed and perfectly appropriate in this context. While I agree with the judge that she doesn't have a 1st Amendment right to do so, I would think she has a 14th Amendment right to equal protection.
Regardless, either her lawyers inexplicably didn't pursue that angle or a federal judge disagreed and it just didn't make the news report.
Sadly, the story didn't end there. As @Mr. Prosser noted in the comments section, Peña Villasano defied the school and the judge.
As Naomi Peña Villasano stood in front of the Grand Valley High School graduation assembly, steps away from her turn to receive a diploma, she looked pointedly at her family lined up in the front row.

Subtle signals from her four brothers and her parents — head nods and hand gestures — gave the 18-year-old the OK, a permission she had failed to wrest from school officials and a federal court judge. She pulled a Mexican/American stole from under her graduation robe and draped it over her shoulders so the red, white and green colors of the Mexican flag swung from one side and the red, white and blue of the American flag dangled from the other.

She strode to the podium when her name was called, fist bumping her school's principal as a school counselor announced Peña Villasano's personal graduation message: "Viva la Raza." Then, her diploma was in her hands and a page was turned on what has grown into a major First Amendment rights controversy — one that has reverberated from this small Western Slope community to the statehouse to the governor's office to a federal courtroom.

"We are pleased the school district did the right thing and did not keep a student from graduating," said Alex Sanchez, executive director of the Latino rights organization Voces Unidas, who attended the ceremony to support Peña Villasano.

There were fears leading up to the graduation ceremony that Peña Villasano would be removed from the football field where the ceremony was held, or that her diploma would be withheld if she disobeyed school rules and wore her ethnic stole.

In the end, in spite of Peña Villasano putting on and taking off the stole several times during the ceremony, it was anticlimactic. Two other students had already whipped out Mexican flags that fluttered in the wind after they received their diplomas. When Peña Villasano arrived at the podium there were no boos or heckling. Neither was there any eruption of cheers except from her family members.
While I still think she should have been allowed to wear her stole if other students were allowed similar personal expressions, I find her actions here disappointing. It was one thing to take the fight to court. It's quite another to hijack a ceremony celebrating the graduation of 76 people for her personal agenda. She made what was supposed to be a community event about her.
Attorneys for the district had argued in a court filing that to allow Peña Villasano to wear the stole "would diminish the experiences of the class of 2023 and impinge upon the community's local control of the graduation ceremony."

School district lawyers argued that the rules are in place to avoid "opening doors to speech that could offend others during a solemn, important ceremony in many families' lives."

Garfield County School District 16 Superintendent Jennifer Baugh had told Peña Villasano that if she were allowed to wear her stole, with symbols from the U.S. and Mexico flags, other students might try to wear symbols like Confederate flags or Nazi pins.
Given that the US military has managed to ban those symbols, I suspect the school district would have been able to do the same. (Although, clearly, they're not able to actually ban anything given Peña Villasano's stunt.) But their larger point is valid: turning what's supposed to be a solemn celebration into a free-for-all detracts from the ceremony.
Apparently, others felt that way as well.
While reporters and photographers focused on Peña Villasano before, during and after the ceremony, and a contingent of local law enforcement stood by, some of the other 76 graduates grumbled that it all took away from a day that was supposed to celebrate an entire class.

"I think it's unfair that she can sit there and make a huge scene that affects everyone else," said graduate Tiara Walker, who was not able to wear a fresh-flower lei given to her by her boyfriend's family. "It was very disappointing to me."

She said that in past years she could have worn the lei, but after the brouhaha with Peña Villasano, the district cracked down on any of the gown decorations that had previously been allowed.

Graduate Molly Rhinaman said she was a victim of that crackdown. She was awarded a gold stole from Colorado Mountain College for completing college courses while she was still in high school. She was not able to wear that.

"I am the only one in the class with a CMC degree and I didn't get to show that," she said. "I also put in 230 volunteer hours with 4-H and I couldn't wear the cords for that."

Rhinaman said a lot of students supported Peña Villasano in the beginning of her quest to show off her Mexican heritage, but not by the end. She said even some of the 25 students with Hispanic surnames in the class, did not support her effort to wear the stole. She said no one expected the matter to go so far — Peña Villasano being invited as a special guest of Hispanic legislators to the Capitol, having a private meeting with Gov. Jared Polis and sparking a federal lawsuit.

"I think this thing with Naomi was just taken too far," she said.
It turns out they were just suckers for following the rules. Clearly, they should have just done what they wanted and would have gotten away with it.
Peña Villasano admitted that her stole battle also detracted from her graduation.

"I had to focus on standing up for my rights for the past month instead of celebrating my upcoming graduation," she said.
Unlike the other students, though, the distraction was entirely of her own making. And, frankly, even if there were a "right" to celebrate her heritage during the graduation ceremony, the school allowed students to do so via decorating their mortarboards. Several other Mexican-American students did just that.
Regardless, the policy will have to change next year one way or the other. Either students will be allowed to whatever they want during the ceremony or school officials will have to make them unzip their gowns to ensure they're not smuggling something underneath. Honestly, just canceling the ceremony altogether and just letting them pick up a diploma on their way out the door might be preferable.
_____________
*It turns out that there is actually a specific provision in Colorado law allowing indigenous peoples to wear these stoles at graduation. I'm not sure that's Constitutional.