Supermarket Self-Checkouts Being Replaced With People
The conspiracy by grocery store owners to turn us all into unpaid cashiers may be ending.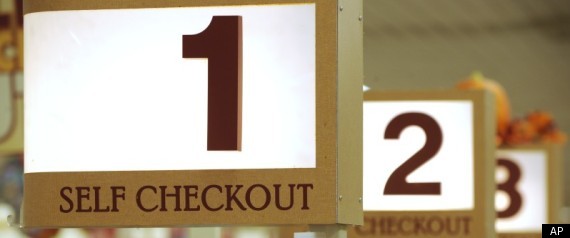 The conspiracy by grocery store owners to turn us all into unpaid cashiers may be ending.
AP ("Big Y Replacing Supermarket Self-Checkout Machines…With Human Clerks"):
When Keith Wearne goes grocery shopping, checking out with a cashier is worth the few extra moments, rather than risking that a self-serve machine might go awry and delay him even more.

Most shoppers side with Wearne, studies show. And with that in mind, some grocery store chains nationwide are bagging the do-it-yourself option, once considered the wave of the future, in the name of customer service.

"It's just more interactive," Wearne said during a recent shopping trip at Manchester's Big Y Foods. "You get someone who says hello; you get a person to talk to if there's a problem."

Big Y Foods, which has 61 locations in Connecticut and Massachusetts, recently became one of the latest to announce it was phasing out the self-serve lanes. Some other regional chains and major players, including some Albertsons locations, have also reduced their unstaffed lanes and added more clerks to traditional lanes.

Market studies cited by the Arlington, Va.-based Food Marketing Institute found only 16 percent of supermarket transactions in 2010 were done at self-checkout lanes in stores that provided the option. That's down from a high of 22 percent three years ago.

Overall, people reported being much more satisfied with their supermarket experience when they used traditional cashier-staffed lanes.

Supermarket chains started introducing self-serve lanes about 10 years ago, touting them as an easy way for shoppers to scan their own items' bar codes, pay, bag their bounty and head out on their way. Retailers also anticipated a labor savings, potentially reducing the number of cashier shifts as they encouraged shoppers to do it themselves.

The reality, though, was mixed. Some shoppers loved them and were quick converts, while other reactions ranged from disinterest to outright hatred – much of it shared on blogs or in Facebook groups.

An internal study by Big Y found delays in its self-service lines caused by customer confusion over coupons, payments and other problems; intentional and accidental theft, including misidentifying produce and baked goods as less-expensive varieties; and other problems that helped guide its decision to bag the self-serve lanes.
Surprisingly, many of the commenters at the Consumerist post on this ("Fewer Supermarket Shoppers Using Self-Checkout Lanes") are opposed to the move. The first commenter, for example, observes, "I'd much rather use self-checkout than wait in the express line behind people who don't understand the concept of an item limit." Another opines, "Self checkouts are SO convenient for those of us who aren't idiots. When I just need a couple things, I can be in and out of the store in under 5 minutes."
Erik Loomis is more typical:
I am very glad to see this. As Atrios points out, these things are nothing more than a calculated plan by grocery stores to employ less people. I thought that the very first time I saw them. I hate them with great passion. For years, I wouldn't use them at all. Then, probably at a Wal-Mart when I had a bag of cat litter and nothing else and everyone in front of me had huge carts, I used one out of desperation. I swear they are no faster. They are hard to use, you usually have to ask someone to come help you, except the employee is helping someone else.
Atrios, aka Duncan Black, titles his post "Anything That Lets Us Lay People Off" but has always questioned the business model:
It isn't possible for me to know, but I've long been puzzled by the widespread adoption of self-service checkouts in supermarkets and other places. It didn't seem to me that the additional capital costs would really be offset by labor cost reductions. They still require at least one hovering employee to deal with problems and card people for alcohol purchases. In addition, people aren't very fast at using the machines so you need a higher number of machines/user to speed people through the line. We may not see "supermarket cashier" as a super high skilled position, but the fact remains that doing it well, as with most things, does in fact require skill. A good cashier is fast and accurate, checking people out more quickly and more efficiently.
Put me in the "this is annoying and demeaning" camp along with Patton Oswalt:

It's not all that hard to ring up items in a UPC scanner world but the entire system is designed to prevent against theft and therefore to assume the customer is trying to get items past without paying for them. So, inevitably, the machine will encounter an unexpected item on the conveyer belt and demand that you scan it again.  And, of course, there's then a pile of goods at the end of the belt that the customer gets to pack themselves into those .0001 mil bags that are stuck together on the hooks at the end–while the next customer in line starts shoving their groceries in your direction.
No thanks.