Supreme Court Denies Appeal In Yet Another Second Amendment Case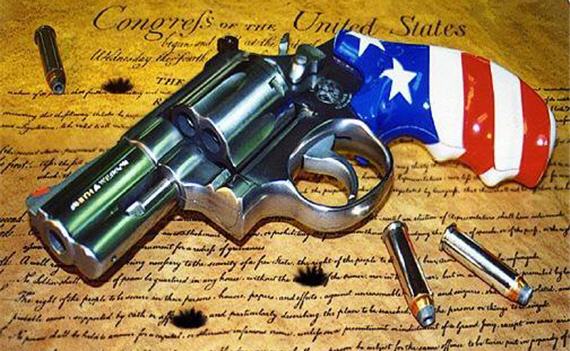 Continuing a pattern that has been evidence for some time now, the Supreme Court has declined to hear a case challenging New Jersey's regulations on carrying handguns in public:
WASHINGTON — The Supreme Court on Monday turned away a case about whether the Second Amendment guarantees a right to carry guns in public for self-defense. As is their custom, the justices gave no reasons.

The case would have required the court to address a question it left open in 2008 in District of Columbia v. Heller, which found that the Second Amendment protects an individual right to keep guns for self-defense in the home. The new case, Drake v. Jerijian, No. 13-827, concerned whether and how governments may restrict Second Amendment rights outside the home.

The case involved a New Jersey law that requires people seeking licenses to carry guns in public to demonstrate a "justifiable need." In practice, according to the law's challengers, "few ordinary people can hope to obtain a New Jersey handgun carry permit."
Josh Blackman accuses the Court of abdicating on Second Amendment issues:
Well it's official. The Supreme Court has abdicated the Second Amendment.

Today, the Court denied cert in Drake v. Jerejian, , the New Jersey carry case. This case offered a perfect vehicle to test whether the Second Amendment applies outside the home. It was relisted a few times, which this term has been a prerequisite to cert. Yet, it was denied today.

Since the Supreme Court decided McDonald v. Chicago in 2010, they have not deigned to take a single Second Amendment case. Not one. Several have been relisted a few times, but all ultimately denied, with not even a statement concurring or dissenting from denial of cert.

As I noted in this post, this strategy of "deny, deny, deny" is reminiscent of the abscence of Cert grants in cases concerning Guantanamo Bay. There, the Court seems content to let the D.C. Circuit rewrite habeas law. I suppose, in a similar fashion, the Court is happy with a plethora of nation-wide Circuit splits about the meaning of the right to keep and bear arms.
As always, it's not easy to say why the Court denied cert in a particular case. At most all one can usually say that there were not four Justices who wanted to give the case a hearing. However, when you have a pattern of denials in a particular type of case then it becomes hard not to think that the Court is deliberately denying these cases for a particular reason. In this case, the Court seems to be saying that it is okay with a Federalism approach when it comes to gun rights beyond those outlined in its two landmark cases, and I'm not sure this is a bad thing.