Supreme Court To Hear Case Dealing With Sales Taxes On Online Purchases
Late last week, the Supreme Court agreed to hear a case involving the question of whether online and out-of-state businesses can be required to collect sales taxes in states with which they have no connection.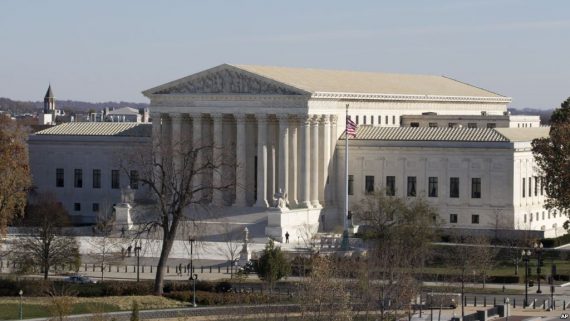 On Friday, the Supreme Court announced that it had agreed to hear the appeal of a case dealing with the issue of whether online businesses are required to collect and report sales taxes when they sell to customers in other states:
WASHINGTON—The Supreme Court on Friday said it would consider whether states can broadly require online retailers to collect sales taxes even if they lack a physical presence in the state, a case that could have a major impact on online commerce.

The justices agreed to hear an appeal by the state of South Dakota, which has been pushing a test case with the goal of overturning past high-court precedent, dating from before the explosion of modern internet retailing, that limited state sales-tax collection.

The Supreme Court, in cases from 1967 and 1992 involving mail-order businesses, said states can require merchants to collect sales tax only if they are physically located in the state. The court said states would impermissibly burden interstate commerce if they required out-of-state retailers to collect sales tax.

The retail landscape, however, has changed dramatically since then because of the growth of online-only companies, who have undercut prices—and hurt state coffers—with tax-free sales. That shift hasn't gone unnoticed by the justices.

Justice Anthony Kennedy, for example, said in a 2015 opinion that the court in a future case should revisit its earlier decisions, "given these changes in technology and consumer sophistication."

The justices on Friday took up that call, explicitly agreeing to consider whether the earlier high-court precedent should be overruled.

South Dakota, in its petition to the Supreme Court, said tax collection is now uncomplicated for large internet retailers. "Asking today's companies to undertake it when they do substantial business with a state's citizens imposes no undue burden," the state wrote.

A group of 35 other states urged the court to hear the case, saying the inability to require online merchants to collect sales tax was costing them billions of dollars and straining state budgets. Taxpayers are technically liable for the taxes even if an online retailer doesn't impose them, but such direct collections by state taxing authorities are rare.

Some states, like Colorado, have imposed requirements that online retailers report to state taxing authorities the amount of sales tax owed by customers, but Colorado says those efforts haven't closed the tax gap.

Also joining the push for Supreme Court review were brick-and-mortar retailers who say it undermines fair competition that they have to collect sales taxes but their online rivals don't.

South Dakota passed legislation in 2016 requiring merchants to collect and remit the taxes, then sued a handful of large online retailers to set its test case in motion. Courts in South Dakota blocked the law, saying they were bound by U.S. Supreme Court precedent.

Other states have been pursuing similar laws in a bid to get the issue in front of the high court.

Current defendants in the South Dakota case are Wayfair Inc., Overstock.com , Inc. and Newegg Inc. The companies argued the court should decline to review the case, saying the question of online sales-tax collection was a policy matter best left to Congress.

In 2013, the Senate passed a bill that would allow states to require sales-tax collection by out-of-state retailers. But Republicans are divided on the measure, and neither that bill nor other attempts to address the issue have reached the House floor.
The Supreme Court's prior precedents on the issue of whether or not out of state businesses have an obligation to collect sales taxes on purchases by customers in other states have essentially established the rule that a business can only be required to collect sales taxes in states where it has some connection beyond merely selling a product to someone residing there. The first such decision came in 1967 in National Bellas Haas v. Department of Revenue in which the Court ruled that a mail-order catalog business was not required to collect sales taxes on behalf of states in which it does not have a physical presence. That case was overruled to some extent in the Court's 1993 decision in Quill Corp. v. South Dakota but the Court nonetheless still established that the Commerce Clause prevented states from collecting sales or use taxes from businesses that did not have a physical presence in the state. Both of these decisions, of course, pre-date the vast expansion in the Internet that began with the creation of the World Wide Web and the rise of e-commerce sites that were able to benefit from the fact that they were not required to collect sales tax from most of their customers since they didn't have a physical presence in the state beyond the fact that they may have shipped items to that state.
As a policy matter, the idea of exempting online sales from sales taxes outside of the jurisdiction of the seller was justified by the idea that the exemption was necessary by the desire to help this area of the economy develop. While that argument may have made sense twenty years ago, it makes little sense now. Amazon is now one of the largest most successful companies in the world and arguably hardly needs to the protection of an exemption from collecting sales tax that may have been acceptable in the past is increasingly not necessary. In some respects, of course, the issue has been made moot with respect to large e-commerce sellers like Amazon due to the fact that they have gradually expanded their operations to the point where they have a physical presence that spread far beyond its origins in the state of Washington. Much of this has been to its expansion of logistical facilities and warehouses as part of its effort to speed up delivery time and made possible things such as same-day or next-day delivery in many parts of the country. This means Amazon now has to collect sales tax in each of the states in which it has a presence. The same is true of other major online players such as WalMart. Given this, the arguments in favor of the exemption are largely disappearing.
In its decision in the Quill case, the Supreme Court did note that the exemption could be ended by Congressional legislation. Toward that end, there have been several efforts in the past several years to pass legislation that would mandate the collection of sales taxes by out of state businesses, although those efforts have not succeeded in any measure passing either chamber of Congress. In order to address the objections of smaller retailers who lack the resources of large businesses such as Amazon, those bills have included provisions that provide that the obligation to collect sales taxes would only kick in when a business had made sales above a certain dollar amount to a specific state. This would protect small businesses that have only limited sales in a state in which they have no physical presence from the financial burden to account for the sales tax laws of states and localities that they have no connection to beyond shipping something to a customer who happens to be located there.
Leaving aside the policy issues, though, it's hard to say at this point how the Court will rule in this case. The argument made by the majority in the Quill case is quite persuasive, and the provisions of Commerce Clause seem to make it clear that, absent Congressional legislation, an out of state business cannot legally be required to collect sales taxes for jurisdictions in which it has no connection beyond shipping items to that location. There have been a number of changes to the makeup of the court since that decision was handed down, though, so it's hard to say exactly how the Court might go in this case. We'll probably get some idea of where the Justices are leaning at oral argument, but that's not likely to occur until the Court's final set of oral arguments in April. Until then you can follow the filings in the case at the information page for the case at SCOTUSBlog.