Teaching Prevention is Not 'Blaming the Victim'
The Air Force is telling airmen to take common sense steps to "avoid becoming a victim" of sexual assault.
The Air Force is telling airmen to take common sense steps to "avoid becoming a victim" of sexual assault.
Think Progress ("Female Service Member Slams Air Force's Victim-Blaming Sexual Assault Poster"):
"Pay attention to your surroundings." "Be prepared to get yourself home." "Socialize with people who share your values." These are just some of the suggestions for women listed on an anti-sexual assault advisory poster in the female bathroom of Wright-Patterson Air Force Base in Ohio, under the header "Preventing Sexual Assault Is Everyone's Duty":

Jennifer Stephens, an armed forces veteran and battalion commander in the Ohio National Guard who works on the base, took issue with what she felt was a harmful message conveyed in the poster. "I think this is part of the reason victims are afraid to report incidents," she said in an interview with Business Insider. "If you're a victim and you've done one of the things on that list, you now feel like it's your fault that you were sexually assaulted."

Stephens decided to make her objections known. After pasting a lettercriticizing the victim-blaming messaging on top of the poster, she emailed suggestions to the base's sexual assault response office. Stephens wrote that a more productive approach would be one that "support[s] victims as opposed to tearing victims down by plastering these types of posters all over the base," and asked, "[H]ow you would feel if you had been assaulted… and one of the first questions they asked you was what you were wearing or if you were alone or if you were drunk?"
But these are separate issues. Stephens is absolutely right to object to badgering victims of sex crimes. But the poster is simply telling people that there are steps that they can take to make it harder to criminals to target them; we do that every day for all manner of crimes.
Is McGruff the Crime Dog blaming the victim when he tells kids to travel with friends and "take a stand" against bullies?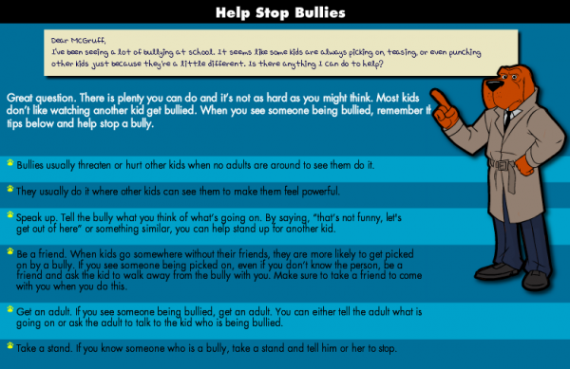 Or advising girls who think they're being harassed online to "Stop talking to the person you were talking to," "Talk to an adult right away," and "Go to a different chat room"?
Is the LAPD blaming the victim when it offers prevention tips for identity theft, stopping violence, carjacking, and ATM safety and security? Indeed, their Street Smarts page is essentially a long form version of what the Air Force advises in terms of sexual assault prevention:
Test Your "Street Smarts" IQ: Do you…

Jog or walk by yourself early in the morning or late at night when the streets are quiet and deserted?
Stuff your purse with cash, keys, credit cards, checkbook – and then leave it wide open on a counter, your desk, the floor?
Put your wallet in a jacket, which you then hang up or throw over a chair?
Let your mind wander – thinking about your job, or all the things you have to do – when walking or driving?
Think it's a waste of time to lock your car when you'll be back in a few minutes?

If you answered "yes" to any of these questions, you need to change a few habits. Even if you answered "no" and made a perfect score, read on. Spend a few minutes now to prevent trouble later.

Basic Street Sense

Wherever you are – on the street, in an office building or shopping mall, driving, waiting for a bus or subway – stay alert and tuned in to your surroundings.
Send the message that you're calm, confident, and know where you're going.
Trust your instincts. If something or someone makes you uneasy, avoid the person or leave.
Know the neighborhoods where you live and work. Check out the locations of police and fire stations, public telephones, hospitals, and restaurants, or stores that are open late.

On Foot

Stick to well-traveled streets. Avoid shortcuts through wooded areas, parking lots, or alleys.
Don't flash large amounts of cash or other tempting targets like expensive jewelry or clothing.
Carry a purse close to your body, not dangling by the straps.
Put a wallet in an inside coat or front pants pocket, not a back pocket.
Try to use automated teller machines in the daytime. Have your card in hand and don't approach the machine if you're uneasy about people nearby.
Don't wear shoes or clothing that restrict your movements.
Have your car or house key in hand before you reach the door.
If you think someone is following you, switch direction or cross the street. Walk toward an open store, restaurant, or lighted house. If you're scared, yell for help.
Have to work late? Make sure there are others in the building, and ask someone – a colleague or security guard – to walk you to your car or transit stop.

Learn more about auto theft and carjacking.

Keep your car in good running condition. Make sure there's enough gas to get where you're going and back.
Always roll up the windows and lock car doors, even if you're coming right back. Check inside and out before getting in.
Avoid parking in isolated areas. Be especially alert in lots and underground parking garages.
If you think someone is following you, don't head home. Drive to the nearest police or fire station, gas station, or other open business to get help.
Don't pick up hitchhikers. Don't hitchhike.

On Buses and Subways

Use well-lighted, busy stops.
Stay alert! Don't doze or daydream.
If someone harasses you, don't be embarrassed. Loudly say "Leave me alone!" If that doesn't work, hit the emergency device.
Watch who gets off with you. If you feel uneasy, walk directly to a place where there are other people.

If Someone Tries To Rob You

Don't resist. Give up your property, don't give up your life.
Report the crime to the police. Try to describe the attacker accurately. Your actions can help prevent others from becoming victims.

Learn more about things you can do and things kids can do.

Take a stand
Make your neighborhood and workplace safer by reporting broken street lights, cleaning up parks and vacant lots, and lobbying local government for better lighting in public places.
Join a neighborhood, apartment, or office watch to look out for each other and help the police. Or find out how you can organize a neighborhood watch.
Help out a friend or co-worker who's been a victim of crime.
Cook a meal, babysit, find the number for victim services or a crisis hotline.
Listen, sympathize, and don't blame.
Look at the root causes.
Work for better drug treatment services, crime and drug abuse prevention education, and job and recreational opportunities for young people in your community.
No, they're not. Like the Air Force and McGruff (the National Crime Prevention Council mascot), the LAPD is simply giving advice on making it harder from criminals to victimize you. That's a good thing, not something to be outraged about.