The 'Anti-Israel' Charge
Vehement disagreement with the policy views of a country and prejudice based on immutable traits are not the same.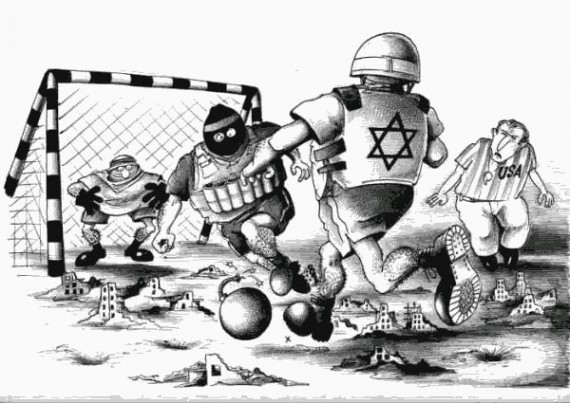 Bruce Kesler has an article in City Journal titled "Cal State's Chutzpah" and the curious subtitle "A hypocritical university goes silent while a math professor spouts anti-Israeli politics." The intro:
Spend any time on a university campus, and the official culture will become obvious in short order. Bigotry and prejudice against blacks, gays, or women simply isn't tolerated. Even a hint of racism or sexism is met with quick and decisive punishment. But anti-Israel rants on California's public-college campuses seem to be tolerated, politely ignored, or even tacitly condoned by the powers that be.
Now, I'm dubious of the degree to which political correctness and speech codes are enforced on some campuses, fearing that a stifling of the exchange of legitimate ideas in violation of the fundamental notion of academic freedom is a natural result. But prejudice based on immutable traits is simply different from vehement disagreement with the policy views of a country. Indeed, even if one is "anti-Israel" to the extreme degree of arguing that they have no right to exist as a political entity, that's a very different thing than spouting hateful rhetoric against Jewish people.
Consider the case of David Klein, a math professor at California State University, Northridge (CSUN). Klein maintains a page on the university's web server having nothing to do with mathematical physics, teacher education, or standardized testing, his main areas of research. Rather, the page is devoted to the evils of the state of Israel. Students and other members of the university can learn that "Israel is the most racist state in the world at this time" and that the Jewish state engages in "ethnic cleansing." Visitors can discover, furthermore, that the answer to the question "Aren't Palestinians equally responsible for the violence?" is an emphatic "No." Klein provides links to an assortment of Israel haters and, of course, calls for a boycott of Israeli products and U.S. companies that do business with Israel.
Now, I don't think universities should house pages where their employees spout personal opinions about controversial matters outside their expertise. In the early days of the blog, I wrote quite a bit about the nature of academic freedom and staked out the position that it only extends to scholarly endeavors within one's field. A mathematician spouting off on things having nothing whatsoever to do with his discipline just comes across as a crank.
That said, Kesler's description of Klein's pages–I haven't examined them in any detail–isn't particularly damning. Given that Israel exists as a "Jewish state" and imposes significant political limitations on non-Jews, once could construct a plausible argument that it's a "racist state." I don't happen to think "racist" is the right word for it and think plenty of other states, including some in the immediate neighborhood, are more worthy contenders for the world championship; but it's not an outrageous enough position to merit a stern talking to, much less banishment from the academic community. And, certainly, the positions that Israel engages in ethnic cleaning and that Likud policy are the proximate cause of most of the recent violence are mainstream, if not majority, positions in the field of Middle East studies.
It isn't hard to imagine what would happen to a professor who used the university's website to post content opposed, say, to illegal immigration or legal abortion, especially if the subject was outside his academic field.
Actually, it's pretty easy to imagine: Not a blessed thing.
Administrators would demand that the pages disappear, and they'd cite the university's policies, chapter and verse. We know university administrators would loudly condemn a professor who maintained a website off campus that had a "deleterious effect on the university's reputation." That's what happened in 2010, when CSUN erupted in outrage over economics professor Kenneth Ng's personal site, Bigbabykenny.com—which, his critics claimed, promoted illegal sex tourism in Thailand.
Yes, because promoting illegal, immoral activity is exactly the same as stating unpopular political views.
Both the Gender and Women's Studies Department and the Asian-American Studies Department publicly denounced Ng, and several students and faculty demanded that he take the site down or lose his job. But while university officials blasted the site, they stopped short of forcing Ng to take it down. Ng removed the site anyway, after weeks of public pressure. "I think he realized he's putting the university in an awkward position," CSUN provost Harold Hellenbrand told the campus newspaper, adding, "We expect that [faculty] act at a higher level than their profession requires."
So . . . even in the extreme example cited, the university didn't do what Kesler proposes be done in this instance? Doesn't that completely undermine his argument? Yes. Yes it does.
Yet no one within the CSUN community has condemned Klein, and his webpage remains active—though it clearly violates university policies, which state that "use of computers, networks, and computing facilities for activities other than academic purposes or University business is not permitted."
But that's entirely subjective. While I believe math professors ought to stick to subjects relating to math, one can certainly make the argument that lively discussion of controversial issues is an academic purpose and a core business of a university.
The university also prohibits associating its name with boycotts and other politically motivated activity.
Again, subjective. Does the mere use of the university's domain to publish one's views constitute associating its name? And, generally, "politically motivated activity" relates to domestic partisan politics. A professor using the university website to raise money for President Obama's re-election would surely get a cease-and-desist order the moment administrators discovered it was happening. Calling for a boycott of Israeli products? Meh.
CSUN further retains the right to remove "any defamatory, offensive, infringing, or illegal materials" from its website at any time.
Reserving the right doesn't mean that every possible instance will be invoked. We at OTB reserve the right to delete comments and ban commenters who violate certain site policies; we tend to exercise that right only in extreme cases. Further, it's not clear that Klein is in violation. No evidence has been offered that he's used infringing or illegal materials. Presumably, Kessler finds them defamatory and/or offensive; but he's not the ruling authority in this case.
A recent administrative review, however, cleared Klein of any violations. "The University does uphold and preserve the principles of academic freedom—and Professor Klein's right to express his views," CSUN president Jolene Koester said in a statement. "Our review affirmed that this right extends to the use of an individual's web pages, as part of the University website, as a vehicle for expression."
Well, there you go.
Again, in my ideal formulation, mathematicians would stick to engaging in matters where their expertise sheds useful light. Given the elasticity of that discipline, it should be easy enough to do. Let political scientists, philosophers, historians, and regional specialists tackle Middle East policy. But if the university has a broader conception of the nature of scholarship than that, I don't begrudge it.
Kesler closes:
Contrary to Koester's claims, the David Klein matter has nothing to do with academic freedom and everything to do with official hypocrisy. A professor has the right to speak on his own behalf, but not to use a public university's resources to smear Israel as a murderous oppressor. In the private sector, such conduct would be grounds for censure or termination.
That depends entirely on the nature of one's employment. Indeed, the vast majority of workers are perfectly free to speak out on anything they please. Granted, most of them aren't provided server space by their employers; but if the employer wants to give employees web space to promote the free exchange of ideas, it would be absurd to censure or terminate employees who use it for that purpose.
It's true that many companies would fire high level employees for posting this sort of thing. Not because they find it immoral, offensive, or illegal but because they hate controversy. (See, for example, the recent case of the Lowe's home improvement chain pulling its ads from a controversial television program after receiving modest criticism.) But universities are precisely not in the business of avoiding controversy; their mandate is to take controversy head on.