The Capitol Riot and Fox News
A large plurality of the network's viewers think left wingers trying to make Trump look bad are to blame.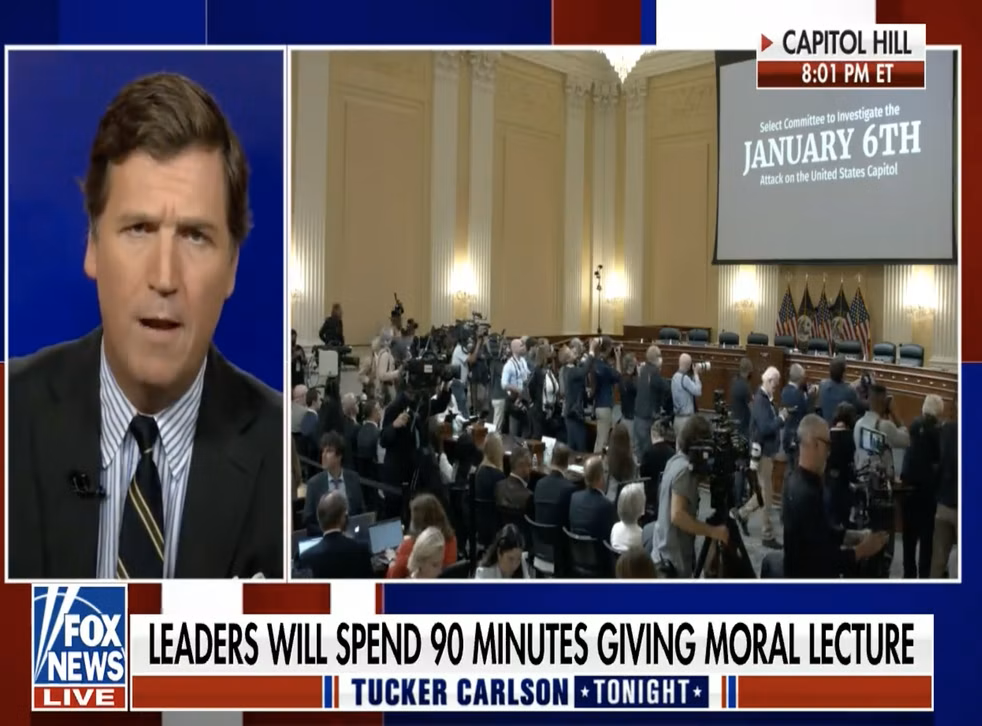 MEDIAite's Tommy Christopher points to a new poll showing a "Whopping 68% of Fox News Viewers Blame Jan. 6 on 'Left-Wing Protesters Trying To Make Trump Look Bad.'"
A whopping 68% of Fox News viewers blame the Jan. 6 attack on "Left-wing protesters trying to make Trump look bad," the most of any viewership group by almost double.

Respondents to a new Yahoo! News/YouGov poll, were asked "How much are each of the following to blame for the January 6 attack on the Capitol?"

Among all respondents, the least-popular response was "Left wing protesters trying to make Trump look bad" with 43 percent saying they were to blame either "a great deal" or "some" for the Jan. 6 attack on the Capitol.

But in extended crosstabs for that poll, 68% of Fox News viewers said that "Left wing protesters trying to make Trump look bad" were to blame either "a great deal" or "some" for the Jan. 6 attack on the Capitol.

That's more than double the 32% of CNN viewers and 25% of MSNBC viewers who say left-wing protesters were to blame either "a great deal" or "some" for the Jan. 6 attack on the Capitol. 37% of respondents who "don't watch" any of the networks said the same.

Fox viewers were also least likely to say that then-President Donald Trump "is most to blame for the Jan. 6 attack on the Capitol?", while MSNBC viewers were most likely to say so. Trump was also the top pick for most blame among all respondents.
Here's the graphic breakdown: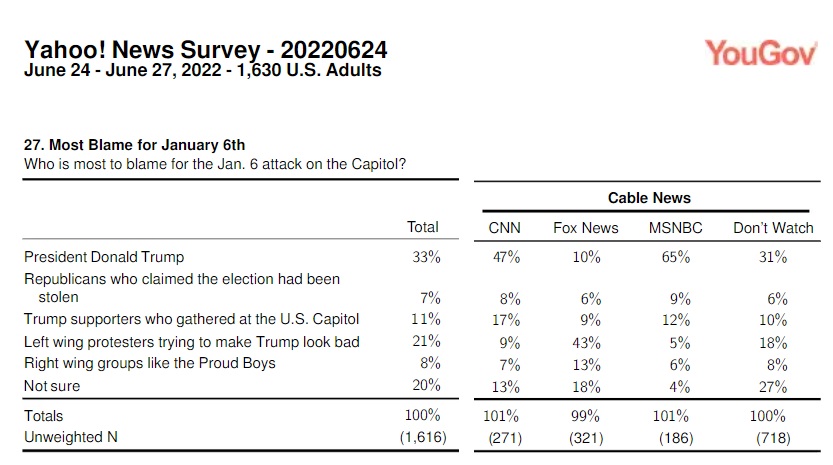 That Fox and MSNBC viewers would have different takes is hardly surprising. These are people who self-select news filtered through an ideological prism and listen to highly partisan commentators. That's naturally going to reinforce preexisting biases and shape one's perception of new information. If you get most of your news from Fox at this stage,* you're either pretty much all-in on the Big Lie or you're a Democrat enjoying the dumpster fire.
But there's more to it than that. While we see stark differences on other partisan questions, the differences aren't as jolting.
Right direction/wrong track:

Biden job performance:

Generic party preference for the upcoming Congressional election:

Whether Trump should run again in 2024:

(An aside: that MSNBC viewers are far more interested in voting for Democrats in November than Fox News viewers are in voting for Republicans is interesting given the disastrous poll numbers for Democrats. Then again, they're wildly more enthusiastic about Biden's job performance than Democrats writ large.)
That there was a Democratic infiltrator or two among the rioters egging them on is true. But the idea that this was a significant contributor to the riot—let alone "most to blame"—is simply looney toons. Clearly, this idea is being pushed over and over again by Fox commentators. It's far and away the plurality explanation their viewers have for the riots and barely a blip for those who watch CNN or eschew cable news altogether.
More Fox viewers think Biden is doing a good job (20%) and that the country is generally on the right track (15%) than think Trump was mostly responsible for the riot (10%). Hell, more say they're going to vote Democratic in November (18%) than attribute the riots to Republican officeholders (16%). Even adding in the pro-Trump demonstrators and right-wing extremist groups only gets us to 38%—still five points shy of left-wing agitators. That's not a partisan filter; it's just nuts.
UPDATE (8:02): Two other minor points occur to me.
Essentially as many Fox Newsers want Trump to run again (50%) as blame left wingers for the riot (48%); that's well within the larger sampling margin, much less for the crosstab.
I suppose it's possible that a significant number of Fox Newsers are trolling the pollsters on this one question. But that seems unlikely, especially since this is the only question (I believe there were 18 with a breakdown by news source) where the answer was wildly out of sync with my expectations.
_________________
*I'm operating under the assumption that these are people for whom cable news is their primary news source or at least people who watch these outlets regularly in preference to others. "Fox News" is not mentioned at all in the main survey and the crosstabs don't tell me what question was asked to sort CNN/Fox/MSNBC/Don't Watch.