The Fukushima Reactor Suffered a Partial Meltdown
The Japanese government has announced that the Fukushima Reactor suffered a partial meltdown.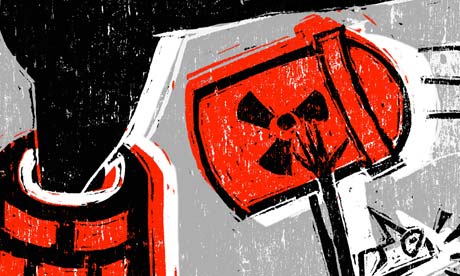 The Japanese government has announced that the high levels of radiation in the water near the Fukushima power plant was due to a partial meltdown:
The government believes highly radioactive water detected at the No. 2 reactor of the Fukushima Daiichi nuclear power plant is due to a partial meltdown of fuel rods there, its top spokesman said Monday.

Chief Cabinet Secretary Yukio Edano told a news conference that the government believes that the meltdown was only temporary.
Let's hope it was only temporary. Because this adds to the news that radiation in the water around the plant is higher than previously stated.
Yomiuri Daily Online reports that "many types of radioactive substances" have also been detected in seawater near the plant, including iodine-131, barium-140, lanthanum-140 and tellurium-132.

According to Yomiuri, based on the type of radioactive substances found in the seawater, the culprit is most likely to be damaged pipes connected to nuclear reactors that are discharging into the sea.

This would indicate the plant is leaking radiation from at least two sources: pipes and its core. Kyodo reports that radiation exceeding 1000 millisieverts per hour was detected in water in a trench outside the no. 2 reactor's turbine building yesterday afternoon.
Keep the brave souls who have been working tirelessly on the reactor in your thoughts. They are braving quite a bit of personal danger to get things under control. Here's hoping they finish soon.