Revisiting Fukushima: Worse Than You Think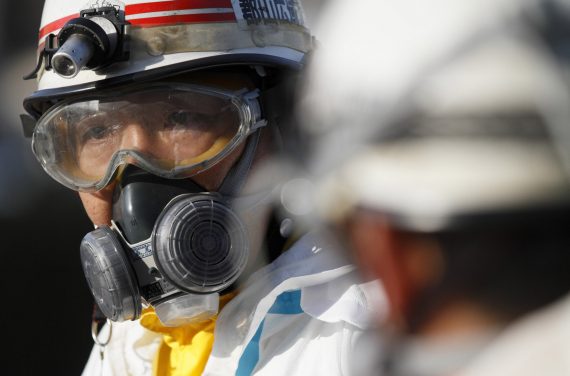 The nuclear disaster that occurred at the Fukushima nuclear power plan in Japan in the wake of the earthquake and tsunami that occurred in April has largely disappeared from the American media, where stories about a murder trial in Florida, the wine cooler induced antics of an Alaska teenager, and a Congressman's body parts have been taking up most of the media attention lately. That doesn't mean the crisis is over though and, as al-Jazeera reports, it looks like the disaster is far worse than we first thought:
"Fukushima is the biggest industrial catastrophe in the history of mankind," Arnold Gundersen, a former nuclear industry senior vice president, told Al Jazeera.

"Fukushima has three nuclear reactors exposed and four fuel cores exposed," he said, "You probably have the equivalent of 20 nuclear reactor cores because of the fuel cores, and they are all in desperate need of being cooled, and there is no means to cool them effectively."

"The fuels are now a molten blob at the bottom of the reactor," Gundersen added. "TEPCO announced they had a melt through. A melt down is when the fuel collapses to the bottom of the reactor, and a melt through means it has melted through some layers. That blob is incredibly radioactive, and now you have water on top of it. The water picks up enormous amounts of radiation, so you add more water and you are generating hundreds of thousands of tons of highly radioactive water."

"We have 20 nuclear cores exposed, the fuel pools have several cores each, that is 20 times the potential to be released than Chernobyl," said Gundersen. "The data I'm seeing shows that we are finding hot spots further away than we had from Chernobyl, and the amount of radiation in many of them was the amount that caused areas to be declared no-man's-land for Chernobyl. We are seeing square kilometres being found 60 to 70 kilometres away from the reactor. You can't clean all this up. We still have radioactive wild boar in Germany, 30 years after Chernobyl."
It's been two months since the crisis started, and it's looks like it's going to be much longer before this situation is under control:
Gundersen's assessment of solving this crisis is grim."Units one through three have nuclear waste on the floor, the melted core, that has plutonium in it, and that has to be removed from the environment for hundreds of thousands of years," he said. "Somehow, robotically, they will have to go in there and manage to put it in a container and store it for infinity, and that technology doesn't exist. Nobody knows how to pick up the molten core from the floor, there is no solution available now for picking that up from the floor."

(…)

Gundersen believes it will take experts at least ten years to design and implement the plan.

"So ten to 15 years from now maybe we can say the reactors have been dismantled, and in the meantime you wind up contaminating the water," Gundersen said. "We are already seeing Strontium [at] 250 times the allowable limits in the water table at Fukushima. Contaminated water tables are incredibly difficult to clean. So I think we will have a contaminated aquifer in the area of the Fukushima site for a long, long time to come."
Those are just the highlights, or should I say lowlights, of the article which is well worth reading. Clearly, Japan is dealing with an industrial crisis unlike anything the world has ever seen.