The Government Is Investigating People Who Leave Comments On The Internet Now
So much for freedom of speech.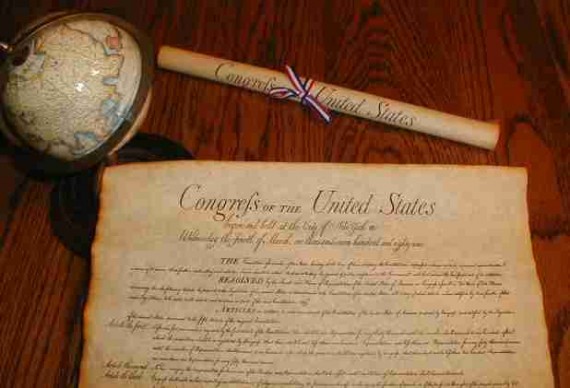 Federal investigators have hit Reason with a subpoena over comments that were posted on the site to an article regarding the prosecution and sentencing of the founder of the famous, or infamous depending on your perspective, founder of the website Silk Road, and it is raising serious First Amendment concerns;
The Justice Department has issued a federal grand jury subpoena to Reason, a prominent libertarian publication, to unmask the identity of commenters who made alleged threats against a federal judge.

In the June 2 subpoena, first published by the blog Popehat on Monday, the Justice Department orders Reason to provide a federal grand jury with "any and all identifying information" on the identities of commenters who mused about shooting federal judges and/or feeding them through a wood chipper.

A May 31 article on Reason's blog about the prosecution of Silk Road founder Ross "Dread Pirate Roberts" Ulbricht spurred the anonymous commenters' vitriol. Ulbricht pleaded for leniency, but a federal judge sentenced Ulbricht to life in prison without parole for setting up the illicit online drug market.

"It's judges like these that should be taken out back and shot," one Reasoncommenter wrote.

"It's judges like these that will be taken out back and shot," another responded.

"Why waste ammunition? Wood chippers get the message across clearly," a third wrote. "Especially if you feed them in feet first."

Another comment suggested shooting such judges on courthouse steps instead.

Other comments flagged by the Justice Department were less violent, such as one that wished for "a special place in hell reserved for that horrible woman."

In the subpoena, the Justice Department says it is seeking evidence regarding possible violations of federal laws against interstate threats.
Ken White, a California attorney who broke this story at Popehat earlier this week has a long long discussion of the facts at issue here that I recommend reading in full, and makes this excellent point about the legality of what the government is doing here:
The United States Department of Justice is using federal grand jury subpoenas to identify anonymous commenters engaged in typical internet bluster and hyperbole in connection with the Silk Road prosecution. DOJ is targetingReason.com, a leading libertarian website whose clever writing is eclipsed only by the blowhard stupidity of its commenting peanut gallery.

Why is the government using its vast power to identify these obnoxious asshats, and not the other tens of thousands who plague the internet?

Because these twerps mouthed off about a judge.

Last week, a source provided me with a federal grand jury subpoena. The subpoena1, issued by the U.S. Attorney's Office for the Southern District of New York, is directed to Reason.com in Washington, D.C.. The subpoena commands Reason to provide the grand jury "any and all identifying information"2 Reason has about participants in what the subpoena calls a "chat."

The "chat" in question is a comment thread on Nick Gillespie's May 31, 2015 article about Ross "Dread Pirate Roberts" Ulbricht's plea for leniency to the judge who would sentence him in the Silk Road prosecution. That plea, we know now, failed, as Ulbricht received a life sentence, with no possibility of parole.
The subpoena claims that the material is being requested as part of an investigation into alleged violations of Federal laws that make it crime to make interstate threats, including threats against a Federal official such as the U.S. District Court Judge whose sentencing of Ross Ulbricht to life in prison has been the subject of criticism from libertarians and other civil liberties activists. However, as White goes on to note, it's extremely unlikely that any of the comments in question could reasonably be considered to constitute the type of "true threats" that would bring them within the purview of the statute:
"True Threats" are those threats that are outside the protection of the First Amendment; they are not mere political hyperbole or bluster. For instance, in 1967, when Mr. Watts said that if he were drafted the first man he'd want in his rifle sights was President Lyndon B. Johnson, that wasn't a true threat: it was conditional political hyperbole. In other words, it was mere angry bluster of the sort no reasonable person would take to be a serious threat.3

What of these comments on Reason.com, then? I submit that they are very clearly not true threats — that this is not even a close call.nar

True threat analysis always examines context. Here, the context strongly weighs in favor of hyperbole. The comments are on the Internet,  a wretched hive of scum, villainy, and gaseous smack talk.4 The are on a political blog, about a judicial-political story; such stories are widely known to draw such bluster. They are specifically at Reason.com, a site with excellent content but cursed with a group of commenters who think such trash talk is amusing.

The "threats" do not specify who is going to use violence, or when. They do not offer a plan, other than juvenile mouth-breathing about "wood chippers" and revolutionary firing squads. They do not contain any indication that any of the mouthy commenters has the ability to carry out a threat. Nobody in the thread reacts to them as if they are serious. They are not directed to the judge by email or on a forum she is known to frequent.

Therefore, even the one that is closest to a threat — "It's judges like these that will be taken out back and shot" isn't a true threat
The timing of the subpoena is interesting because it happened the same week that the Supreme Court issued its opinion in Elonis v. United States, a case that dealt with the case of a man who was prosecuted for threats he allegedly made on Facebook against his ex-wife. While the Court's opinion in that case was narrower than some had anticipated in that it didn't do very much to answer the questions regarding what constitutes a "true threat"  that have been floating out there since the Court's last opinion on this issue, the Justices did rule that it was insufficient for the government to establish whether a reasonable person would have considered the communications at issue to be a threat. Instead, the prosecution must also provide some evidence of the Defendant's state of mind at the time of the communication, either by showing that they intended for the communication to be a threat or by some other unstated means that relied on more than a reasonable person's view. This holding seems to be particularly important in the context of this case.
Like many websites, Reason has a relatively unmoderated comment section that can get, shall we say, quite interesting depending on the subject matter on the post. It is often not a place for the uninitiated or easily offended to wander into, and this is especially true if one is used to visiting sites where there is more aggressive moderation of comments. One of the consequences of that is the creation of a no-holds-barred community where those leaving comments often feel free to, well, express their opinions very strongly. Even if one could make the case that any of the comments that apparently have raised the ire of Federal investigators came close to constituting a possible threat, and I think that would be a far stretch at the very least, the idea that any of these comments were anything other than people venting anger is rather absurd.
White also references a 2013 case from the Second Circuit Court of Appeals in which the Court upheld threats that a white supremacist named Hal Turner had made against three Federal Judges that he identified by name:
Here, Turner did not merely advocate law violation or express an abstract desire for the deaths of Judges Easterbrook, Bauer, and Posner. He posted photographs, work addresses and room numbers for each of the judges, along with a map and photograph of the courthouse. Moreover, Turner's intent to interfere with these judges—to intimidate them through threat of violence—could not have been more clearly stated in his pointed reference to their colleague, whose family members had been killed: "[A] gunman entered the home of that lower court Judge and slaughtered the Judge's mother and husband. Apparently, the 7th U.S. Circuit court didn't get the hint…."

Turner posted on his website that "Judge Lefkow made a ruling in court that I opined made her 'worthy of death[,]' [and] [a]fter I said that, someone went out and murdered her husband and mother inside the Judges Chicago house." Given that Turner's statements publicly implied a causal connection between Turner's calls for judges' deaths and actual murders, his statements about Judges Easterbrook, Bauer, and Posner, were quite reasonably interpreted by the jury as the serious expression of intent that these judges, too, come to harm.
There is quite simply no comparison between the comments that were left in the post at Reason and the threats that Turner made between three specific individuals that included detailed information about how to find them.
Over at Hot Air, Jazz Shaw opines that at least part of the reason why these comments ought to be investigated in this high-handed manner is because of the individuals involved, but his colleague Ed Morrissey makes a counter-argument that I think really puts this entire episode into perspective:
Public officials — and that includes judges — have lower expectations of defenses from unreasonable or unfair criticism. Posting the picture of a license plate of the person who cut me off in traffic along with descriptions of what I'd like to do to him should and probably would create more legal problems for me. And that's actually far more than what any of Reason's commenters did in this case. To give public officials more recourse to investigate criticism sets up a form of lèse majeste that would chill political speech even further.

Free speech depends on the rule of law, not the whim of the enforcer. The comments at Reason do not constitute a "true threat," and therefore the DoJ has no business investigating them. Their pursuit of these commenters look more like retribution against Reason for their sharp criticism of the Silk Road prosecution (with which I disagree with Reason) than true concern over any threat posed by stupid, unspecific hyperbolic comments made on a website.
We can agree, I suppose, that the vitriolic comments that were left by these people were immature and stupid, but there's nothing illegal about being immature and stupid. Indeed, if there was then half of the people who comment online would be breaking the law on a daily basis. The fact that they made dumb comments, though, isn't a reason to launch a Federal investigation, nor is it an excuse for the FBI to use the heavy hand of a grand jury subpoena to tell a blogger or website operator that they need to open up access to their records or face the prospect of being held in contempt of court, if not becoming a subject of investigation all on their own. Under current law, it appears that it was probably perfectly legal for the U.S. Attorney who started all of this to do what they did, but that doesn't mean that they should have done it, and it doesn't mean that you shouldn't get outraged. Because, as Ken White notes, it could happen to you:
See how far that gets YOU, dumb brute, when you're summoned by a wet-behind-the-ears mutton-headed Assistant United States Attorney to answer to the Grand Jury for the Southern District of New York after your Facebook comment to the effect that Eli Manning should defenestrated through a plate glass window because the Giants are a piece of shit team that will never win another Super Bowl as long as that piece of shit Eli Manning, who should be defenestrated through a plate glass window, is quarterback.

(I have it on good authority that Preet Bharara, United States Attorney for the Southern District of New York, is a big Giants fan who frequently attends parties with Eli Manning. Be careful.)

Or how much it will cost you to hire a lawyer to defend yourself against an obviously meritless investigation, for speaking your mind in a manner that no one, except a wet-behind-the-ears mutton-headed Assistant United States Attorney for the Southern District of New York, who should be defenestrated through a plate glass window for wasting taxpayer dollars on a frivolous investigation of mere internet braggadocio and hyperbole, would read as anything other than mere internet braggadocio and hyperbole. about the wrong people. People like Eli Manning, or a federal judge who issued an incredibly harsh sentence in a very political case?

Or, even if there's no grand jury subpoena to you, what will it cost you when two FBI agents in black sunglasses, with all the warmth and good humor of an unmarked grave, show up at your place of work and tell the receptionist they need to talk to you, in a private room, "just to clear some things up"?
When the government starts acting the way it is in this case, it's time for all of us to be concerned.