The Magical Thinking Presidency
Trump's approach from the beginning has been reality-denying. It makes it difficult to take anything the administration proposed seriously.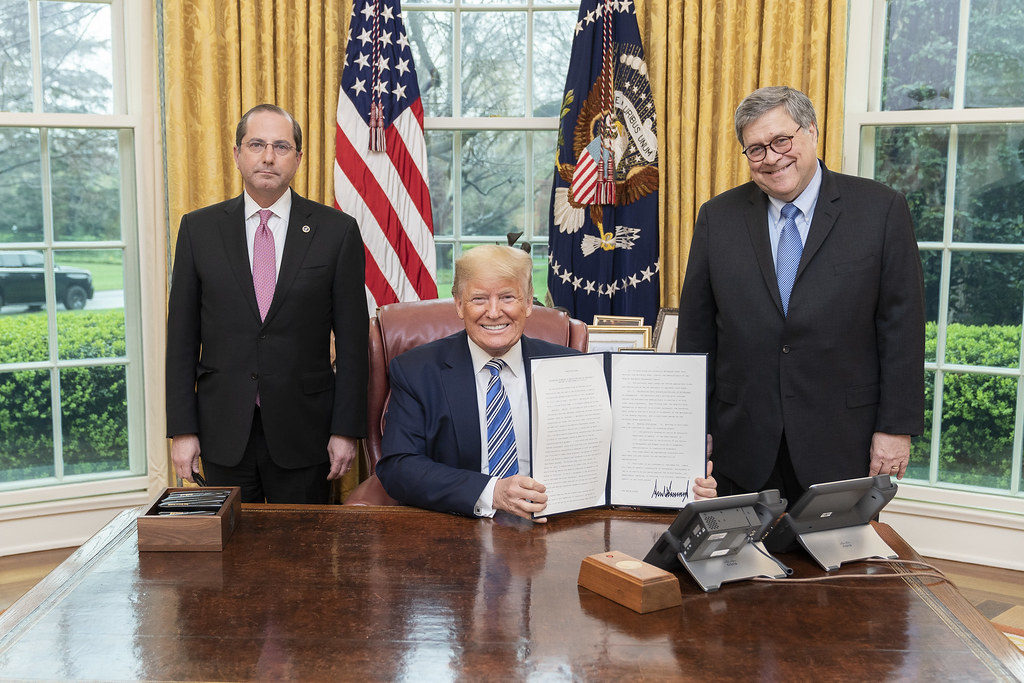 Donald Trump's approach to the Covid-19 outbreak has been a mix of indifference, denial, and straight-up magical thinking. We can start with his answer to the question "Are there worries about a pandemic at this point?" from CNBC's Joe Kernen on January 22:
"No. Not at all. And we have it totally under control. It's one person coming in from China, and we have it under control. It's going to be just fine."
Two days later, some wishful thinking on Twitter:
And then a magical thinking retweet from OANN:
Note that the link now generates a 404 error.
(And while it is true that J&J is, like many other, working on a vaccine, the President of the United States shouldn't be blithely tweeting out contextless headlines that provide false hope).
The denialism/wishful thinking continued. From a public event in Michigan on January 30:
We have very little problem in this country at this moment — five. And those people are all recuperating successfully. But we're working very closely with China and other countries, and we think it's going to have a very good ending for it. So that I can assure you.
Then exactly one month ago today (February 27, 2020):
And you know what? If we were doing a bad job, we should also be criticized. But we have done an incredible job. We're going to continue. It's going to disappear. One day — it's like a miracle — it will disappear. And from our shores, we — you know, it could get worse before it gets better. It could maybe go away. We'll see what happens. Nobody really knows.

[…]

To think of it — with all of what you see going on — 15 people. We brought in the others, but — and they're doing good. But 15 people is almost, I would say, a miracle.
As I write this, the NYT reports that the US leads the world with confirmed cases at 85,831. We have had 1,271 deaths. Trump clearly had no understanding of what we were facing back in February, and I have little hope he understands what we are facing going into the next month.
Indeed, the administration wasted well over a month before starting to take the situation seriously. And pretending and wishing on the part of the President has not helped.
Another example of pure wishfulness was on March 6, when he said: "anyone who wants a test can get a test."
This was not true.
And yet, what have we gotten even as the federal government has finally been acting? We get more magical thinking from Trump.
For example, last week he made unfounded claims about anti-malarial drugs:
At a news conference Thursday, President Donald Trump said the malaria drug chloroquine and the experimental antiviral drug remdesivir are being tested as possible COVID-19 therapies and could slow the epidemic.

"It could have a very positive effect, or a positive effect, maybe not very, but maybe positive," Trump said. "It's very, very exciting."
Here he seemed to be doing nothing more than kibbitzing in public based on cable news stories he had seen. This was not the act of a serious leader. (It also seems that he has stopped touting that possibility).
Then earlier this week, we got the notion that we should "reopen the country" by Easter:
"I'd love to have it open by Easter," he said. "I would love to have that. It's such an important day for other reasons, but I'll make it an important day for this too. I would love to have the country opened up and just raring to go by Easter."

In another interview with Fox News later Tuesday afternoon, Trump said he came up with the "Easter is a very special day for me."

"Wouldn't it be great to have all the churches full?" Trump added. "You'll have packed churches all over our country. I think it'll be a beautiful time."
This is wishful thinking (and symbolic pandering). It is not leadership.
I thought about all of this (and more) when I heard that the administration is going to propose a county-by-county assessment to determine varying social distancing guidelines.
Via Politico: Trump teases new coronavirus distancing guidelines based on county risk .
President Donald Trump on Thursday teased a new plan to reopen swaths of the country shuttered by the coronavirus pandemic via a targeted, county-by-county mitigation effort.

In a letter to the nation's governors released by the White House, Trump outlined a system to conduct "robust surveillance testing" that would allow the federal government to "classify counties with respect to continued risks posed" by the coronavirus, rather than apply one set of nationwide social distancing guidelines, as the CDC did a little over a week ago.

[…]

In the letter, released following the president's teleconference with governors on Thursday, Trump writes that the new guidelines would incorporate data gleaned from "expanded testing capabilities" to "monitor the spread of the virus throughout the country."

Based on that data, the administration would categorize counties as "high risk, medium risk and low risk." This would allow areas less affected by the virus to put in place looser restrictions than ones that have been ravaged by the illness.
On one level, I can certainly see that New York City has a different risk profile than does rural Idaho, but I am not sure exactly how all of this is supposed to work. It sounds more like, well, magical thinking than it does a sound policy plan. If we could do truly massive testing, then maybe we could initiate a radically different approach to the pandemic. But, despite boasts by the president about how many tests we have done (boasts that belie a problem distinguishing between absolute numbers and a per capita metric), we are in no position to do mass testing.
Beyond that, if the goal is to address the economic problems, the places that generate the most economic activity (i.e., places where people are) are the kinds of places where more stringent social distances would need to remain in place.
Indeed, this focus on counties is the same category of error that makes people think that the Electoral College is fine: it is thinking in terms of containers rather than thinking about what, and how much, is in said containers. The issue is where people are and that has to be the focus of policy.
There is also the problem that country lines are, you know, abstract and aren't forcefields that block viruses:
Asked whether, practically, the guidelines could prevent residents from a high-risk county from traveling to a low-risk county and potentially transmitting Covid-19, Birx punted to local officials.

"These are dialogues that the federal government has to have with state and local governments, because state and local governments make those decisions," she replied.
Well, then.
And, of course, governors and mayors control these things, not the federal government, so all of this is just likely to muddle the waters, not provide clarity. This potential policy seems more about Trump wishing to reopen as much of the economy as possible rather than something reasonable or even practical.
Plus, even if one thinks that a county-by-county approach makes sense, one has to have the data to make these decisions (and we don't have it).
Magical thinking is not a healthy way to make policy.