Faux Outrage Of The Week: The White House's "War On Easter"
The latest conservative meme seems to be that the White House hates Jesus and the Easter Bunny.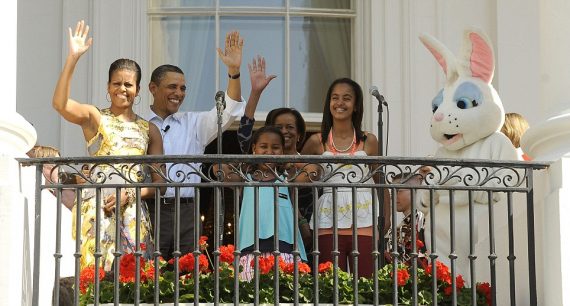 You kind of know it's a slow news week when a story like this ends up getting so much attention:
President Obama failed to release a statement or a proclamation recognizing the national observance of Easter Sunday, Christianity's most sacred holiday.

By comparison, the White House has released statements recognizing the observance of major Muslim holidays and released statements in 2010 on Ramadan, Eid-ul-Fitr, Hajj, and Eid-ul-Adha.

The White House also failed to release a statement marking Good Friday. However, they did release an eight-paragraph statement heralding Earth Day. Likewise, the president's weekend address mentioned neither Good Friday or Easter.
This non-troversy even found it's way to the White House Daily Briefing yesterday where Jay Carney was presented with this question from a White House Reporter:
Judging by the reaction from the conservative blogosphere, one would think that this was THE MOST IMPORTANT STORY EVER except for the a few little problems. First of all, a search of every Presidential Proclamation ever issued finds no Presidential Proclamation marking Easter ever having been issued. Second, the people criticizing the President for a supposed lack of recognition of Easter seem to have forgotten the White House Easter Prayer Breakfast at which President Obama spoke about, well, Easter:
To all the faith leaders and the distinguished guests that are here today, welcome to our second annual — I'm going to make it annual, why not?  (Laughter and applause.)  Our second Easter Prayer Breakfast.  The Easter Egg Roll, that's well established.  (Laughter.)  The Prayer Breakfast we started last year, in part because it gave me a good excuse to bring together people who have been such extraordinary influences in my life and such great friends.  And it gives me a chance to meet and make some new friends here in the White House.

I wanted to host this breakfast for a simple reason — because as busy as we are, as many tasks as pile up, during this season, we are reminded that there's something about the resurrection — something about the resurrection of our savior, Jesus Christ, that puts everything else in perspective.

We all live in the hustle and bustle of our work.  And everybody in this room has weighty responsibilities, from leading churches and denominations, to helping to administer important government programs, to shaping our culture in various ways.  And I admit that my plate has been full as well.  (Laughter.)  The inbox keeps on accumulating.  (Laughter.)

But then comes Holy Week.  The triumph of Palm Sunday.  The humility of Jesus washing the disciples' feet.  His slow march up that hill, and the pain and the scorn and the shame of the cross.

And we're reminded that in that moment, he took on the sins of the world — past, present and future — and he extended to us that unfathomable gift of grace and salvation through his death and resurrection.

In the words of the book Isaiah:  "But he was wounded for our transgressions, he was bruised for our iniquities:  the chastisement of our peace was upon him; and with his stripes we are healed."

This magnificent grace, this expansive grace, this "Amazing Grace" calls me to reflect.  And it calls me to pray.  It calls me to ask God for forgiveness for the times that I've not shown grace to others, those times that I've fallen short.  It calls me to praise God for the gift of our son — his Son and our Savior.
They also seem to forget that the President attended Easter Services on Sunday, and hosted the traditional Easter Egg Roll yesterday. Instead of all that, we get this, courtesy of Fox News Channel:
DOOCY: What do you think about the fact that this White House has never issued an official proclamation regarding Easter, which is one of Christianity's most sacred holidays?

JEFFRESS: Steve, let's look at what's really going on here. On the one hand, we have a president who never met a Muslim holiday he didn't like, or at least wasn't willing to issue a proclamation for, and on the other hand, here he is refusing to acknowledge publicly the most important event in Christian faith, the resurrection of Jesus Christ from the dead, and yet the White House is wondering why do 20 percent of Americans believe the president is a Muslim? Well as my kids would say, 'Duh.' I mean, it's actions like these that really make people wonder what it is the president really believes.
The amount of willful ignorance it takes for someone to say these things is simply astounding.
More importantly, who cares how the President marks Easter? Unlike Thanksgiving, it is a purely religious holiday and not even one that is recognized in the Federal calendar. Additionally, I have to wonder where these people were when the previous 42 Presidents failed to, in the words of Steve Doocy, issue "an official proclamation regarding Easter."
I'm no fan of the President, I oppose many of his policies, but when I see people doing like this it makes it seem like they really don't think they can beat him on the merits so they have to start making nonsense up.