The Problem of Generalizing from Specific Cases (Cell Phones and Driving Edition)
Proving yet again that the plural of anecdote is not data.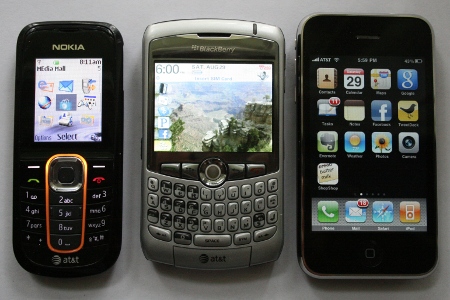 We have all, no doubt, seen the story about 19-year-old who caused an accident in Missouri whilst texting and driving:  Driver sent or got 11 texts in 11 min before crash
A 19-year-old pickup truck driver involved in a deadly highway pileup in Missouri last year sent or received 11 texts in the 11 minutes immediately before the accident, federal investigators said Tuesday.

The driver sent six texts and received five texts, with the last text just before his pickup traveling at 55 mph crashed into the back of a tractor truck, beginning a chain collision. The pickup was rear-ended by a school bus, which in turn was rammed by a second school bus.

The pickup driver and a 15-year-old student on one of the school buses were killed. Thirty-eight other people were injured in the Aug. 5, 2010, accident near Gray Summit, Mo.
Stories of this nature has lead to the following (via CNN):  NTSB recommends full ban on use of cell phones while driving
A federal safety board called Tuesday for a nationwide ban on the use of cell phones and text messaging devices while driving.

The recommendation is the most far-reaching yet by the National Transportation Safety Board, which in the past 10 years has increasingly sought to limit the use of portable electronic devices — recommending bans for novice drivers, school bus drivers and commercial truckers. Tuesday's recommendation, if adopted by states, would outlaw non-emergency phone calls and texting by operators of every vehicle on the road.

It would apply to hands-free as well as hand-held devices, but devices installed in the vehicle by the manufacturer would be allowed, the NTSB said.
Now, I can understand the impulse to ban hand-held devices, although the notion of banning hands-free devices strikes me as harsh.  We have all, no doubt, witnessed people having a hard time driving and talking on the phone.
An NPR story notes the following, however:
Russ Rader, a spokesman for the Insurance Institute for Highway Safety, agrees but says there's just one problem: "We don't know if [the demonstration project] had any effect on crashes — and that's a key measure."

The institute's own study shows that states with cellphone bans have seen no real decrease in accident rates.

"The curious thing is that even as cellphone use has increased exponentially by drivers in vehicles, we see no surge in crashes," Rader says. "So as this trend has accelerated, with more and more people having phones in their cars and using them, the number of overall crashes has been declining."

Cellphone use behind the wheel is no doubt a dangerous distraction, Rader says. But the overall problem of distracted driving is much bigger — it's about fiddling with the car radio or eating a sandwich as much as it is cellphones, he says.
Somehow I doubt we are going to ban sandwiches or radios in cars (or, for that matter, other distractions like, say, my kids in the backseat).
The interesting thing is above to me is not that states will cell phone bans have not seen a decrease in accident rates (as one assumes that many people ignore the law—indeed, the Missouri teen noted above was in violation of the law at the time of his accident).  What is more telling is that if cell phones were, in fact, uniquely dangerous we should have seen a substantial increase in accident rates nationally over the last decade.  If we have not, then the notion that cell phones are a special menace is unfounded.
Indeed, to that point (and to return to the first story linked above):
At any given moment last year on America's streets and highways, nearly 1 in every 100 car drivers was texting, emailing, surfing the Web or otherwise using a handheld electronic device, the safety administration said. And those activities spiked 50 percent over the previous year.
Now, don't get me wrong:  this sounds like a really, really bad idea.  However, if the behavior is this prevalent, and yet accident rates are down, where is the justification for a blanket ban?
Further, getting back to the alleged emblematic case:
Driver distraction wasn't the only significant safety problem uncovered by NTSB's investigation of the Missouri accident. Investigators said they believe the pickup driver was suffering from fatigue that may have eroded his judgment at the time of the accident. He had an average of about five and a half hours of sleep a night in the days leading up to the accident and had had fewer than five hours of sleep the night before the accident, they said.
This would seem to weaken the notion that the case should lead to a total phone ban, yes?
At any rate, it seems to me that if there is no evidence that cell phone use by drivers in general leads to increased accidents then a blanket ban is a wholly unwarranted curtail of reasonable freedom of action.