The Profound Importance of Juan Williams
Apparently Juan Williams is really, really, really important.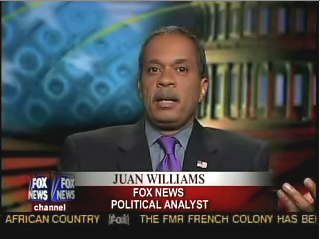 By now we all know that Juan Williams was fired from his gig at NPR.  Indeed, here at OTB both James Joyner and Doug Mataconis have commented on the issue today.
In terms of the basics, I agree with James, i.e, that the firing is "it's an organization whose raison detre is reasonable conversation protecting its brand."  And, as is discussed below, I think Doug has a valid point about understanding Williams' statement in context.
I have been aware of Juan Williams since his days on CNN's Captial Gang and Crossfire.   Further, I have watched him as a Fox News contributor pretty much since he started with the network.  As such, I am familiar with his work on TV as well as his work on NPR.  It should also be noted that while Williams was once a host of an NPR show (Talk of the Nation) his prominence at NPR has been limited for years and, as such, his exit is likely not that big a deal to his career.
Having said all of that, I would like to note:  the fate of the republic does not hang in the balance because NPR decided to let him go.
Nevertheless, we have the following:
Look, I think Doug has a point (link above) that a viewing of the whole clip puts Williams' statement in broader context (and a better light).  However, the exact importance of this personnel decision by NPR strikes me as unworthy of the dramatic significance being attached to it (it is all over Memeorandum at the moment).  And yes, I am contributing to the attention (call it the blogger's paradox:  to express an opinion about too much attention/focus and/or significance being attached to a particular event means adding to what one is criticizing).
One suspect, by the way, that NPR may have been looking for a reason to severe ties with Williams given his aforementioned diminished role at the network and the fact that there has already been concern on NPR's part that Williams' role as a commentator on Fox News Channel affecting the way listeners perceive him (back to James' point above—indeed, they had already asked him to stop identifying as an NPR employee when he was on Fox).  Part of that is, without a doubt, the fact that Fox has increasingly become a polarizing entity and, further, the difficulties to be associated with walking the line between commentator (which is his sole role on Fox) and news analyst/journalist (the role that he played on NPR of late and seemingly a sparing one at that).
Would I have fired Williams for what he said?  No, I would not have so done (given, again, the whole discussion, not just the sentence that has attracted the most attention).  Do I think that this is some sort of major commentary on the state of speech and the press in the United States?  Not by a longshot.
I will say this as a counter-point:  I find it a bit problematic that so many people dismiss the notion that overly general and negative comments about Muslims are no big deal and, further, than anyone pointing that out is engaging in unreasonable political correctness.
Again, I think Williams redeems himself later in the O'Reilly segment, but the following sentence  "But when I get on the plane, I got to tell you, if I see people who are in Muslim garb and I think, you know, they are identifying themselves first and foremost as Muslims, I get worried" is problematic as it is, by definition, a prejudiced attitude.  Further, the notion that someone would wear clothes associated with their religion means that they are "identifying themselves first and foremost as Muslims" (which implies they don't first identify as American) is problematic as it has a political/nationalistic/xenophobic connotations.  We don't have that reaction, for example, if some is wearing a Yarmulke, a crucifix, or various hairstyle associated with any number of religions.  We don't see that as some threatening "other" but rather as legitimate expressions of religious identity.  Yes, I know that the 9/11 terrorists were Muslim, but again the problem here is that many people want to indict all Muslims for the acts of a handful.  As a side note it is worth noting that the Muslims that perpetrated the 9/11 attacks did not go around dressed in Muslims garb and, indeed, tried to fit in as much as possible into US society including getting lap dances at strip clubs.  So not only is it prejudicial to associate people dressed in full Muslim garb with terrorism, the likelihood is that such a person isn't a terrorist (both in terms of pure probability and the likely tactics of a terrorist).  Just like air marshals don't wear uniforms it seems rather likely that would-be hijackers would wear clothes to help them blend in.
One thing that does strike me about this event is that one does wonder the degree to which decisions are being made based on one clip as seen on the internet rather than an entire segment (like, as Doug notes, the Shirley Sherrod situation).  However, that is not an issue of content or so-called political correctness, but one of poor decision-making (i.e., sans complete information) in our current media/technology environment.