The Scouring Of The Shire
Saruman's rigid arrogance ultimately made him pathetic. Sound familiar?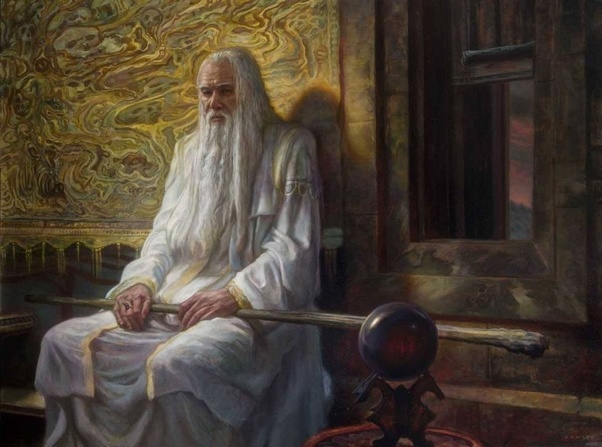 One of my favorite parts of The Lord Of The Rings (the books, not the movies) comes at the very end, when the hobbits return home after the world historical events of the other three books. It's a mundane interlude after sieges, battles, the destruction of the One Ring, and the downfall of two powerful enemies, but it fits well within Tolkien's view of good and evil, which is the not-very-subtle theme of the trilogy.
After his dual failure to capture the Ring and conquer Rohan, Saruman — a former wannabe Dark Lord, one of the ancient, pseudo-angelic wizards — comes down in the world, "bigly" as someone might say. He sets himself up as a crime lord in the Shire, relying on his minions to keep his rule of terror running smoothly, while they generally loot and despoil the hobbit community.
Why do this? Saruman might have been supremely arrogant, thinking he might set himself up as an alternative to Sauron, or at least an ally on par with him, but he was also incredibly petty, harboring grudges against everyone who did not deliver the respect he thought he deserved. Being undermined by hobbits consumed him to the point where he was willing to descend in the villain hierarchy from aspiring Dark Lord to small-time crime boss. Quickly after the return of Frodo and company, the hobbits rebel against Saruman and his henchmen, kicking them out in what Tolkien evocatively calls "the scouring of the Shire." (Eventually, one of Saruman's minions murders him, a truly inglorious end for someone who once sough supreme power.)
Not everyone loves this part of the trilogy, but I do. It's a fitting coda to a series that started by looking at the literal "little people" as important. In the middle of the trilogy, Tolkien makes it clear that, in his view, evil often starts with the belief that no one else's beliefs in how we should order our shared world are valid, which is what drives both Sauron and Saruman to lunge for supreme power. There are other paths to corruption, such as Smeagol/Gollum's greed, but the arrogance of people like Saruman comes with a great deal of counter-productive grudge-bearing and vindictiveness. Let no slight or opposition go unpunished is the natural corollary of the axiom, No one is deserving of rulership other than me. That's the logic that drives Saruman to accept huge downward mobility, just to get back at those pesky halflings.
You can probably see where I'm going with this.
I've had Tolkien on my mind because I've been reading the excellent series of blog posts by Bret Devereaux, a medieval historian, in which he applies medieval and military historical insights to an analysis of the Lord of the Rings movies and books. (It's a great series. Do yourself a favor and read them, if you have even the slightest interest, even if not in Tolkien, then the historical topics.)
In the middle of reading those posts, Donald Trump published his 46-minute director's cut video, perpetuating his conspiracy theories (and his fund-raising campaign). He emerged from his post-election funk swinging, refusing to give an inch to truth, decency, or the preservation of democratic institutions. Both the funk and the pugnacity seem sad now, and many have commented on how pathetic he looks, outside his circle of supporters. You could call what he's doing a schtick that has grown old, but his sad, destructive campaign of self-absorption, venom, and self-promotion is more than just a strategy. It is his essence. Just as Saruman's arrogance defined him, so does Trump's. And it is just as self-defeating.
What happens to Trump, after January 20? His new media career depends on whomever he's able to enlist as his minions. During his term in the White House, he recruited an increasingly incompetent circle of aides. While he might get someone competent to set himself up in his new media incarnation, the same dynamic of dumbing down his staff is likely to operate. There probably won't be an institution as durable as NBC, which propped up his previous (and lucrative) media career.
On the other hand, Trump has raised $495 million, which is no small feat. That speaks to strong incentives for people to support him, as long as the flow of money continues. That depends, not only on Trump's facility at keeping the attention of millions of supporters, but also sustaining their ire. Both traditional media, such as Fox and OANN, and social media have shown that it's possible to create a bubble of perpetual outrage. But it's anyone's guess how well, and for how long, Trump will thrive within that bubble.
The key factor is Trump, who is genuinely his own worst enemy. In Saruman-like fashion, he can't help but get distracted by his own arrogance and vindictiveness. While his implosion isn't a sure thing — again, much depends on the henchpeople around him — it is a severe weakness. And as we've seen in the last couple of weeks, with his attacks on Republican Senate candidates and state officials in Georgia, he is happy to show how little he thinks of everyone around him, to the point of destroying his own allies' political fortunes. That must factor at least a tiny bit into the calculations of would-be goons.
Even if Trump himself implodes conveniently (and don't count on that happening), Trumpism is here to stay. As Sam said at the end of the scouring of the Shire,
'I shan't call it the end, till we've cleared up the mess,' said Sam gloomily. 'And that'll take a lot of time and work.'
[Many thanks to commenters who pointed out my grievous error. I thought Sharkey was Saruman's chief minion, but that was my memory playing tricks on me. "Sharkey" was Saruman's nom de crime while terrorizing the Shire. I'll do a better job of checking before posting.]