The Silent Secretary
Rex Tillerson, "the phantom of Foggy Bottom."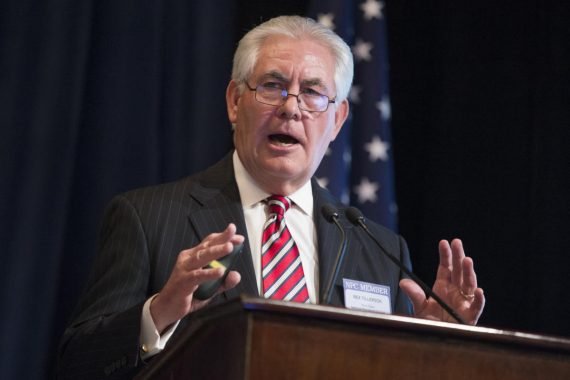 The more I think about the way Secretary Tillerson has approached his job, the odder I realize it is.  Along those lines is the following from the NYT:  Tillerson Leads From State Dept. Shadows as White House Steps In.
Describing his impressions, Mr. Kissinger, perhaps America's most famous diplomatic strategist, chose his words judiciously. "The normal tendency when you come into that job is to increase your visibility and to show that you are present and in charge," he said in an interview. "He wanted to first inform himself of all the nuances. I was impressed by the confidence and self-assurance that he showed."

Mr. Tillerson has skipped every opportunity to define his views or give guidance to American diplomats abroad, limiting himself to terse, scripted statements, taking no questions from reporters and offering no public protest when the White House proposed cutting the State Department budget by 37 percent without first consulting him.

[…]

He suffered in silence, State Department officials said, when President Trump called, in a matter-of-fact way, to reject Mr. Tillerson's choice for deputy secretary of state. He has been absent from the White House meetings with key world leaders, and when the State Department issued its annual report on human rights — usually a major moment for the United States to stand up against repression around the world — he skipped the announcement.
All of this underscores why it is unwise to appoint a neophyte to such a position.  And, also, evidence to undercut the canard that people with experience with business can do anything.
And the following ranges from damning with faint praise to the utterly absurd:
Defenders say Mr. Tillerson has been accomplishing far more behind the scenes, including arranging for the first trip of a Saudi foreign minister to Iraq in more than a quarter-century — his first foray into the sinkhole of Middle East politics.

"He's already developing plans to begin ratcheting back Putin's nefarious behavior," Senator Bob Corker, the chairman of the Senate Foreign Relations Committee, said in an interview — steps that would represent the first known effort by the new administration to face off against President Vladimir V. Putin of Russia.

"He's won status and respect of the president, of McMaster, and talks all the time to Jared," the senator said, referring to the national security adviser, Lt. Gen. H. R. McMaster, and Jared Kushner, Mr. Trump's son-in-law, who has emerged as a prominent voice on American foreign policy.
While we certainly would want the SoS to be successful behind the scenes, it is an odd idea to suggest that all of their success is outside of the public eye.  After all, Tillerson is our main diplomat and it is a job that normally has a substantial public aspect.  This makes him sound like some staffer working in the corner.  And the notion that he has "won status and respect" of the President and National Security Advisor is a strange bit of praise, since it underscores his lack of status coming into the job.  Most SoS's are appointed because they are already respected and have some status in the area of diplomacy/international relations.  The absurd part is that he "talks all the time to Jared" as if that is worthy of note in terms of his bona fides as SoS.  Really, all that underscores is the diminished role of the SoS in this administration (and the elevated role of the president's family, an institutional feature more common to developing state autocracies than to well developed democracies).
Within the State Department, Mr. Tillerson, 64, got off to a promising start with a warm, humble greeting to staff members in the drab headquarters' flag-draped foyer on his first day on the job. He talked about his upbringing and his wife's belief that he had been preparing for this job his whole life, even if had not known it.

But few have heard from him since. Those who have say they regard him as an impressive manager who knows how to run a crisp meeting, take in a variety of views and give little away about his own.

[…]

So, for thousands in the State Department, Mr. Tillerson has come to be viewed as the phantom of Foggy Bottom, scarcely glimpsed and known mostly for his directives to wipe out some of the department's top jobs.
The piece goes on to ask:
So why is the man many in the State Department call T. Rex so quiet?
And then provides the following possibilities:
There are several theories about Mr. Tillerson's reticence.

One is that his silence is highly strategic: He wants to cement key relationships in private, make sure he is aligned with a mercurial president and let the policy process at the National Security Council play out before making any grand pronouncements.

The second is that he is waiting for the battles at the White House to burn out. In short, he wants to sidestep Stephen K. Bannon, the president's top strategist, who believes that China's rise can be halted and that Iran should be vigorously confronted, and work with Mr. Mattis, Mr. Kushner and Mr. McMaster. Mr. Corker said that "he's already reached an agreement with Mattis to come to agreement and present ideas together," something that Condoleezza Rice and Mrs. Clinton often did with their defense counterpart, Robert M. Gates.

The third is that he sees the job as more akin to what he did at Exxon Mobil: Cut your deals, say as little as possible and take the heat.
I would offer a fourth:  he really isn't well-prepare for the position.  Being the head of large corporation, even one that is global, is not the same thing as being experienced in foreign policy. (I would note all four theories are not mutually exclusive).
And, of course, this doesn't help:
Clearly, Mr. Tillerson will not have much of a staff for a while; not a single under secretary or assistant secretary — the people who make the policy wheels turn — has been nominated, and only a couple of ambassadors have been named.
And as the piece correctly points out, that is predominantly the President's fault, not Tillerson's.