Three States Challenge DOMA on Estate Taxes
The Defense of Marriage Act is under challenge through a unique angle: estate taxes.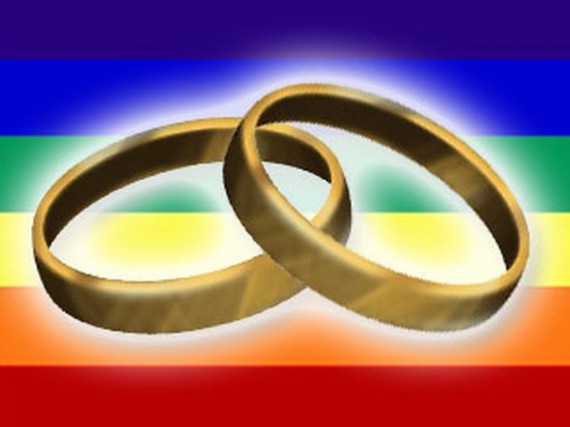 The Defense of Marriage Act is under challenge through a unique angle: estate taxes.
CSM ("Federalism fight: 3 states say feds can't 'unmarry' gay couples"):
Three states where members of the clergy and justices of the peace today marry gay couples argued on Friday that it's a violation of states' rights for the federal government to then "unmarry" those people under the 1996 Defense of Marriage Act (DOMA).

In an amicus brief to a New York case involving a lesbian widow, Vermont, Connecticut, and New York argue that the federal government had no right, despite the federal designation of marriage as being between a man and a woman, to demand $350,000 in estate taxes when Edie Windsor's partner died. That would not have happened under a marital tax deduction that lets other married couples pass their assets to their spouse without penalty.

The three states who filed amicus briefs argue that states regulate marriage and family relationships and that Congress doesn't have constitutional authority to interfere with that license at any level.

Several federal and state judges have struck down parts of DOMA, but it was only earlier this year that a federal appeals court in Boston, called it discriminatory regarding partner benefits, saying the law "fails the test" when looking at its "disparate impact on minority interests and federalism concerns."

The First Circuit panel, however, did not rule on the most controversial aspect of the law, and perhaps its ultimate federalist test: Whether gay marriages are legal, or reciprocal, in states that have laws against the practice.
I haven't the foggiest what the Supreme Court will do once this issue gets there—something that's only a matter of time given the conflicts at the Circuit level.
The power to declare people married has always resided with the states, with DOMA marking the first foray by the federal government into the matter. The fear was that lawsuits pending in several states could have forced those states to allow same-sex couples to marry and that, under the Full Faith and Credit clause, this in turn would have required all 50 states and the Federal Government  to recognize those couples as married.* But we're now seeing the flip side of the problem: with six states and the District of Columbia recognizing same-sex unions, we've got the bizarre situation where one—and only one—class of marriage in those states doesn't "count" outside their states.
This particular case, interestingly, puts Republican Members of Congress in an odd position. On the one hand, they're defending DOMA, which is not only the law of the land but enthusiastically supported by their constituents. On the other, they're having to defend the collection of onerous estate taxes that they oppose in cases involving heterosexual couples. What will Grover Norquist say about this?
_____________
*UPDATE:  Indeed, it's worth noting that, from well before the time the Constitution was written, it's been understood that marriages that are legally recognized in any country are legally recognized in every other country. So, even if the several states still held the level of sovereignty that they were generally understood to possess prior to the Civil War and the passage of the 14th Amendment, same-sex couples legally married in Connecticut would be afforded recognition as a married couple in Mississippi. The Full Faith and Credit Clause sought to formalize this customary law into the Constitution. DOMA therefore sought to create an exception that's for all practical purposes a Constitutional amendment.