Federal Appeals Court Rules DOMA Section 3 Unconstitutional
An unsurprising decision on the Defense of Marriage.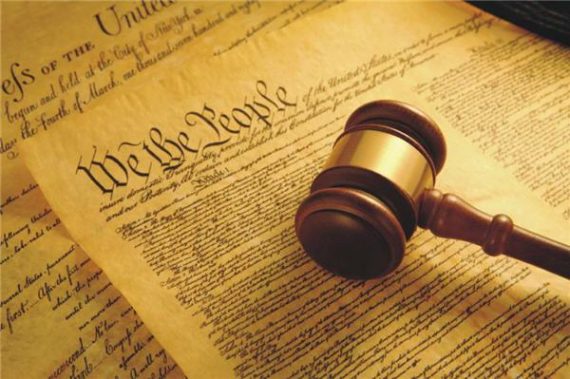 The First Circuit Court of Appeals ruled unanimously, in a panel that included two Republican appointees, that Section Three of the Defense of Marriage Act,which bars same-sex couples from being recognize as married under Federal Law,  is unconstitutional:
BOSTON (AP) — A federal appeals court Thursday declared that the Defense of Marriage Act unconstitutionally denies federal benefits to married gay couples, a groundbreaking ruling all but certain to wind up before the U.S. Supreme Court.

In its unanimous decision, the three-judge panel of the 1st U.S. Circuit Court of Appeals in Boston said the 1996 law that defines marriage as a union between a man and a woman deprives gay couples of the rights and privileges granted to heterosexual couples.

The court didn't rule on the law's more politically combustible provision, which said states without same-sex marriage cannot be forced to recognize gay unions performed in states where it's legal. It also wasn't asked to address whether gay couples have a constitutional right to marry.

(…)

The 1st Circuit said its ruling wouldn't be enforced until the U.S. Supreme Court decides the case, meaning that same-sex married couples will not be eligible to receive the economic benefits denied by DOMA until the high court rules.

That's because the ruling only applies to states within the circuit — Massachusetts, Rhode Island, Maine and New Hampshire — and Puerto Rico. Only the Supreme Court has the final say in deciding whether a law passed by Congress is unconstitutional.

Although most Americans live in states where the law still is that marriage can only be the union of a man and a woman, the power to define marriage had always been left to the individual states before Congress passed DOMA, the appeals court said in its ruling.

"One virtue of federalism is that it permits this diversity of governance based on local choice, but this applies as well to the states that have chosen to legalize same-sex marriage," Judge Michael Boudin wrote for the court. "Under current Supreme Court authority, Congress' denial of federal benefits to same-sex couples lawfully married in Massachusetts has not been adequately supported by any permissible federal interest."

During arguments before the court last month, a lawyer for gay married couples said the law amounts to "across-the-board disrespect." The couples argued that the power to define and regulate marriage had been left to the states for more than 200 years before Congress passed DOMA.

Paul Clement, a Washington, D.C., attorney who defended the law on behalf of the Bipartisan Legal Advisory Group, argued that Congress had a rational basis for passing it in 1996, when opponents worried that states would be forced to recognize gay marriages performed elsewhere. The group said Congress wanted to preserve a traditional and uniform definition of marriage and has the power to define terms used to federal statutes to distribute federal benefits.

Clement did not immediately return a message left Thursday. The legal group could ask for the case to be reheard by the full 1st Circuit, which typically sits six judges, or could ask the U.S. Supreme Court to take on the case.
Lyle Denniston at SCOTUSBlog comments:
The ruling nullified Section 3 of the Defense of Marriage Act, passed by Congress in 1996 to deny any federal benefit to a same-sex couple, even if the spouses were legally married under state law.  This is one of the gay marriages cases now developing around the Nation that may soon lead to one or more appeals to the Supreme Court, very likely in the Term opening October 1.  "Only the Supreme Court can finally decide this unique case," the First Circuit commented.

If the new ruling withstands a likely appeal, it would actually affect only gay couples in the six states and the District of Columbia that now allow such marriages, but it could serve as a constitutional precedent for challenging other limits or bans on gay marriage in any state.

Thursday's ruling by the First Circuit marked the first time that a challenge to DOMA had succeeded in a federal appeals court, but the same issue is now pending in the Ninth Circuit Court after two federal judges in California had found Section 3 to be invalid.   The Ninth Circuit Court is also pondering now a request that it reconsider, en banc, a three-judge Circuit panel's ruling in February striking down California's voter-approved "Proposition 8," banning same-sex marriage in that state.

DOMA's Section 3, limiting any federal benefit based on marriage to a man and a woman, applies to more than 1,000 federal laws and is understood to affect more than 100,000 married gay couples around the country.  While Congress did not seek in DOMA to directly outlaw same-sex marriage, it did deny access for such married couples to such things as Social Security survivor benefits, health insurance for federal workers' spouses, and other medical benefits, and it barred such couples from filing joint federal tax returns.

The First Circuit also noted that the ban "has potentially serious adverse consequences for states that choose to legalize same-sex marriage." In fact, the state of Massachusetts joined in this challenge by arguing that Section 3 would revoke federal funding for the state's Medicaid program for the poor, and for state veterans' cemeteries.
It's worth noting what the Court hasn't ruled here. The Court did not rule that there is a Constitutional right to same-sex marriage, nor will its ruling have any impact on Section Two of the Defense Of Marriage Act, which permits states to refuse to recognize validly performed same-sex marriages from other states notwithstanding the provisions of the Full Faith And Credit Act. Instead, the Court ruled that the limitations in Section Three that defined marriage for Federal purposes as only between one man and one woman violated the 5th Amendment Equal Protection rights of same-sex couples who have been validly married under the laws of their home states. This definition impacts everything from Social Security, Medicare, and Medicaid, to pension benefits for Federal employees and benefits for military spouses. Essentially, the Court ruled that there was not sufficient justification for treating same-sex spouses differently under Federal law. In doing so, though, they did it in the most limited way possible:
[T]he language of the 1st Circuit's 35-page ruling is no Jeremiad against DOMA or opponents of same-sex marriage. It is not something likely to be as widely quoted as other recent rulings over same-sex marriage in America. And it clearly does not purport to be the definitive or last word on the subject. We have here instead a modest ruling which accomplishes four significant things at the same time (something, not incidentally, that intermediate appellate courts are supposed to do as they funnel cases up the ladder to Washington).

The ruling: 1) narrows the scope of the trial judge's decision which preceded it; 2) offers the Supreme Court several avenues of precedential escape should the justices subsequently wish to use them; 3) takes a broader view of federalism as it relates to this law and its impact upon state marriage laws, and; 4) is notably diplomatic in its brief assessment of the "work" Congress did in passing the statute.
As the linked article goes on to note, the Court's decision provides a number of "outs" for a future Supreme Court to decide the case differently and still stay within current precedent. So, yea, it's a victory for the marriage equality movement but the legal ground on which this ruling stands appears to be much shakier thank I'm sure the opponents of the bill would prefer under the circumstances. Of course, there's still the 9th Circuit case and the possibility that the Court's ruling there will be far more broad based, but that's a matter for another day at this point.
As I've argued before, I don't think there's any question that Section 3 of DOMA is unconstitutional. Not only is there nothing in the Constitution that gives Congress the power to define what "marriage" is, once you had states beginning to recognize same-sex marriage rights and allow gay couples to get married, it was rather apparent that this provision was violating the rights of these married couples to be treated equally. We're not dealing with Section Two here at all, although I think if the Courts did there would be a fairly good argument that it too is unconstitutional, so nothing that the First Circuit decides today will force any other state to recognize gay marriage, either on its own or through the acts of a sister state. All the Court said today is that the Federal Government must treat equally situated people equally, and I cannot honestly see how anyone can disagree with that.
Here's the Court's opinion: