Three Women Missing for Decade Found in Cleveland
Three women missing for more than ten years have been found alive, apparently kidnapped by three brothers in Cleveland.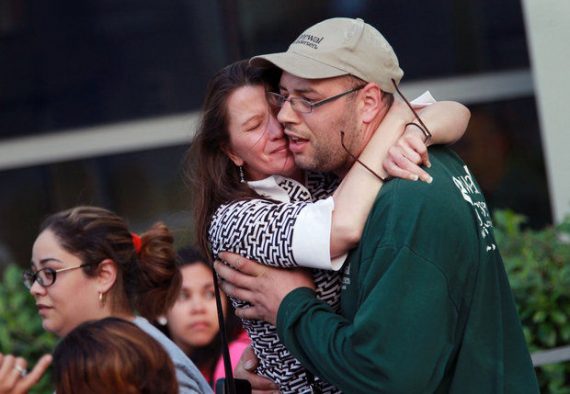 Three women missing for more than ten years have been found alive, apparently kidnapped by three brothers in Cleveland.
Cleveland Plain Dealer ("Berry, DeJesus, Knight found alive, police source confirms"):
Three longtime missing women, Amanda Berry, Gina DeJesus and Michelle Knight, have been found alive, apparently kidnapped and held for years as prisoners inside a house on Cleveland's near West Side.

Berry called police Monday afternoon and frantically told a dispatcher that she was alive and free after being kidnapped 10 years ago and held captive in a house on Seymour Avenue.

"We've confirmed it's them," a Cleveland detective said. "They are alive and safe." Police have scheduled a news conference for 9 a.m. today.

Berry, now 27, DeJesus, 23, and Knight, 30, were taken to MetroHealth Medical Center. The FBI and police will interview the women, the detective said.

DeJesus, missing for nine years, and Knight, missing for 11 years, were with her.

Police arrested three brothers, ages 50, 52 and 54. Police did not release names.

But neighbors said one of them is the owner of the house, Ariel Castro, 52, a Cleveland school bus driver until last November who had lived in the two-story house since 1992. Records show he was arrested for domestic violence in 1993, but a grand jury declined to indict him.
Thankfully, the women appear healthy, at least physically:
Dr. Gerald Maloney, emergency room doctor at MetroHealth, said in a news conference Monday night that the three women were in fair condition.

"They are able to speak, they are safe, and hospital staff are assessing their needs and evaluating if they will spend the night," he said. "This is good. This is not the ending we usually see from these stories."
The reaction of family and friends interviewed for the story is mostly stunned disbelief. As the father of two young daughters, I can scarcely imagine the mental anguish their parents have gone through.
Hypervocal has a related piece, "Hero Neighbor Who Found Missing Women Gives Great Interview."
The city of Cleveland rejoiced when three women, missing since they were teens, were discovered in a neighborhood home on Monday. Amanda Berry, Gina DeJesus and Michele Knight "seem to be in good health," police said, and Ariel Castro, 52, has been taken into custody.

As we wait for more details on the story, make sure to watch the amazing NewsChannel5 interview with Charles Ramsey, the hero neighbor who found the women and called police. "You got some big testicles to pull this off, bro," he tells the newsman. "I barbecue with this dude! We eat ribs and whatnot!" needs to be on a T-shirt by the end of the day.
Here's the video: