Today in Strange Reasoning (Trump Semi-Support Edition)
Comments on a pro-Trump (well, sorta) column.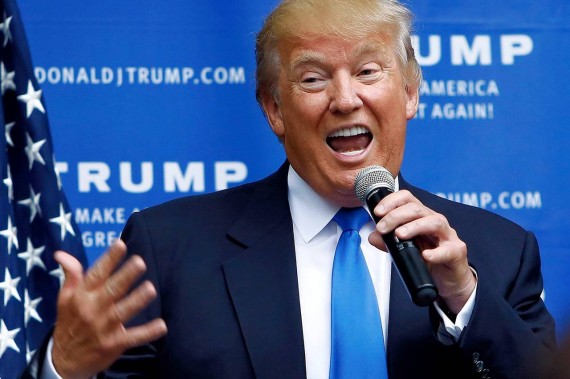 Jim Ruth (no, I am not familiar either) wrote an odd column last week for WaPo:  I hate Donald Trump. But he might get my vote.
The bottom line:
We are under no illusions about Trump. We know that this Man Who Would Be King is a classic bully and a world-class demagogue in his personal, professional and political lives. He will continue to demonize his perceived enemies and take the low road at every opportunity.
And yet,
So why then would rational, affluent, informed citizens consider voting for The Donald? Short of not voting at all — still an option some of us are considering — he's the only one who appears to want to preserve the American way of life as we know it.
The disjuncture between these paragraphs is pretty stunning.  On the one hand, Ruth calls Trump "a classic bully and a world-class demagogue" who will "take the low road at every opportunity" but on the other, sees Trump as "the only one who appears to want to preserve the American way of life as we know it."  This means, I guess, that he thinks that demagoguery is the American way of life? (Such is the conclusion of the transitive property of op/ed columns, at least, if Trump=demagoguery, and Trump=preserver of the American way of life, then demagoguery=the American way of life).  In truth, I don't think Ruth is consciously making that argument, but he appears oblivious to the logic of his own column in this regard.
This strikes me as the type of rationalization we are likely to see from many Trump supporters, i.e., yes he is horrible, but at least he wants to make American great again! That, and of course, he isn't Hillary:
For many of us, Trump has only one redeeming quality: He isn't Hillary Clinton. He doesn't want to turn the United States into a politically correct, free-milk-and-cookies, European-style social democracy where every kid (and adult, too) gets a trophy just for showing up.

Members of this new silent majority, many of us front-wave baby boomers, value hard work and love the United States the way it was. We long for a bygone era when you didn't need "safe spaces" on college campuses to shelter students from the atrocity of dissenting opinions, lest their sensibilities be offended. We have the reckless notion that college is the one place where sensibilities are supposed to be challenged and debated. Silly us.
There can be little doubt that in a two-party duopoly as strong as ours, many, many voters are going to rationalize their choices (whether those choices be for Clinton or Trump) as that is what happens in a system where there are only two actual choices for office, people have to pick and convince themselves of the choice.  (Yes, I know Garry Johnson and Jill Stein are running, but realistically there are two choices on the ballot who can win the presidency–but that is a discussion for a different post).  On that level, I understand the argument, although usually one would think that the rationalizer would downplay Trump's less attractive qualities. It is one thing to argue against Hillary, it is another to say how horrible Trump is and yet at the same time buy into his sloganeering about American greatness.
Two observations about some of the laments listed above.  First, kids these days are not ruined by participation trophies, because they a) know full well what they are, and b) they absolutely know who won (anyone who has spent an iota of time around youth sports of any kind knows this).*  Second, while there has been a goodly amount of campus silliness, the whole of the American student body is not retreating in safe spaces and they are still grappling with hard ideas on campus. That some young adults do silly things in college is not a new phenomenon (any more than are middle-aged people constantly lamenting the sorry state of kids of these days, I suppose).
Really, the column is all about nostalgia. For example:
Our view of the media is old-school, too — just the facts, please. Before his untimely death some years ago, Tim Russert of "Meet the Press" set the standard for "fair and balanced" by grilling both Democratic and Republican politicians in a way that never betrayed his personal political persuasions. That still works fine. It's just damn hard to find.
I must admit I am having a hard time seeing current trumpistas being fans of Russert were he alive today (nor do I recall him being an especial favorite of the GOP at the time).  Regardless, nostalgia is clearly of huge use to Trump. Indeed, more accurately there is a strong strain of the reactionary in his appeal:  that notion that we can return to a better past (never mind that memory is faulty and the past is rarely as rosy as one might think they remember it).  That reactionary view is, however, often short on details (see, e.g., the Brexit vote).  Further, while one can learn from the past, and sometimes there are things from the past worthy of recapturing, the politics of looking backwards rarely results in a positive outcome.
—-
*This is a pet peeve of mine.  On the one hand, yes:  I could do without participation trophies (although I do not have a strong aversion, either).  On the other, they aren't doing what the critics say they are doing, i.e., they aren't making all the kids feel equally special nor are they taking away from who won and who lost one iota.  Even if kids play in no-score leagues (as my sons did in church soccer and basketball at a young age), they know the score and they know who won.  The proverbial thrill of victory and agony of defeat are felt predominantly on the field, not in a ceremony afterwards.  And to reiterate a point from above:  anyone who has had a kid play youth sports knows full well that competition is far from dead in America (and, really, often is a bit out of hand, at least on the parental side of things).