Tom Brokaw Disses Nerdprom
Tom Brokaw has some good criticisms of what the White House Correspondent's Association Dinner has turned into.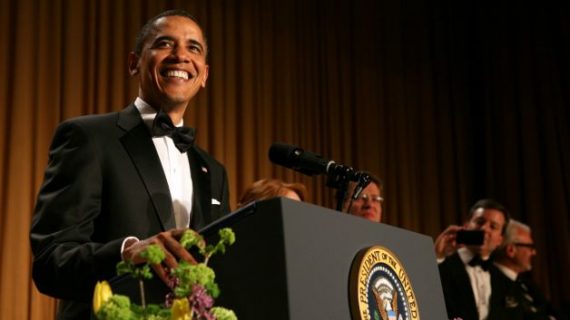 Later today, the White House press corps, along with a host of political leaders and a bunch of hangers-on from Hollywood will gather at the Washington Hilton for what is one of the biggest social events of the year in the nation's capitol, the annual White House Correspondent's Association Dinner.  Conan O'Brien will be hosting, and the President will be speaking. Jokes will be told and drinks will be imbibed. Tom Brokaw, though, is among those who wants nothing to do with it all:
Tom Brokaw blames it all on Lindsay Lohan.

Last year, Brokaw became one of the biggest critics of the annual White House Correspondents' Dinner after he saw Washington buzzing around and about the troubled Hollywood actress, who was a guest of Fox News's Greta Van Susteren.

"The breaking point for me was Lindsay Lohan," Brokaw told POLITICO during a recent interview in his office in the NBC News Rockefeller Plaza headquarters in New York. "She became a big star at the White House Correspondents' Dinner. Give me a break."

The veteran TV newsman's vocal dissent after the dinner in 2012 was notable for a number of reasons.

First, Brokaw's industry stature made him the most notable media figure to criticize an annual event so precious to many of his colleagues in the press corps. Second, Brokaw has standing beyond his long tenure as the "Nightly News" anchor — he was once a White House correspondent during the Watergate era. And lastly, his critique was purposeful, public and unpredictable; he made a point to, seemingly out of nowhere, bash the WHCD on "Meet the Press" just one week after the soiree, saying it was "time to rethink" the occasion since it, in his words, "separates the press from the people that they're supposed to serve, symbolically."

"One of the reasons that I wanted to raise it on 'Meet the Press' — and I told [host] David [Gregory] beforehand, 'I'm going to look for an opportunity to do that,' is that we were at a point in Washington where the country had just kind of shut down on what was going on within the Beltway," Brokaw told POLITICO.

"They were making their own decisions in their own states, in their own communities, and the congressional ratings were plummeting," he added. "The press corps wasn't doing very well, either. And I thought, 'This is one of the issues that we have to address. What kind of image do we present to the rest of the country? Are we doing their business, or are we just a group of narcissists who are mostly interested in elevating our own profiles?' And what comes through the screen on C-SPAN that night is the latter, and not the former."

(…)

Brokaw stopped attending the WHCD years ago and says he won't be there this year. "I would watch on C-SPAN, and as I watched on C-SPAN, I would try to put myself, kind of, if you will, in the person of an interested citizen in Kansas City, or in Little Rock, or in Spokane, Wash., saying, 'That's the Washington press corps?' I mean, there was more dignity at my daughter's junior prom than there is [at] what I'm seeing on C-SPAN there," he said.

Despite his criticism, Brokaw doesn't see himself as a never-say-die scold about the affair.

"This is not a crusade on my part. I've had my say. This is what I believe," he said. "I think I still have some standing in the Washington press corps, having spent as much time there as I did, as I continue to, so it's really up to the organizations and this generation of correspondents in Washington to make the determination for themselves. I'm not going to stay on their back about it. What I would do is take a hard look at it and find ways to temper the more outrageous qualities of it. Why do we think to have a successful evening, you have to have Donald Trump as your guest of honor, for example, or Lindsay Lohan?"
The entire idea of inviting "celebrities" to the dinner seems to have started back in the 1980s when one organization decided to use one of its tickets to invite Fawn Hall, the National Security Council secretary who helped Oliver North by sneaking documents out of the White House underneath her closing. After that, and especially starting in the 1990s when the Clinton Administration, with its connections to Hollywood came into office, and celebrities seemingly became desperate to associate themselves with Washington power while politicians seemed desperate to associate themselves with Holllywood stardom. In the intervening years, the celebrity side of the event became ever more ridiculous as everyone from The Jonas Brothers to Lindsey Lohan to Donald Trump ended up attending the event as the guest of one media organization or another. The White House Correspondents Association keeps insisting that this is a serious event of some kind, but the constant invasion of irrelevant celebrities argues otherwise and makes appropriate the moniker that the event has earned over the years, Nerdprom.
Hamilton Nolan is even more scathing in his evaluation:
Do you know who knows that the White House Correspondents' Association Dinner is a shameful display of whoredom that makes the "average American" vomit in disgust, or, more likely, simply continue to disregard the findings of any ostensibly neutral journalistic outlet in favor of their own ideology of choice, because they have a fully solidified belief that the "mainstream media" is little more than a bunch of ball-lapping lapdogs to whoever's in power? Everyone. Everyone knows this. Even the members of the media who attend theWhite House Whores Despondence Dinner know this, deep down, whether they admit it openly or lie defensively about how they, the true professionals, can stand in a receiving line to backslap and shake the hands of politicians like groupies and pose for pictures with Ashton Kutcher and Alec Baldwin and Stephen Baldwin and Anna Paquin and no, it does not matter tomorrow, because they are professionalswho would never be compromised by the fact that they just spent their favorite evening of the year joshing playfully with the powerful officials they are supposed to be afflicting and reveling in their close proximity to the celebrities that they wish they were.

This is not just any segment of the working press, enjoying a night out. This is the DC press corps, which has arguably the most important job in American journalism: informing the public about the activities of its government, and serving as a strong and omnipresent check on the government's power. Great to know that our fearless watchdogs are busy swilling wine with the people they are supposed to be covering and introducing them to their wives and posing for pictures with Mila Kunis.
This last point is actually a fairly valid one. Is it really possible for Washington based reporters to objectively cover politics in Washington when they are often socializing, on a regular basis, with the people that they are supposed to be covering? This, however, isn't a new problem in Washington. Indeed, before Watergate, the relationship between the White House Press Corps and the Presidency was far more cordial than it is today. Indeed, during the Roosevelt Administration reporters didn't bother report FDR's health problems, especially during the final months of his Presidency, and during the Kennedy Administration reporters ignored rumors about the President's health, his contacts with known mob figures, and his many affairs. It's highly unlikely that stories of those types would be ignored today. However, the Correspondent's Dinner is still a good example of the incestuous nature of the relationship between politicians and the press that makes you wonder just how willing reporters are to pursue potentially bad news about people that they come to know as friends.
In the end, I doubt that most of America even knows what the White House Correspondents Dinner is all about. Tomorrow, they'll see a couple clips of Conan O'Brien and the President making jokes, they'll laugh, and they won't think much else about it.  The fact, though, that it's considered such a big deal in our nation's capital makes one wonder if the press corps is really doing its job, or just having fun.