Transgender Woman Plays College Basketball to Little Controversy
Gabrielle Ludwig played college basketball as a man 25 years ago; now, she's playing as a woman.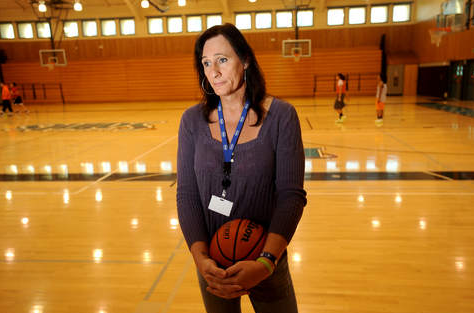 Gabrielle Ludwig played college basketball as a man 25 years ago; now, she's playing as a woman.
AP ("Transgender player attains college basketball first"):
The women's basketball team at Mission College expected the bleachers to be full and the hecklers ready when its newest player made her home court debut.

In the days leading up to the game, people had plenty to say about 6-foot-6-inch, 220-pound Gabrielle Ludwig, who joined the Lady Saints as a mid-season walk-on and became, according to advocates, the first transsexual to play college hoops as both a man and a woman.

[…]

The story of how she ended up in a basketball uniform again would inspire comparisons to "The Natural" or other tales of middle-aged redemption were it not for gender. Introduced to the sport as an impressively tall 7th grade boy, she played on her high school team as Robert John Ludwig, then one season at a community college on Long Island in New York. After she dropped out, her court appearances were limited to pickup games.

The basketball bug returned 12 years ago, when her daughter from her second marriage, then 7, started playing youth basketball and Ludwig signed on as her coach. Ludwig kept coaching other people's children when her daughter moved on to high school and still works with hundreds of middle school girls every year.

Her transition from a male coach to a female coach five years ago raised questions, but parents generally accepted her decision warmly, she said. So did the women she played with in a couple of intramural leagues.
This is, to say the least, an unusual story. And, yes, it raises some interesting questions.
It's rather odd for a 5o-year-old to be playing college sports, period. But the various collegiate associations have rules for eligibility and age really doesn't factor in. If Chris Weinke can win the Heisman Trophy as a 28-year-old  after a few years playing professional baseball, there's surely no reason to deny a 5o-year-old the right to play. After all, 28 is close to the athletic peak for a male athlete; 50 is well past it for both males and females.
The transgender issue is, of course, even more controversial. A year ago, Ludwig was, legally at least, a man. Now, though, appearances notwithstanding, she isn't.
What the naysayers do not know, she said, is that Ludwig is not the same player she was as a 24-year-old male. She has less muscle and height, because of female hormones she takes. And at her age, she has to work to keep up.

"Yeah, I hit with a little more punch down low, but that's because I weigh 220 pounds, but I am not the only 220 woman out there," she said. "It's different now. My body has changed, my strength has changed, my attitude has changed."
The various governing bodies that oversee sports concur. The advantages that elite male athletes have over their female counterparts in most sports stem mostly from hormonal differences. Ludwig no longer has those advantages.
It's true that she's much bigger than the average woman. Then again, so are most female college basketball players. Brittney Griner, currently starring for Baylor and widely considered the best player in the women's game, is 6-8, weighs 208 pounds, and wears a size 17 men's shoe. She's bigger, in fact, than most men's players. Does that give her an unfair advantage? Hell yes it does. But we accept that as the vagaries of life: Some people are born with advantages they can exploit. It's not clear why it matters that Ludwig used to be a man.
Interestingly, despite some minor controversy, few seem to care. Not her teammates:
Coach Corey Cafferata worried the outside noise was getting to his players, particularly the 50-year-old Ludwig.

A pair of ESPN radio hosts had laughed at her looks, referring to her as "it." And online threats and anonymous calls prompted the two-year college to assign the Navy veteran of Operation Desert Storm a safer parking space next to the gym and two police guards.

Last week, Ludwig gathered her 10 teammates at practice and offered to quit. This was their time to shine, she told the group of 18-, 19- and 20-year-olds. She didn't want to be a distraction for the team. The other women said if Ludwig, whom they nicknamed "Big Sexy" and "Princess," didn't play, they wouldn't either.

Didn't she  know she was the glue holding the team together?
Nor her opponents:
Last weekend, during her first home game, she scored eight points in 11 minutes, Facebook friend requests from the opposing team — and not a single heckle.
Indeed, the biggest controversy seems to have been some local radio hosts—here in DC, not out in California, where she plays. Steve Czaban and Andy Pollin aren't, as widely reported–including in the piece linked and excerpted here–"ESPN radio hosts." They're hosts on the local DC sports channel, which was bought a couple years back by ESPN. But they're not broadcast nationally as part of ESPN. Indeed, Czaban actually does a morning show on the competing Yahoo Sports network.
One oddity here:
As someone living as a woman and taking female hormones since 2007, Ludwig was eligible to play in the NCAA. Transgender student athletes who have taken medication to suppress testosterone for a year may compete on women's teams under a policy adopted last year.

The California Community College Athletic Association had another hoop for Ludwig. Because its rules base gender on a student's birth certificate, she would need a new one. Ludwig, who had sex reassignment surgery over the summer, petitioned a judge and obtained her papers on Nov. 30.
Why is it that a birth certificate, which exists to document the circumstances of one's birth, needs to get changed to reflect gender reassignment surgery at age 49? Come to think of it, it's rather weird that people who change their names, as many women do when they marry, get revised birth certificates, too.