Trump Lies About Scottish Airport for No Apparent Reason
The Air Force's use of Trump hotels predates his presidency---but is still highly problematic.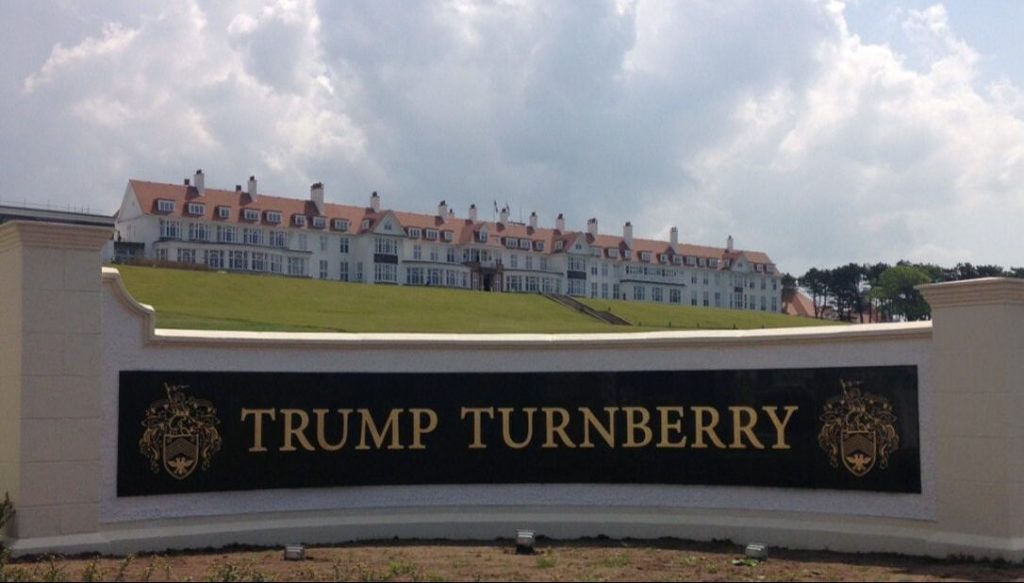 The sequence of events surrounding the Air Force's use of a Trump family hotel near a Scottish airport satisfies me that it's not scandalous. At least, once one gets past the fact that the President of the United States owns hundreds of public-facing properties around the world, has refused to follow the convention of divesting himself of them, and thus raises huge questions of propriety whenever he, any government employee, or person having business with the US government stays there.
Eric Lipton's NYT report "Trump Had Deal With Scotland Airport That Sent Flight Crews to His Resort" establishes that the Air Force was routinely flying in and out of that airport and staying in the hotel associated with Trump's golf course long before he was President. And that Trump had an arrangement with the airport to send visitors to his hotel before he began his run for the White House.
Oddly, that didn't stop Trump from lying about the situation.
On Monday, President Trump sought to tamp down a growing controversy over a stay at the resort by United States military personnel who were traveling through the airport in Scotland in March. First on Twitter and later speaking to reporters at the White House, he said he was not involved in any decision to put an Air Force flight crew at the resort, known as Trump Turnberry.

"I know nothing about an Air Force plane landing at an airport (which I do not own and have nothing to do with) near Turnberry Resort (which I do own) in Scotland, and filling up with fuel, with the crew staying overnight at Turnberry (they have good taste!)," Mr. Trump wrote on Twitter. "NOTHING TO DO WITH ME."
It's demonstrably not true that Trump has nothing to do with the airport—although the rest does in fact appear to be true.
The government records, released through Scottish Freedom of Information law, show that the Trump organization, starting in 2014, entered a partnership with the airport to try to increase private and commercial air traffic to the region.

As part of that arrangement, the Trump Organization worked to get Trump Turnberry added to a list of hotels that the airport would routinely send aircrews to, even though the Turnberry resort is 20 miles from the airport, farther away than many other hotels, and has higher advertised prices.
But, you say, "the Trump Organization" is bigger than Donald Trump. Alas,
Mr. Trump visited Glasgow Prestwick in 2014 and promised to help increase traffic at the airport, although at the time he was largely referring to plans to drive corporate jets there and attract other commercial traffic perhaps carrying golfers on the way to his resort.
There's nothing in Lipton's report to indicate that there was anything untoward in the business arrangement. He promised to help route more traffic to the airport in exchange for more referrals to his far-away, expensive hotel. Well before he was even running for President.
And the Air Force, seemingly independently and coincidentally, was starting to use the airport more often and was among those being referred by their staff to Turnbury. Starting at some point in 2015—well before anyone would have reasonably foreseen a conflict of interest.
Fast-forward to the recent scandal:
It was through the arrangement with the Pentagon that a seven-person United States Air Force crew ended up staying at the Trump Turnberry in March. An Air Force C-17 military transport plane was on its way from Alaska to Kuwait when it stopped at Prestwick overnight to refuel and give the crew a break.

The crew, which consisted of active duty and national guard members from Alaska, was charged $136 per room, which was less expensive than a Marriott property's rate of $161. And both were under the per diem rate of $166.
So, while the crew was staying at a very expensive luxury hotel, they were getting an excellent deal. Less than the government rate (which is likely unavailable overseas). Even aside from the weird arrangement between he airport and the hotel, they may well have decided to stay there given that it was significantly cheaper than the Marriott. (Although it's my understanding that, at least among active-duty pilots, there's a strong propensity to stay in hotels that align with one's preferred reward points system.)
Again, aside from the elephant in the room—the President of the United States owns hotels with his name on them—-this would a non-story.
But, of course, there's the elephant.
Lt. Gen. Jon T. Thomas, the deputy commander of the Air Force Air Mobility Command, said in an interview on Monday that the rising number of military stopovers at Prestwick was entirely based on operational demands, as the airport is in a convenient location, has 24-hour operations and offers ample aircraft parking, among other advantages. He added that the Air Force has been using Prestwick for stopovers since at least the late 1990s.

But he agreed that the decision to place Air Force crew members at a hotel owned by Mr. Trump's family had created questions that the Defense Department needed to address. As a result, the Air Force is now reviewing policies on where crews are put up in hotels during international trips.

"Let's make sure we are considering potential for misperception that could be created by where we billet the aircrews," he said. "It is a reasonable ask for us to make sure we are being sensitive to misperceptions that could be formed by the American people or Congress or anyone else."
Staying at hotels named after and whose proceeds directly benefit the Commander-in-Chief does indeed create a potential for misperception. To say the least. But, again, it seems clear that the problem here is that POTUS has a side hustle, not that the Defense Department is trying to curry favor.